One of the most amazing parks (that is not just a park) in San Diego is Balboa Park! It's a tourist destination as well as a local's playground, constantly moving with new and exciting events. Within it's 1,200 acres, there is something for everyone at Balboa Park.
Museums at Balboa Park
Balboa Park has 17 cultural institutions and museums for you to visit and learn. Yes, you read that right. SEVENTEEN. If you are looking for science, check out the Fleet Science Center as well as the Air and Space Museum. Need some art in your life? There are museums for contemporary art, photographic arts, and more. The Railroad museum is quite a hit with the little kids, if you're looking for a museum to include those young curious minds. You can see all of the available museums and cultural institutions at Balboa Park, including the Museum of Us, right here.
Balboa Park: Gardens to Check Out
Depending on what garden type you're interested in, Balboa Park always has something that is blooming. There are over 15 unique gardens for you to roam all throughout Balboa Park today.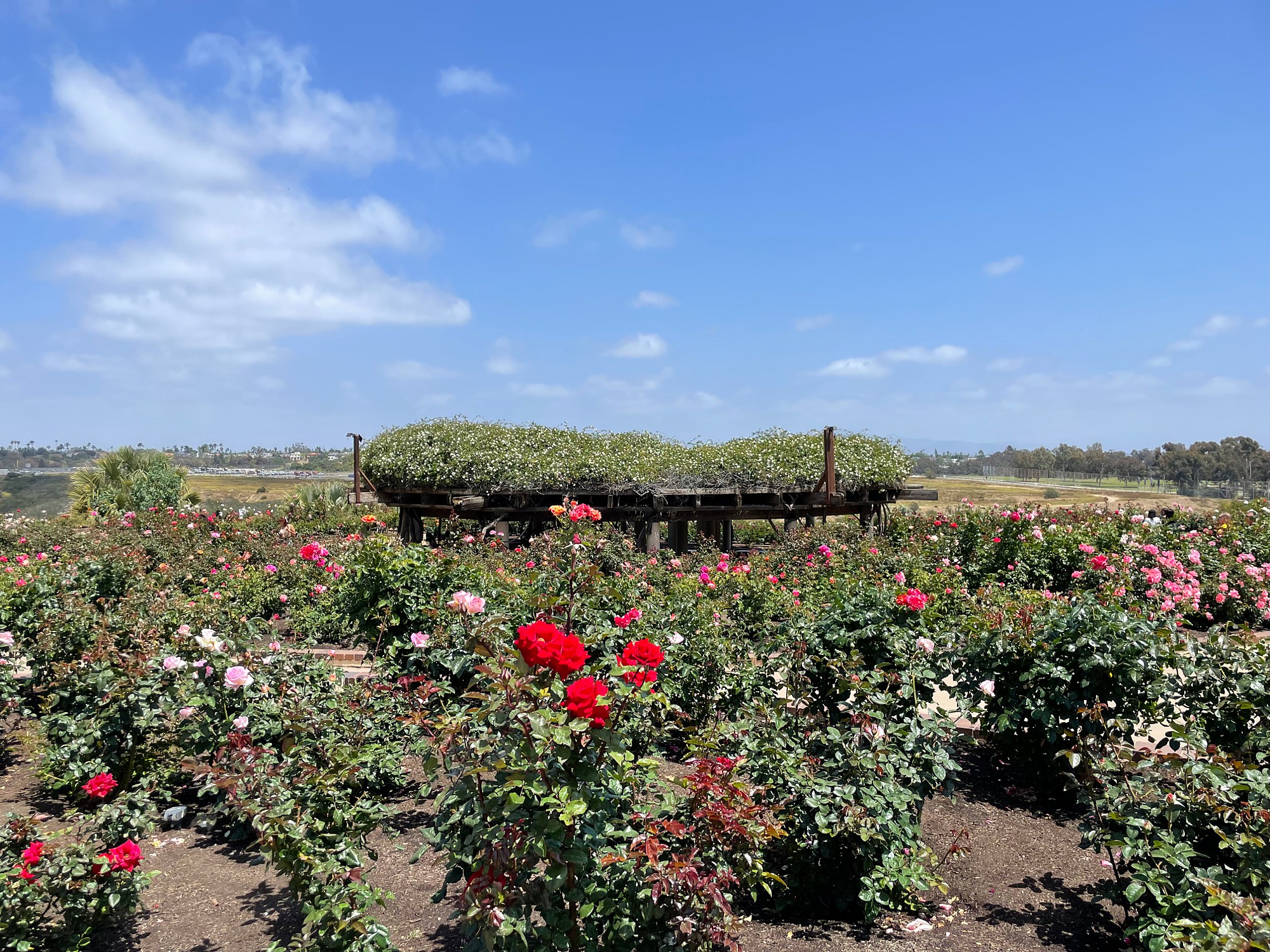 The rose garden, across the street from the Fleet Science center, is gorgeous and aromatic when the roses are in bloom. Walking around, smelling the roses (quite literally) and reading their name is a bit hit for adults and kids. Enjoy sitting by a peaceful fountain while taking in the vibrant colors of the roses that surround you.
Right next to the rose garden is the desert garden. Walking through the dirt paths, you will see more than 1,300 plants that are drought resistant, including succulents and lots of cacti. Make sure to look closely at the plants, a lot of squirrels have made their home in the center of these plants.
Alcazar garden is near the center of Balboa Park, and has a great garden filled with annuals and lined with boxwood hedges. The colorfully tiled water fountains are a great addition to this space! There are plenty of areas to wander around and enjoy this garden, as well as a spectacular view of the iconic California tower just across the street.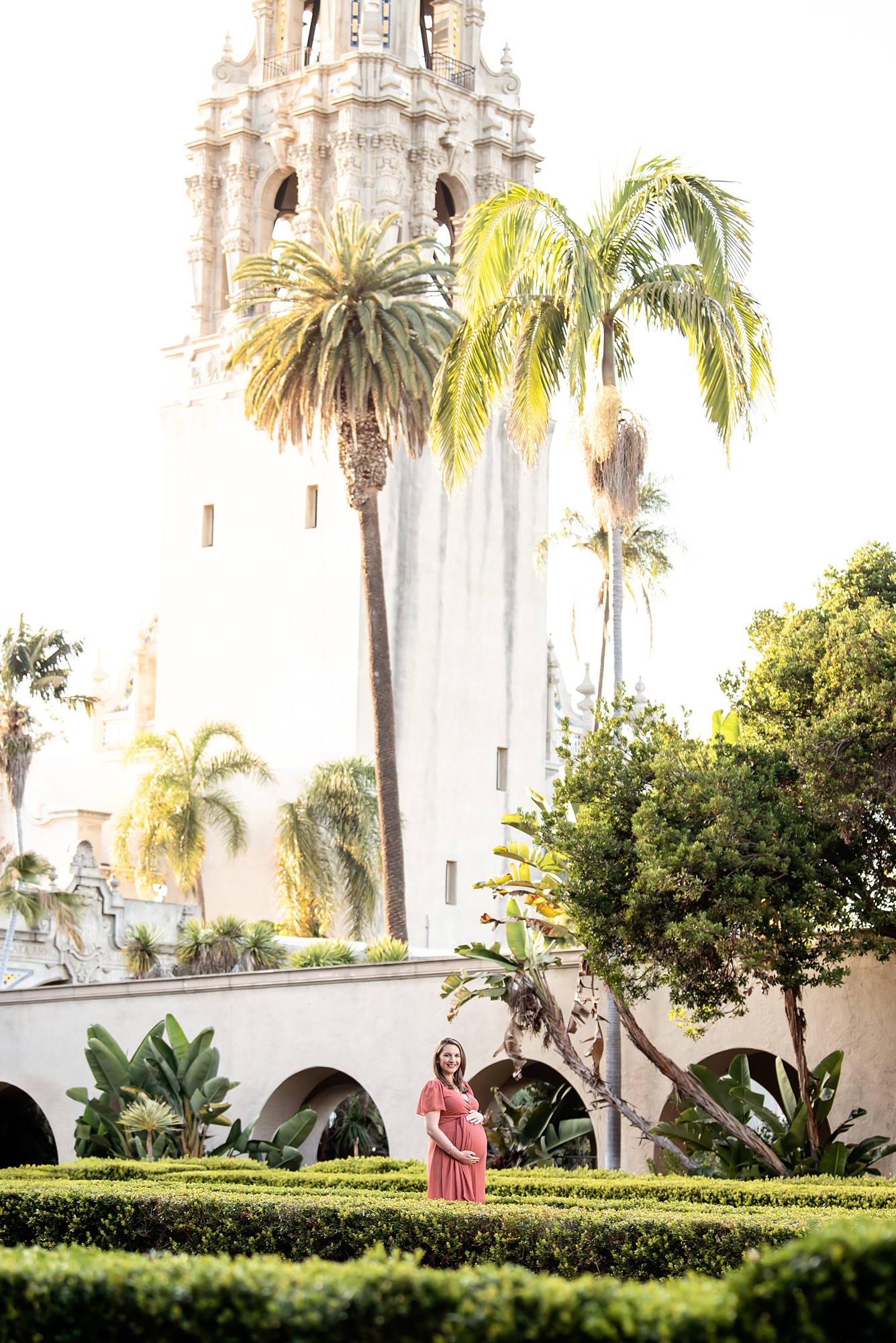 If you like to hike, visiting Palm Canyon is a great hike through a garden filled with 58 different species of palm trees. With over two acres of land dedicated to the palm trees, you and your family can enjoy quite the hike and view! You can get to the start of the Palm Canyon trail just across from the Spreckels Organ Pavilion.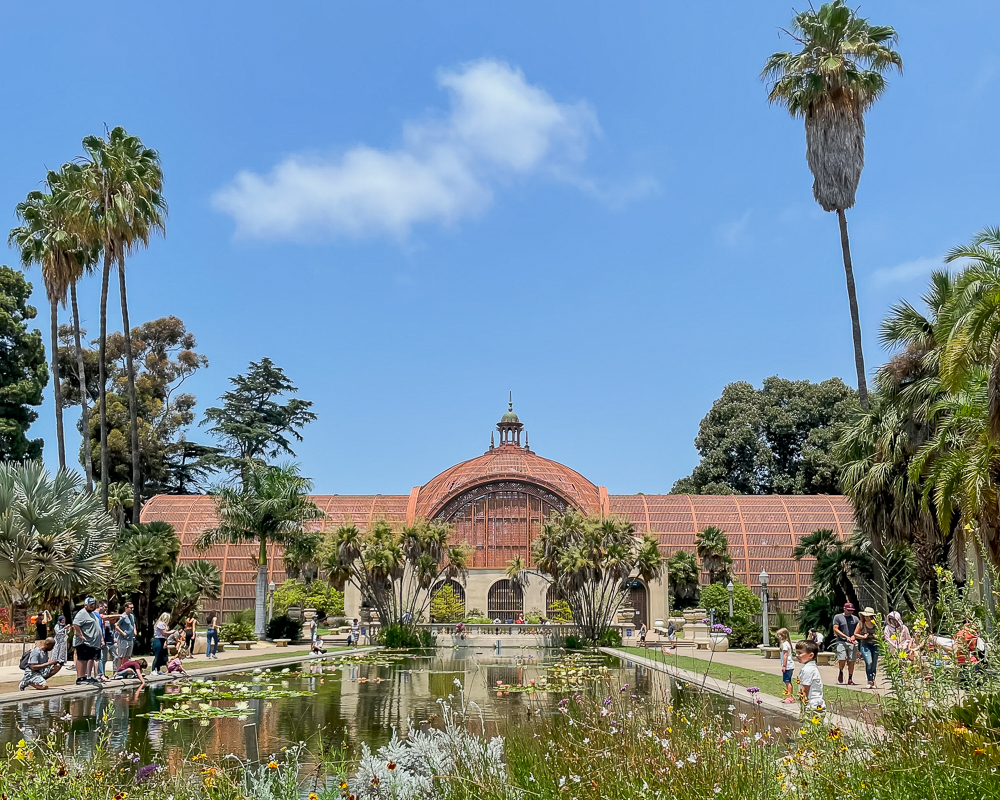 Right in the heart of Balboa Park is the botanical building and lily pond. One of the most photographed and iconic buildings and backgrounds in Balboa Park, you are able to enjoy the beautiful flowers that are planted at the ends of the lily pond as well as take a stroll around the edges of the lily pond. The koi fish that are casually swimming in the lily pond are extremely relaxing to watch. If you are able to catch the Botanical Building during its opening hours, you can wander through the 2,100 different plants that include many tropical plants and orchids that are absolutely stunning.
Spreckels Organ Pavilion at Balboa Park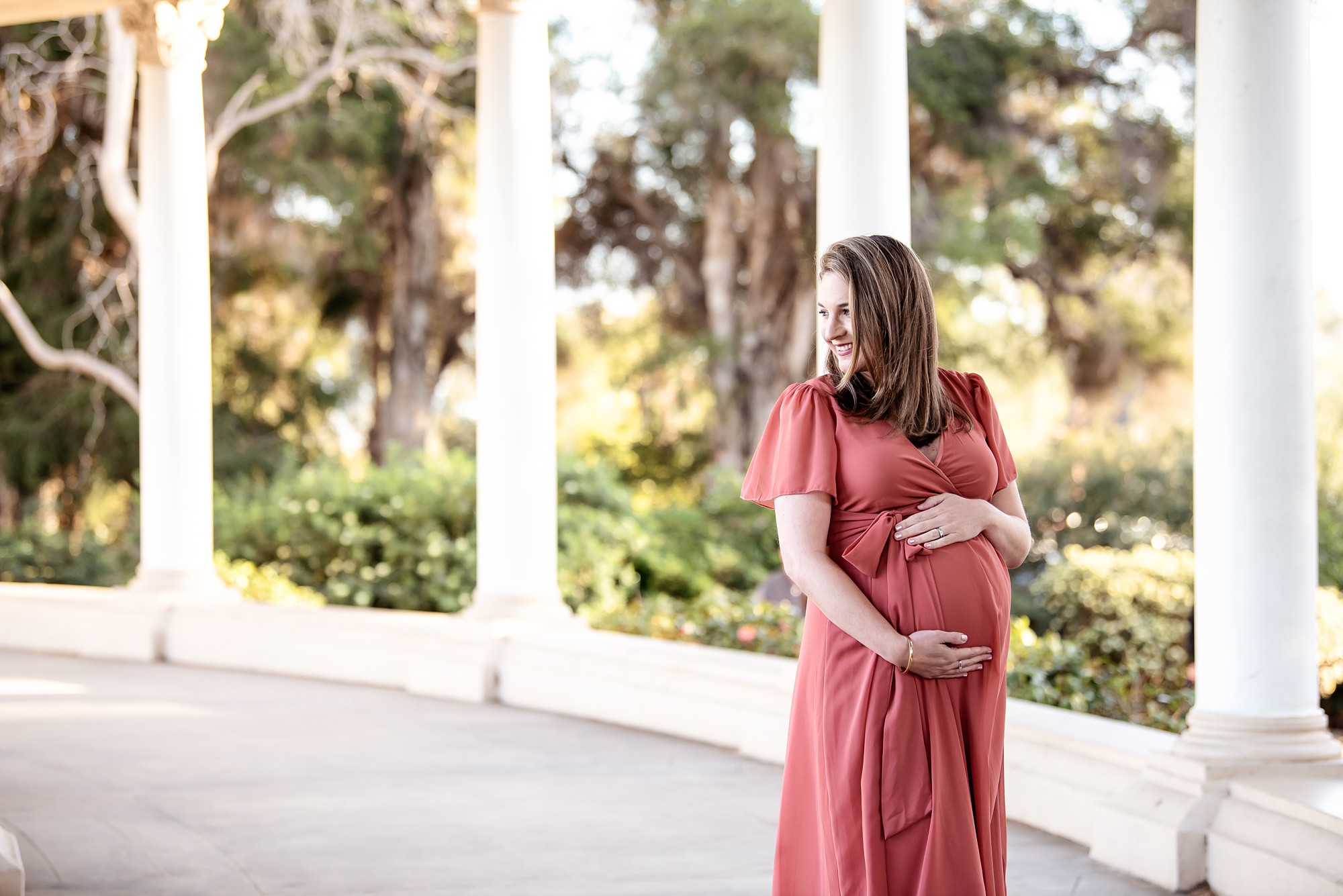 And absolute favorite to visit in Balboa Park, is Spreckels Organ Pavilion. Now that COVID restrictions have lifted, the weekday free concerts have resumed at the Spreckels Organ Pavilion! You can attend a free concert on any Sunday at 2pm at the Spreckels Organ Pavilion, and enjoy hearing beautiful music coming out of the enormous organ with 5,000 pipes. Make sure you get to Balboa Park early to get a great parking and concert spot – the parking lots as well as chairs at the pavilion fill up quickly! You can check out the upcoming concerts on their page right here.
During the rest of the week when there are no concerts, you can wander around the Organ Pavilion and onto the stage. The organ itself will be behind a metal gate so it is not harmed while not in use. The columns to either side of the stage are a child's dream to run around and play all throughout them.
Beyond the gardens museums, and the Spreckels Organ Pavilion, there are hundreds of activities, museums, and classes that are not even mentioned here. You can learn all about the events provided by checking out the Balboa Park page right here.
Dining at Balboa Park
When wandering around Balboa Park, you may realize it's been hours since your last meal. Don't you worry, Balboa Park is filled with delicious restaurants and eateries to curb your hunger. From grabbing a quick bite and a coffee to a full meal at a beautiful restaurant, you will be able to find it all right here! Panama 66 is the perfect place for a hand-crafted sandwich as well as tasting their delicious beer on tap, right in the San Diego Museum of Arts open air sculpture garden. Enjoy a bite to eat while taking in the art! If you happen to be over in the Spanish Village Art Center, head over to Daniels coffee for a freshly baked pastry and cup of coffee.
Parking at Balboa Park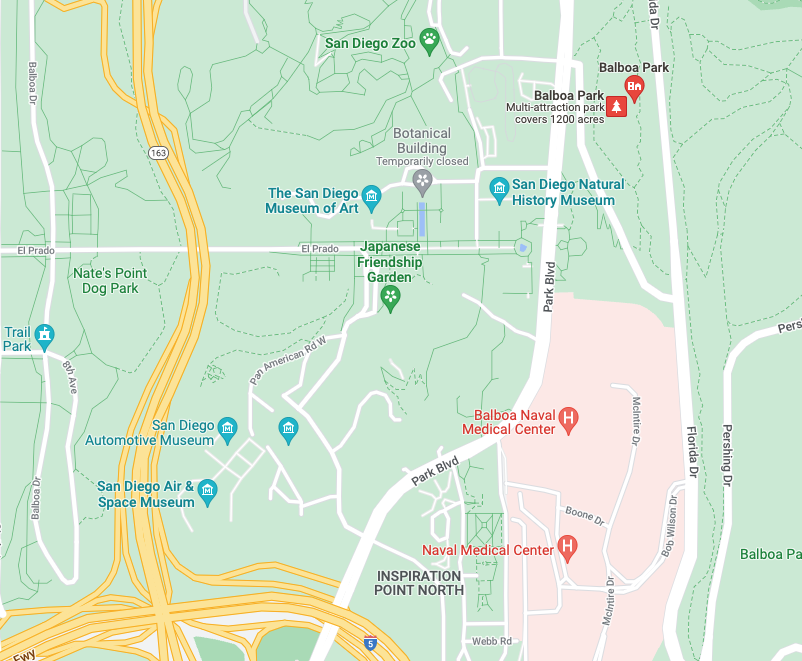 Parking is plentiful all around Balboa Park as well as free, which is a huge bonus! You may just have to walk a bit depending on when you are visiting. The first parking lot to check for parking is directly behind the Spreckels Organ Pavilion, but it is one of the closest parking lots so it may take a while to find a spot. There is also a small parking lot (that fills up quickly) right by the Alcazar garden. It does have a few handicapped parking spots for easy access to the gardens and near the center of the park.
Balboa Park Tram
If you are visiting on a weekend, during an event, or during summertime, you may need to take advantage of one of the farther away parking lots. Near the San Diego Air & Space Museum at the South side of Balboa Park, there are a few larger parking lots that are some of the last few to be filled. Across Park Blvd., there is a decent-sized parking lot next to the Veterans Museum.
If you do end up needing to park in one of the farther parking lots, don't fret! Balboa Park has a park tram that visits these parking lots to pick up and drop off visitors. They run from 9:00am to 6:00pm daily (with summer hours bumping up to 8:00pm). Always check out their website to see what their current schedule is before heading out to the park. As always, the Park Tram is free to use, and a huge benefit to parking farther away!
What's Around Balboa Park
There is a lot to do at Balboa Park, but there is even more surrounding it. Balboa Park is so close to downtown San Diego, that a quick car ride and you can be immersed in tall buildings.
San Diego Zoo
Just North of Balboa Park is the world famous San Diego Zoo! Check out over 3,500 animals that range from flamingos to snow leopards, and everything in between. The new and improved children's Wildlife Explorers Basecamp area. With lots of places to play, climb, and jump down from, this new addition is a child's dream! There is a splash zone under the treehouse, so don't forget a towel and change of clothes or swimsuit if you are visiting over there. Tickets to the zoo are around $62, and can be purchased at the entrance to the zoo. See what this world famous zoo is all about right here.
Balboa Naval Medical Hospital
Jus across from Park Blvd is the Naval Medical Hospital Balboa, only for military members. The main San Diego hospital for military members, you can walk through the gardens after visiting the doctor.
San Diego Airport
Down by the water is the San Diego airport, a quick three miles from Balboa Park. Watch the airplanes fly overhead before landing at the airport from one of the many grassy areas around Balboa Park, all day long. Pack a picnic, enjoy a local playground, and watch the planes.
Hotels Near Balboa Park
With being close to downtown, the San Diego Airport, and many main attraction, Balboa Park is close to many amazing hotel choices. The Sofia Hotel is a great choice to be able to enjoy all that downtown has to offer, within walking distance. The Sheraton hotel just across from the airport is another good recommendation for those traveling while enjoying the harbor and view of downtown San Diego.
Petco Park
Not that far from Balboa Park is Petco Park, the baseball field that is the home of the San Diego Padres. Catch a game or a concert at Petco Park, then head downtown for some delicious food at one of many amazing restaurants or sports bars.
Family Photos at Balboa Park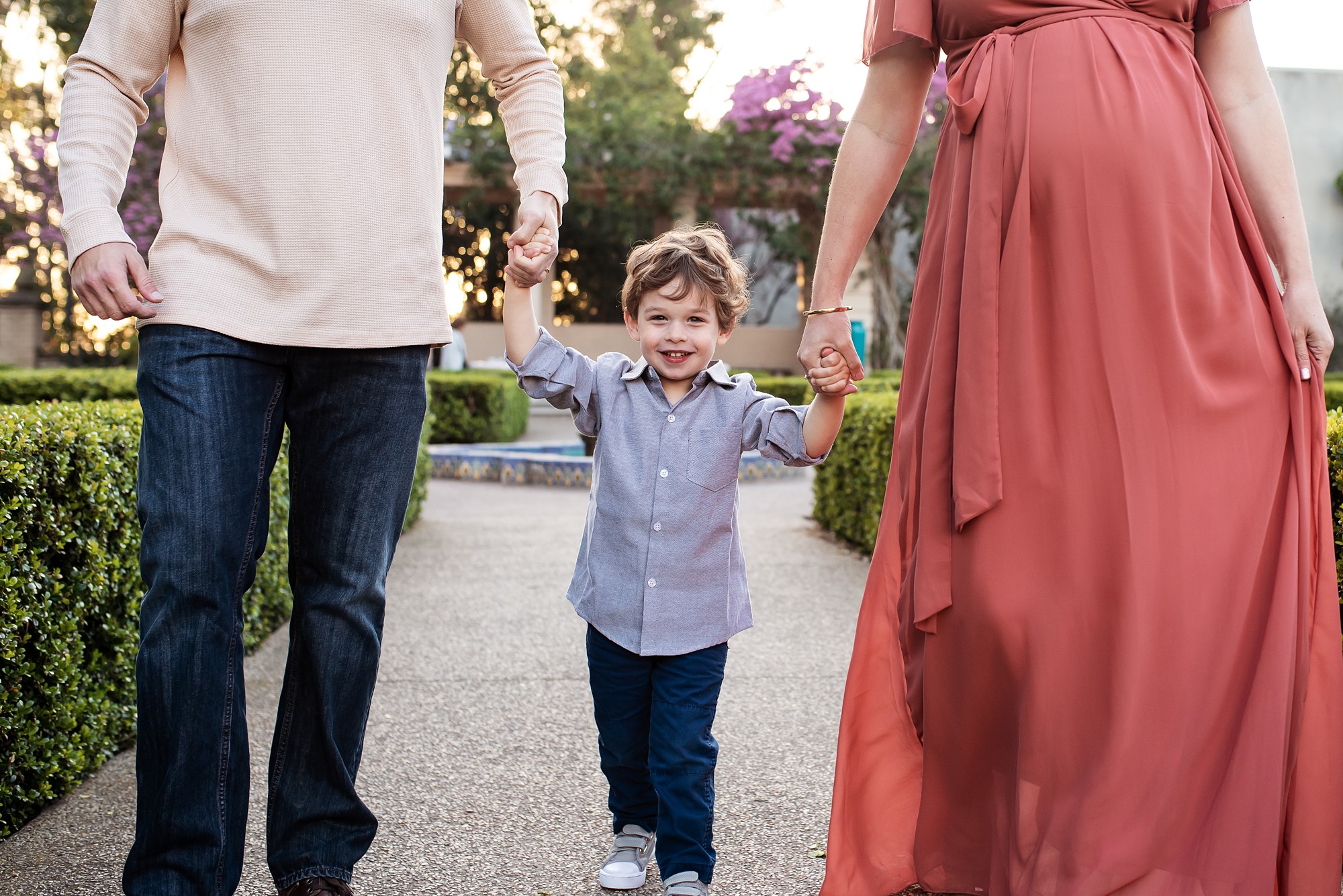 Balboa Park is full of so many unique museums, buildings, and gardens, it is the perfect location for your family photos in San Diego! Enjoy walking around with your family, while capturing what makes San Diego truly unique as the backdrop. Start at the Spreckels Organ Pavilion and make your way to in front of the botanical building and lily pond. Beautiful and vibrant colors all around Balboa Park make for stunning images.
Want your next family portraits to be taken at Balboa Park? Reach out and let's plan your session! As a San Diego family photographer, I will make sure your San Diego family session is just perfect.
Want to see more from Lauren V Photography in the Balboa Park ares? Check out the blogs below!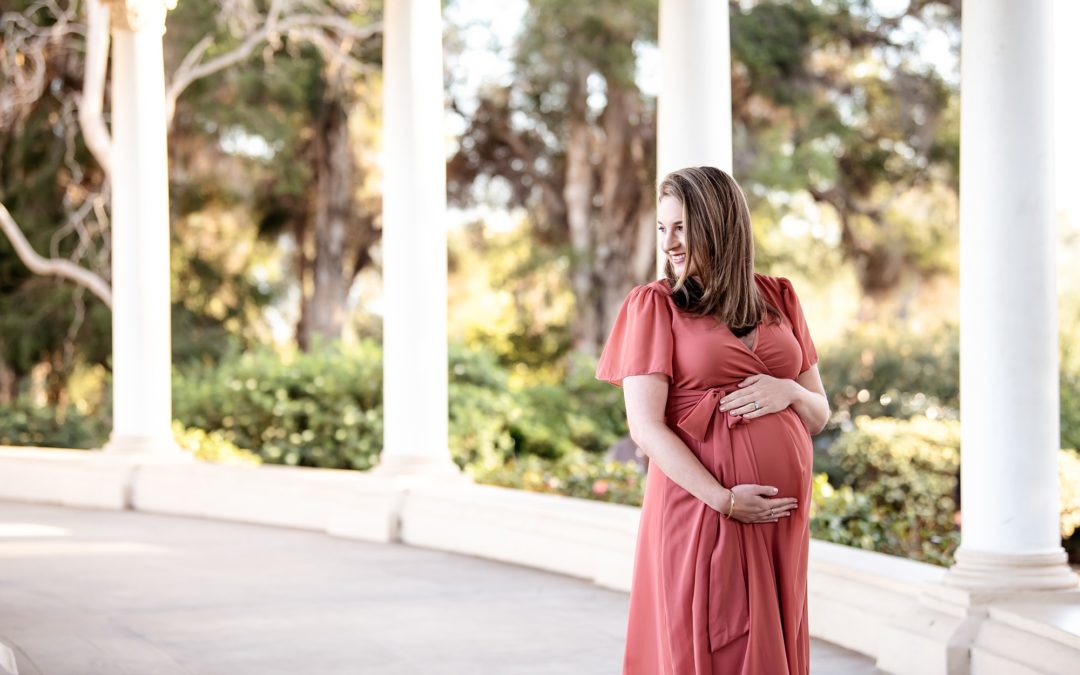 Balboa Park Maternity Photos | San Diego Maternity Photographer This session was filled with Balboa Park maternity photos, one of the most beautiful spots in San Diego for photos. Beyond the gorgeous architecture all over the park, the trails and gardens are some of...
read more