Why a San Diego In Home Newborn Photography Session Is Just What You Need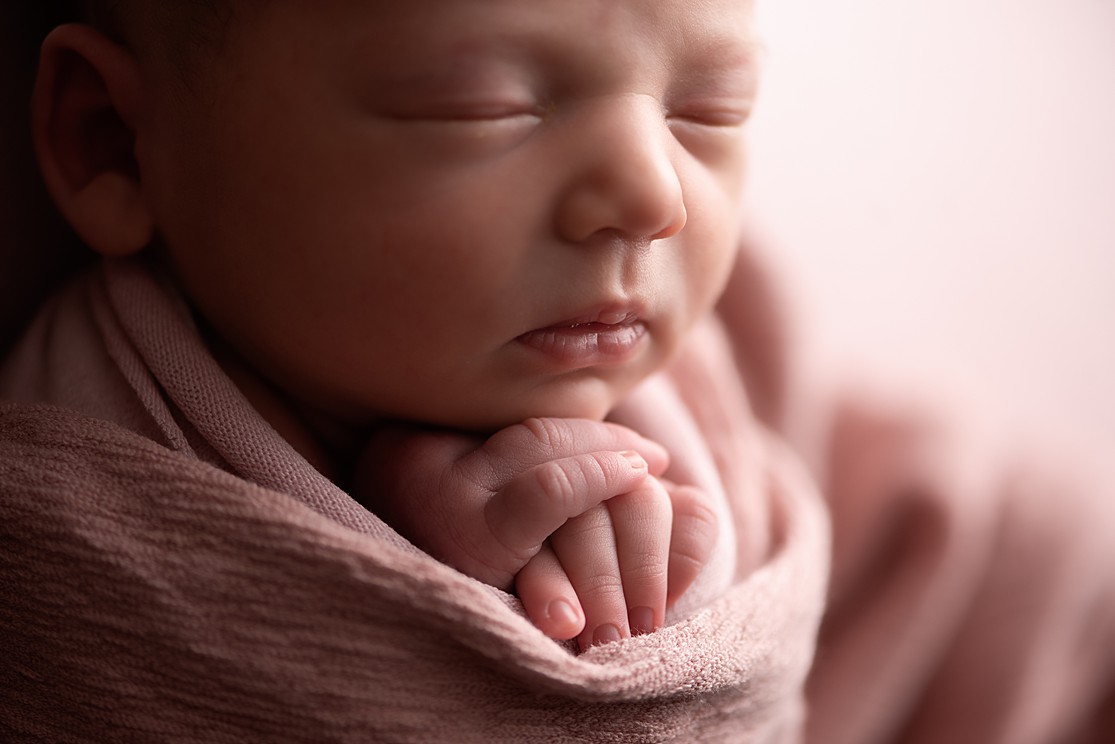 Congratulations! You are about to have a brand new baby, and while looking for a newborn photographer in San Diego you see "In Home Newborn Photography" pop up everywhere. You must be wondering what in the world is an "in home session", and how could you benefit from one. As a mom myself, I know just how difficult and overwhelming those first few weeks can be. As a San Diego newborn photographer, I want you to have the best experience with your newborn portraits, which includes making your session as easy as possible on YOU. That's where an in home newborn photography session comes in.
What exactly is an in home newborn photography session?
Simply put, an in home newborn photography session is just that – your newborn photography session taking place in the comfort of your own home. This is a luxury service provided to all of my newborn clients in the San Diego area, to help take one more task off the shoulders of new parents.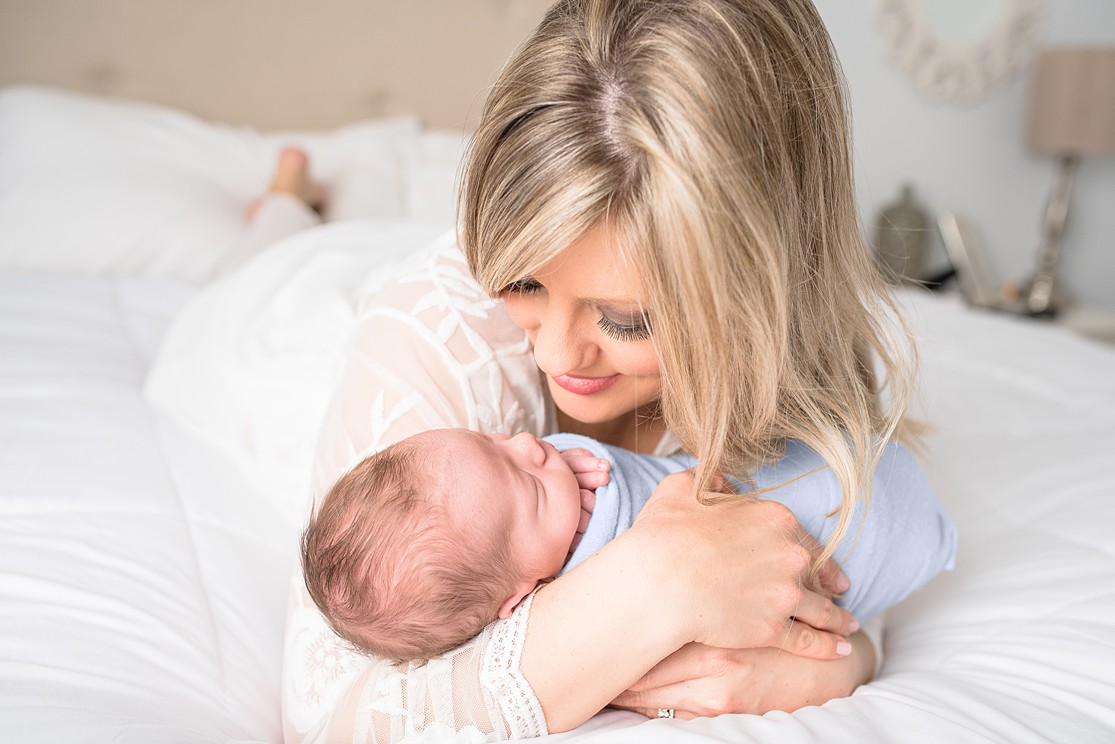 After returning home from the hospital with your brand new baby, those first days and weeks of becoming a parent can be so stressful, exhausting, and amazing all at the same time. You are beyond excited to have your newborn photographed while they are still so brand new, but it's just one more item added to your ever growing to-do list (and it typically includes getting packed up and leaving the house for hours on end). Packing a diaper bag, remembering to bring the parents' outfits, extra changes of clothes and food (for parents and baby), driving 30+ minutes away to arrive at your session, and on and on…
It is stressful, and a lot to ask of new parents. But your in home newborn photography session takes all of that extra stress away so you can enjoy the process in the comfort of your own home! No need to worry about packing a back up shirt for your partner, just head right in to your own closet. Forgot the family heirloom you wanted to incorporate into some of the newborn images? Not a problem! Snag it from the nursery down the hall and walk back to the session taking place in your own living room.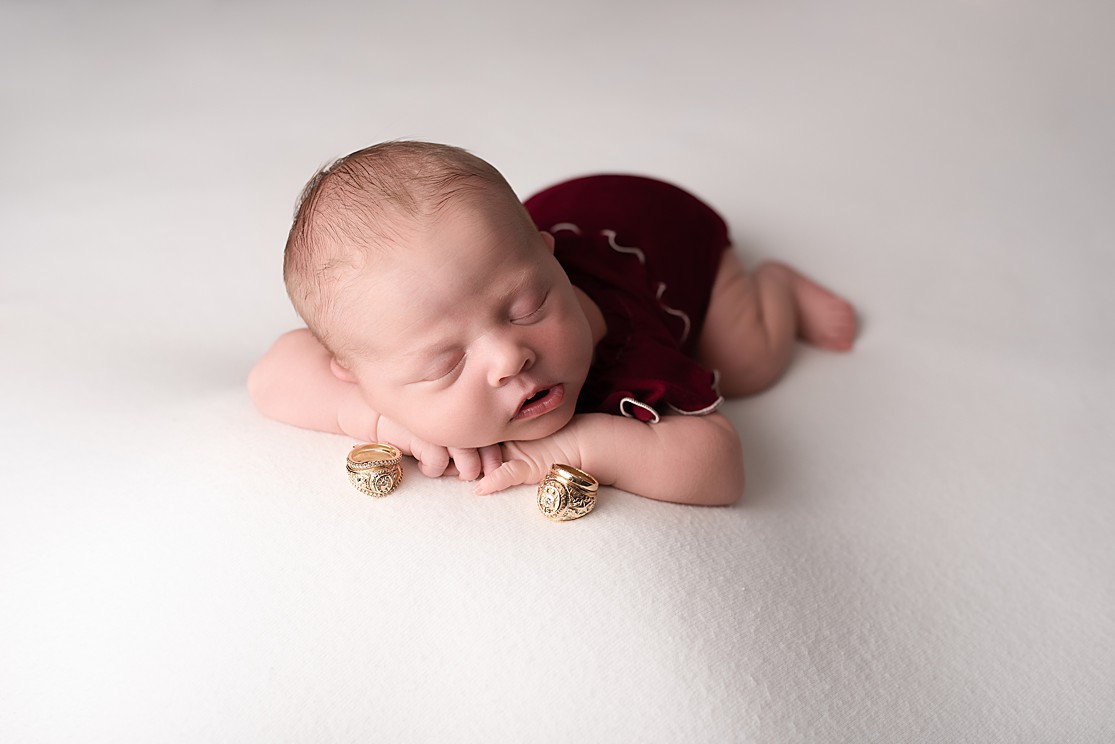 For your personalized in home newborn photography session, I literally bring the newborn studio to you! My studio equipment including my blankets, wraps, headbands, props, and space heater for extra warmth, pack up for easy transportation and set-up in your home. Every aspect of your session is customized to your wants and needs, so why shouldn't you be able to lay down and relax on your couch? Let me (happily) swoon over your newest addition and capture those precious memories for you. Take a nap on your couch. Eat a meal start to finish without interruption. Lounge in your pajamas right after we photograph you with your little one. Enjoy. The. Moment.
Many clients have raved about being able to send their partner out to get their favorite lunch around the corner from their house. Laundry and dishes have been done while I photograph their new baby. No complete interruption from their day for their session is needed, and beautiful imagery is made right in their living room.
Now, I know what must be going through your head – you just had a baby. Your house has been the least of your worries, and picking up baby toys has not been happening. This is completely normal, expected, and there is no way I would judge one single bit! I have two children of my own, so having a freshly destroyed house is of no concern to me, and a daily occurrence at our home, actually. I do not expect (nor would I ever want) you to clean just for me!
Your in home newborn photography session only takes a small amount of space, and includes no set-up from you. As soon as I arrive, together we will choose the best spot for me to set up in your home. From there, it takes about 20 minutes for me to have a newborn studio set up and ready to go. Again, I bring all of my blankets and wraps in the colors that you love and are excited about for your session, along with outfits and headbands for your little one.
Oh, you have an older sibling that you want to include in the newborn session?
Amazing! Instead of worrying about entertaining your older child in a studio space for hours, an in home newborn photography session gives your child the freedom of being around their own toys. Older siblings can become uncomfortable in front of a photographer's camera, but being able to be in their own home where they are already comfortable helps ease them into the images quicker. They are also able to take their normally scheduled naps without missing a beat, which we all know: Naps. Are. Life.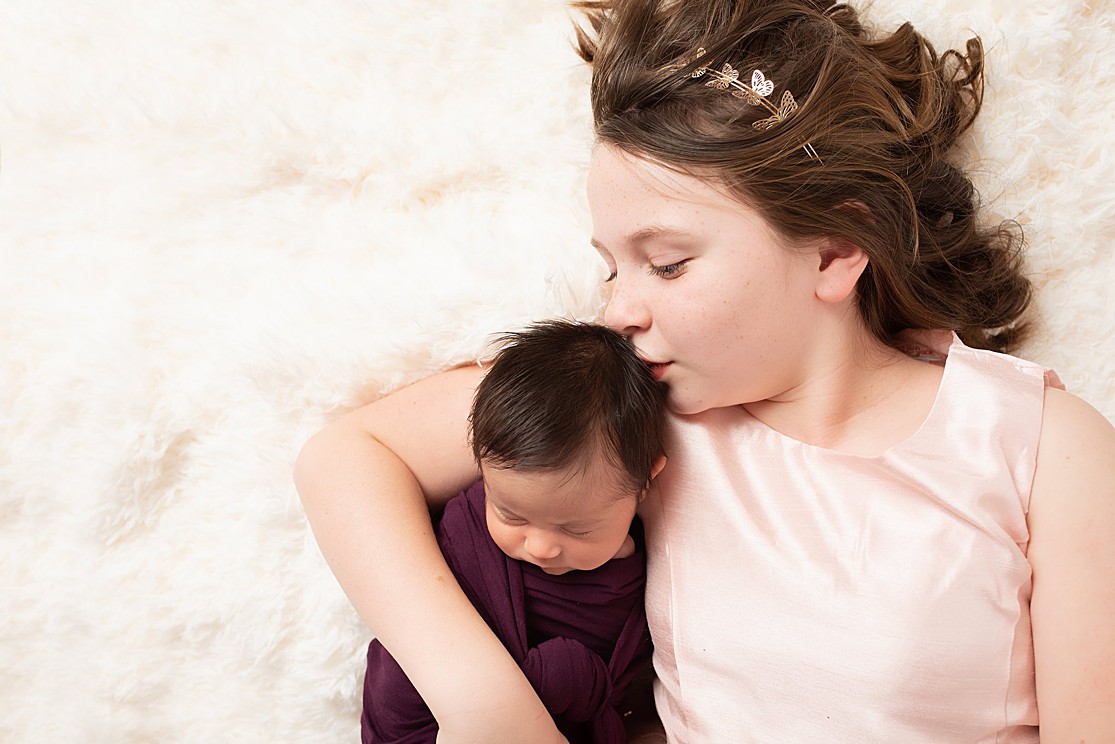 My clients love the flexibility that an in home newborn photography session gives them! A newborn session will typically last anywhere from 2-4 hours in length, so being able to relax at home during that time makes the session fly by. As a parent of a newborn, your time is stretched pretty thin already. Enjoying your 2-4 hour session in your home allows you to use that time however you would like, not only sitting in a chair at a studio waiting.
The majority of your newborn session is posed of your little one, but I always love to capture a few lifestyle photographs of you with your newborn baby in your home. With having an in home newborn photography session, this is one of my clients' favorite parts! Capturing your sweet newborn in their thoughtfully decorated nursery, being rocked to sleep in the corner rocking chair, or read the family's favorite book. These are cherished memories that will live on through your images.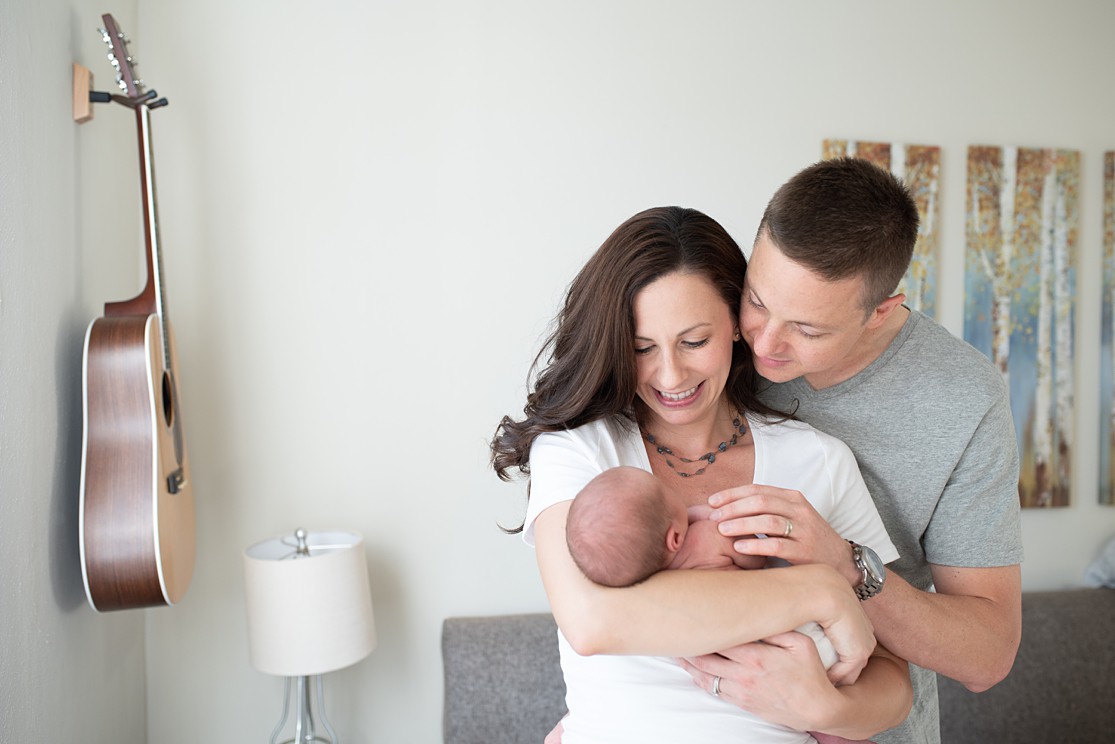 Selecting artwork during your in home newborn photography session
In our consultation, we discuss how you are imagining your newborn images up on your walls. During the actual in home newborn photography session, we get to chat and physically see where in your home you would like your artwork.  If you're not sure which wall(s) you want your images on, great news! We can walk through where makes the most sense right then in your home.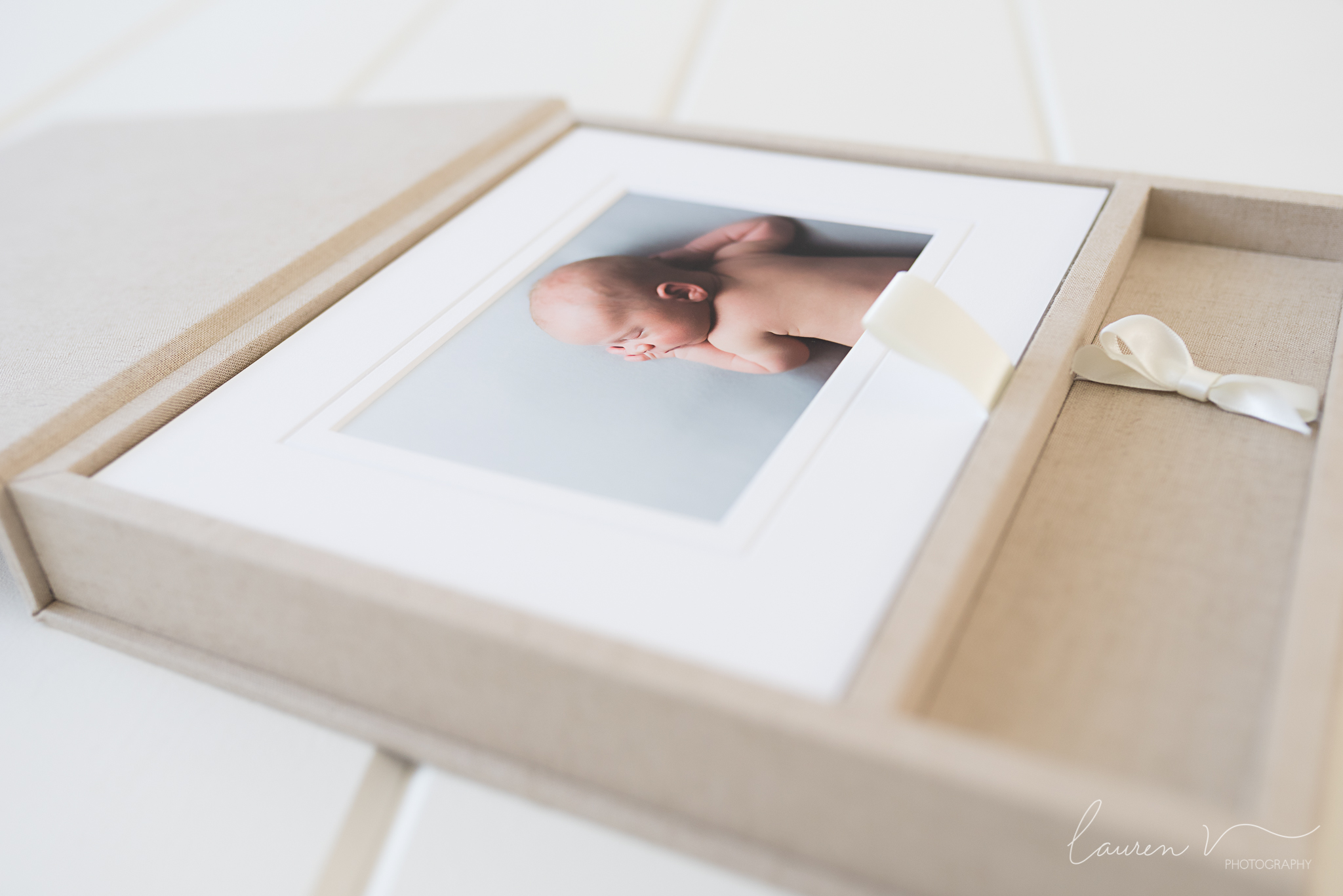 I bring samples of every product so you can feel each type of wall art options. Hold them up to your walls to see what you love most. Instead of trying to imagine what a matted print and a wrapped canvas would look like on your living room wall, you get to physically see what each product would bring to your space. You can start to truly imagine what your final artwork will look like in your own space.
My top priority is for you to thoroughly enjoy the process of having your newborn photographed, and an in home newborn photography session does just that! From the comfort of your own home, we will make beautiful artwork for you to cherish when your brand-new baby is still just that – brand new. New parents are able to fully enjoy the process more when they are relaxed, surrounded by the comforts that their own home bring to them.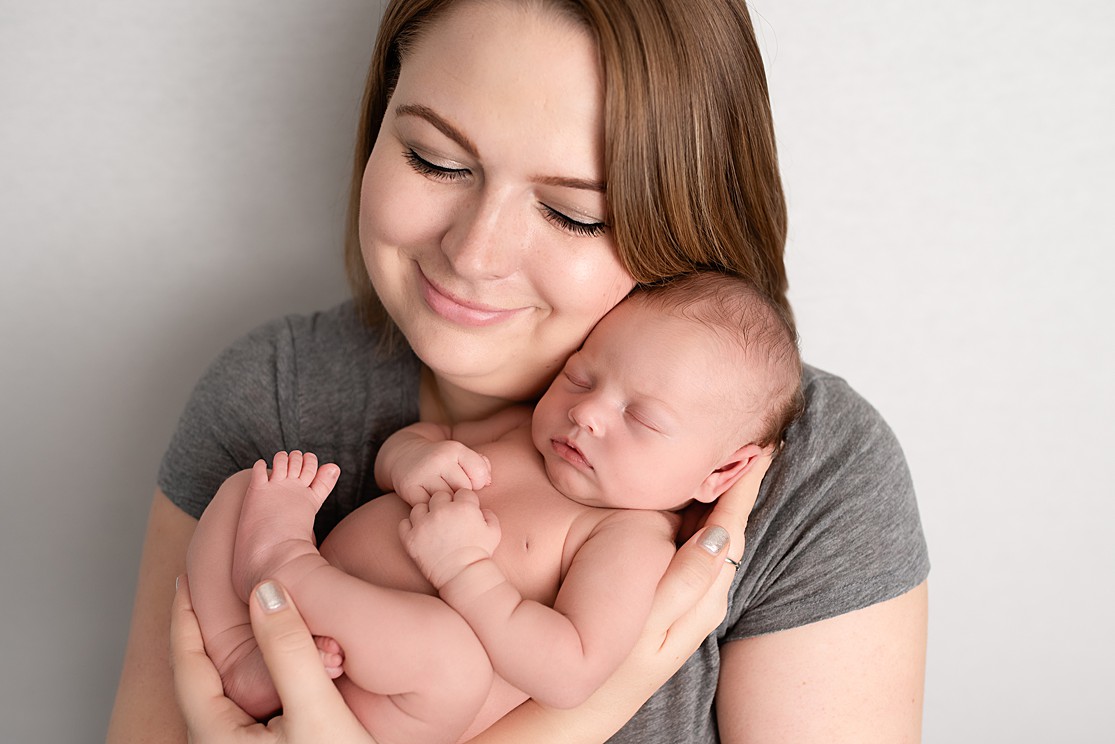 Is it close to your little one's due date? It's time to schedule a call to chat all about your customized San Diego in home newborn photography session! I only schedule a limited amount of newborn clients per month, so don't wait too long to schedule your session. Of course, you are always more than welcome to contact me if your sweet newborn is already here. I may just have an opening that works perfectly for you.
Are you still on the fence about this being the perfect experience for your family? I completely understand, and don't want you to feel rushed or pressured into anything that may not be for you. I would love to chat with you and answer any questions you may have! I want you to be completely comfortable working with me, and excited about your personalized experience with me. Take a good browse through my newborn images as well as instagram to see if we are a good fit.
Lauren V Photography is a San Diego maternity and newborn photographer, specializing at in home newborn photography sessions. We provide a customized portrait experience for those first precious moments in your newborn's life.