Ideas for Military Newborn Photos | San Diego Newborn Photographer
Living in a military town, having some ideas for military newborn photos in your pocket can come handy. I'm going to preface this by saying: just like any newborn photography, the first priority is making sure the baby is safe. Some images are composites, so keep that in mind when looking at military newborn photos. I've added four basic ideas you can try to achieve for your military newborn photos.
Military Newborn Photos With Uniform
Having the military member dress in their uniform is an easy way to incorporate their branch of military in their newborn's photos. Posing their baby in their arms, you can take a photo of just the baby in their hands, without showing too many details of the uniform. It keeps focus on the newborn baby, which is what you want!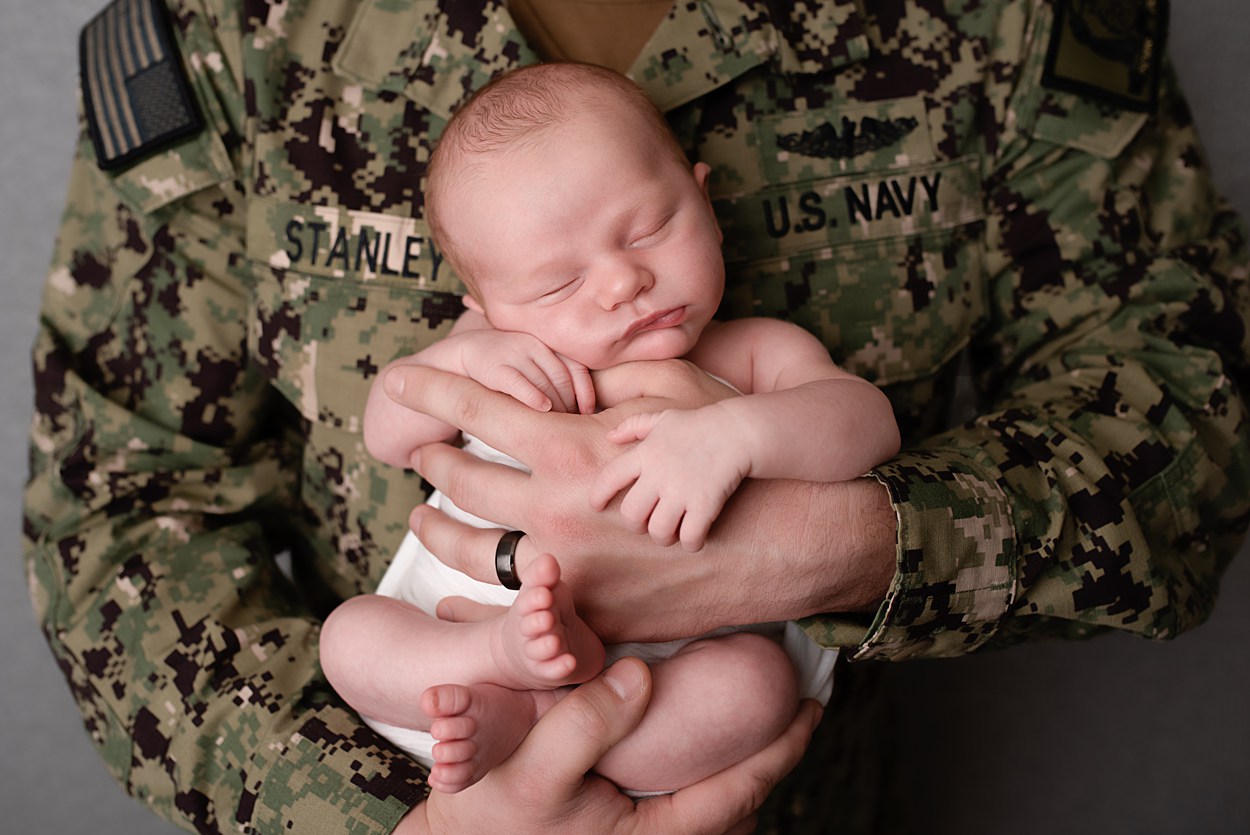 If they don't want to wear them, you can see if laying a part of their uniform down with baby either on top of it or using it like a blanket on the baby is more what they are comfortable with.
Using Wings or Pins for Military Newborn Photos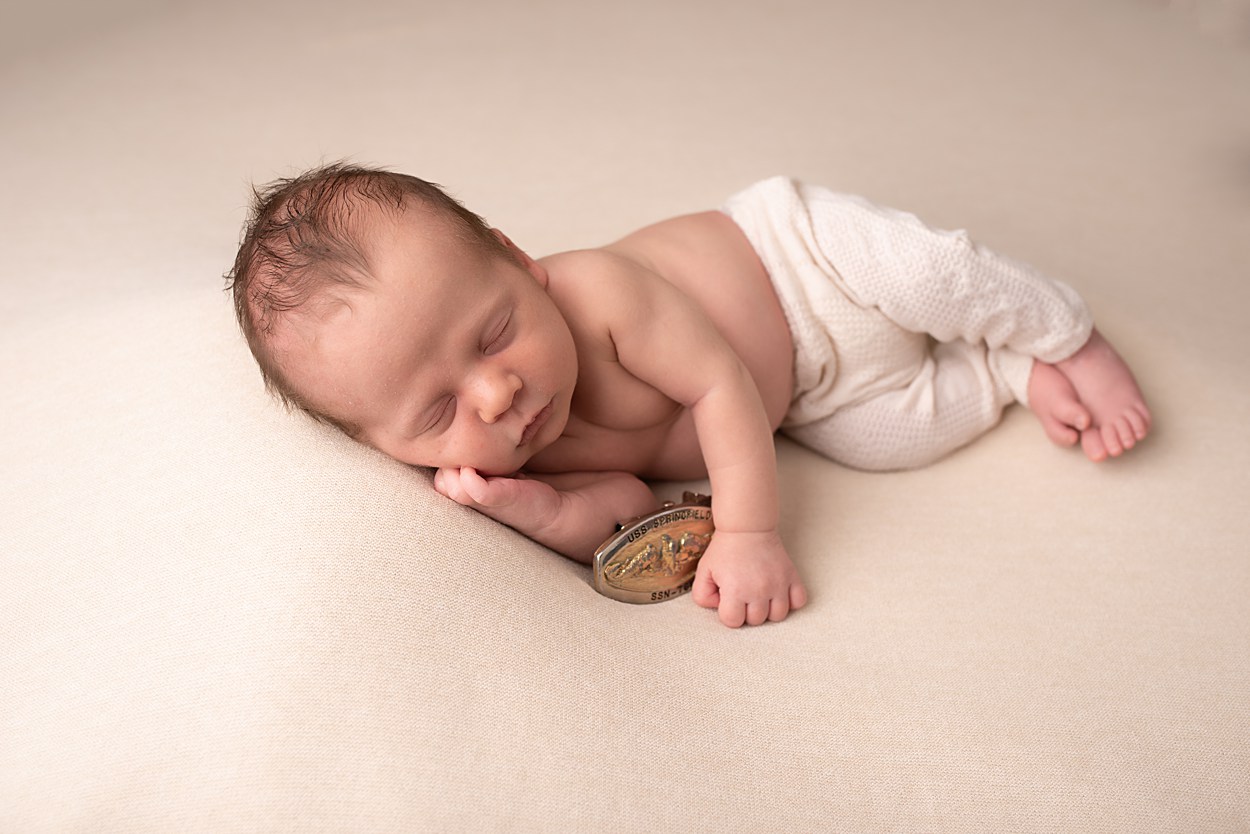 Adding in a pin, challenge coin, wings, or something similar can be done with baby already posed. Slipping them under their hand while they are in a pose while they are on their belly give great variety to your poses. Be careful that anything you are putting under their hand is not sharp or will harm the baby in any way – getting specific military newborn photos should NOT be painful for the little one.
Flag inspired outfits for Military Newborn Photos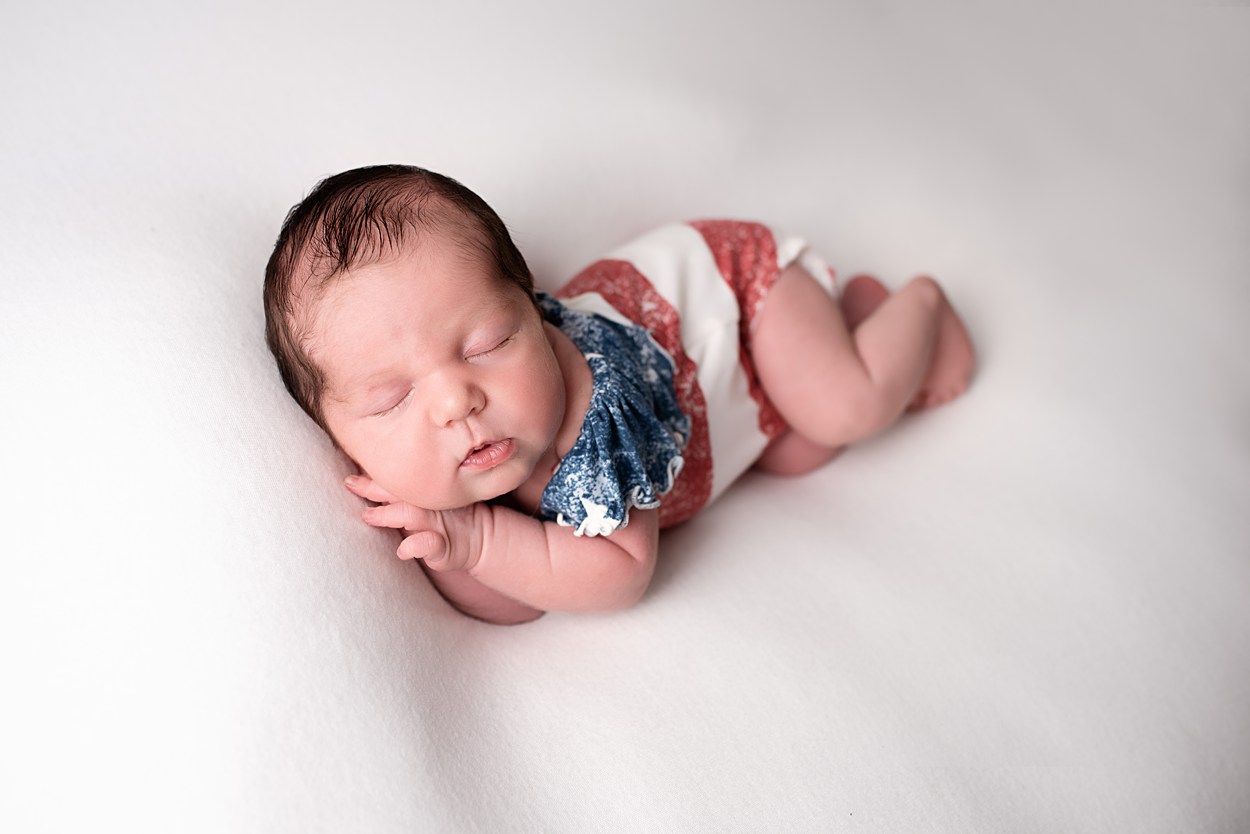 Not as obvious as a military uniform in the photos, you can use a newborn romper or outfit that is either military camp or American flag print. This option is great for those who do not want their military newborn photos to look extremely military-based, but still in the realm of military. This option is fun because you are to restricted to certain poses or ideas – they can be placed however you like! Other ideas beside outfits include using scarves, wraps, or a backdrop that is either a flag print or military/camo print.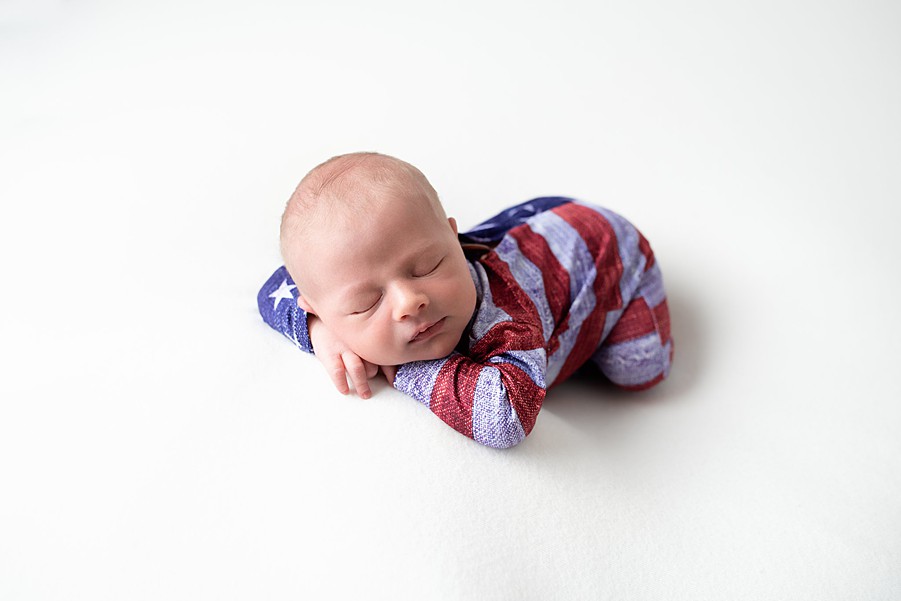 Covers Used in Military Newborn Photos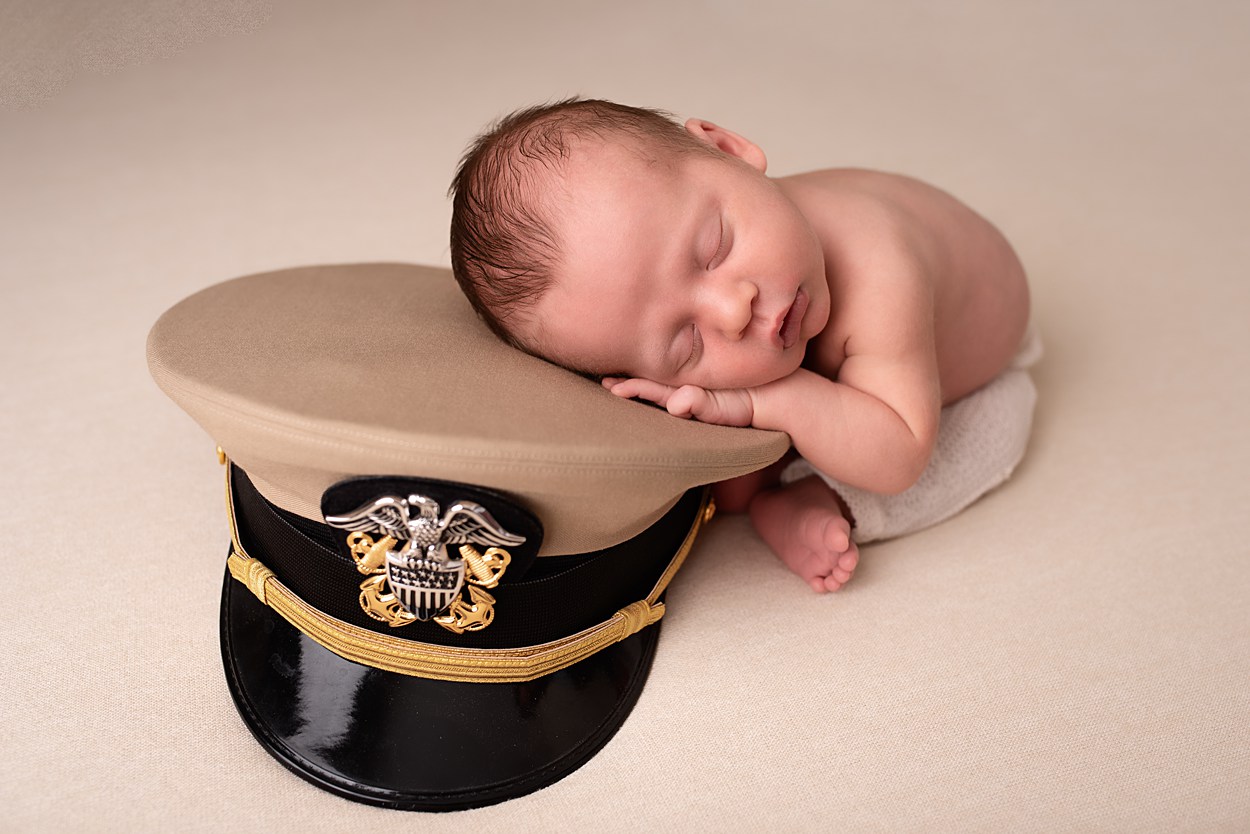 A favorite of mine (and my clients!) will always be using the cover in images. If you rest the newborn on top of the cover, make sure you stuff the inside so it's firm enough to hold the weight of the baby. And always, always, use a spotter on this pose. The covers are not flat and babies can startle and roll off of the cover rather easily. Better to be overly cautious than not.
Another great way to use a cover is to gently place it on top of the baby. Make sure you are not putting any part of the cover that may lead to discomfort, but it's relatively easy to incorporate it in this way.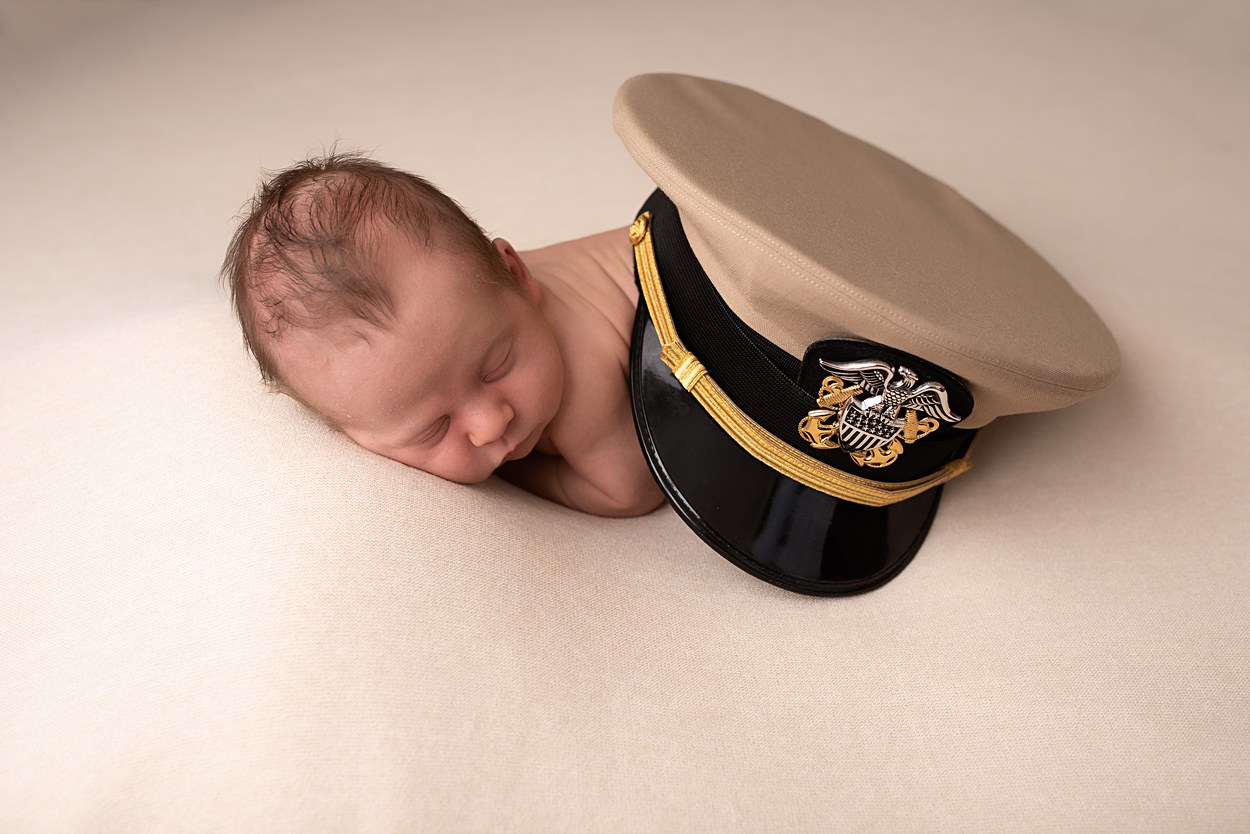 I hope these four ideas for military newborn photos was helpful to you! There are always great ways to add in a parent's military career into their newborn baby's photos, so get creative with it.
Are you on the search for a San Diego newborn photographer that provide you with military newborn photos? I would love to chat! Contact me here and let's talk about what you envision for your perfect newborn photos. Want to just follow along for a bit through Instagram? Come on over and give me a follow so you can stay up to date on what I am up to. I can't wait to connect with you soon <3