Four Simple Tips for Your San Diego Lifestyle Newborn Session
One of the most recent trends in the newborn world – a lifestyle newborn session, and I am here for it!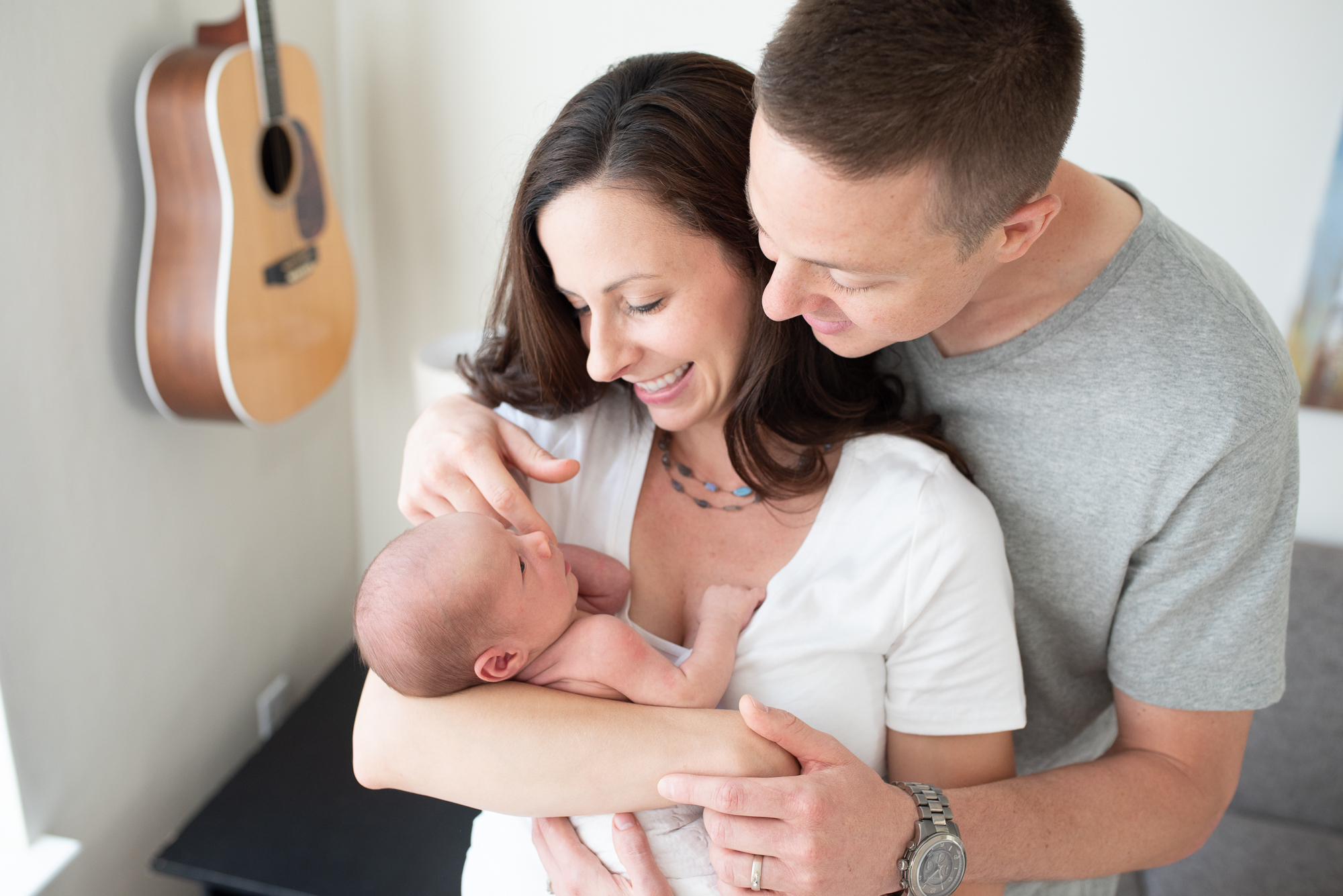 A lifestyle newborn session takes place in the comfort of your own home, which can be much more relaxing for first time parents or older siblings who are still trying to navigate their world with a new baby in it. As an added bonus – a lifestyle newborn session can happen when your sweet baby is a few days old through a few months old! There is no "age limit" since your baby will not be posed, but can be wrapped or just simply in a white onesie.
The lifestyle newborn session is a stress-free session, capturing your family in everyday life. Let your kids run and play, or cuddle in with the new babe – all of it is welcomed! There are no posed photos in a lifestyle newborn session, so no need to heat your house up (in-studio sessions can get hottttttt).
Even with a lifestyle newborn session being more relaxed while happening, it can also be stressful not knowing what to expect or how to prepare properly. Here are for simple tips to get you more than prepared for your very own lifestyle newborn session.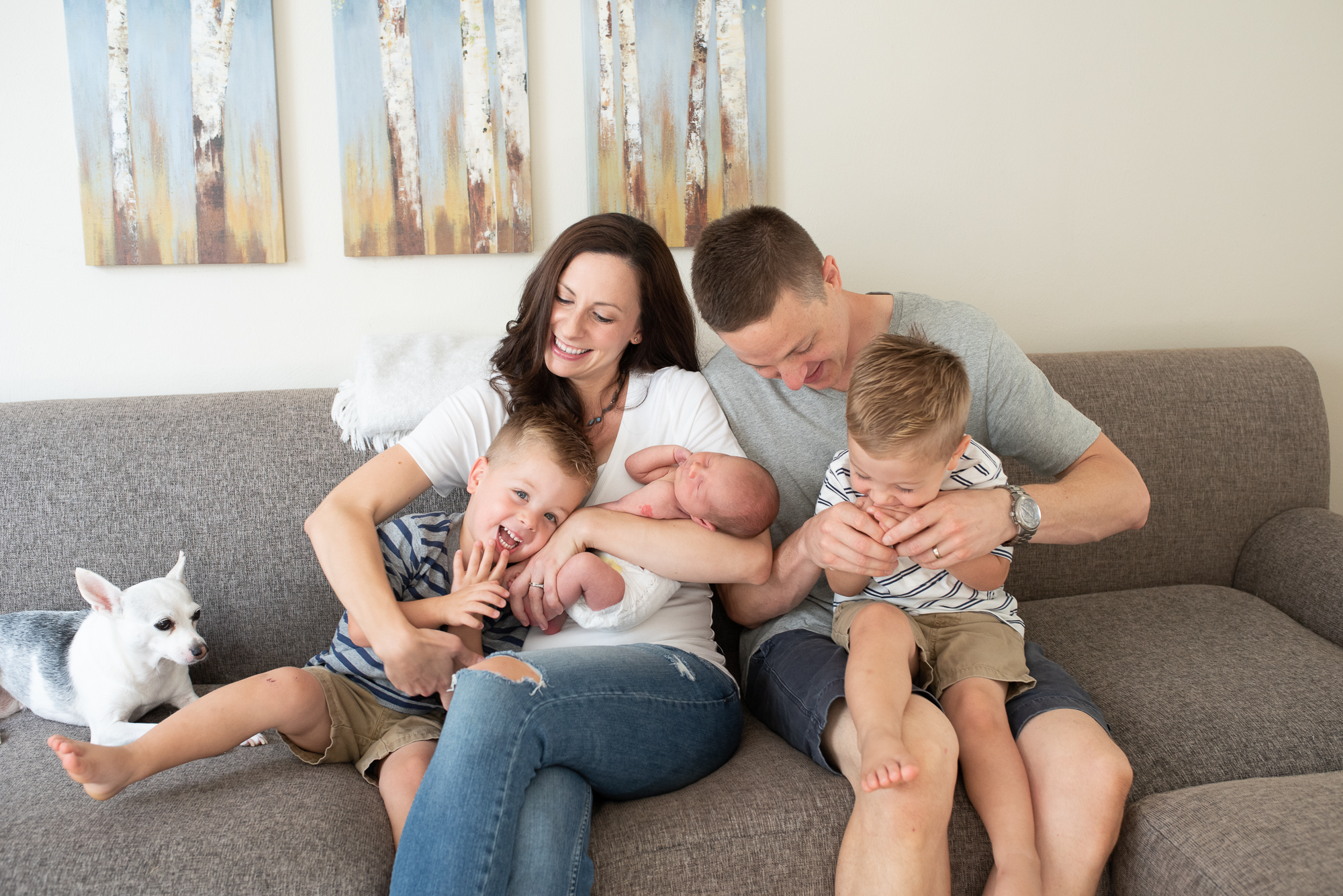 1. Prepping Your Home for a Lifestyle Newborn Session
It may seem daunting to clean and prep your home for a photo session, but it doesn't have to be! Choose one or two areas of your home that you would love your session to take place, and focus only on those. Not sure what would be the best area? I've got your back, and will talk you through it all. It does not need to be deep cleaned, just swipe all of the toys and random items on top of dressers or tables into a drawer!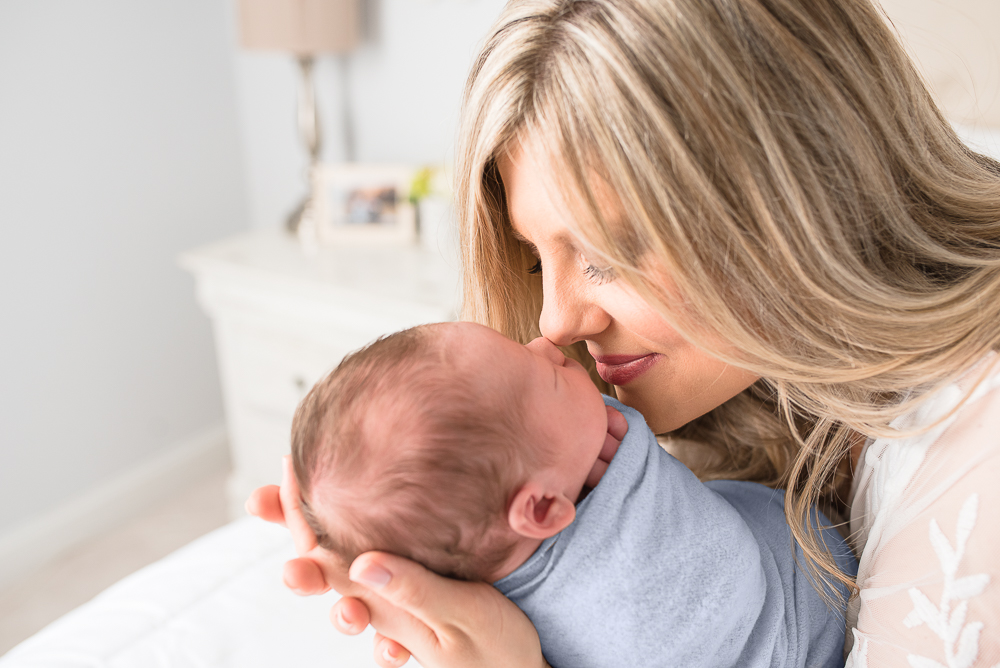 A good rule of thumb – a cleaned out corner or space near a good light source is the perfect spot for your images! Big windows with lots of light are ah-mazing for these lifestyle newborn sessions – thank you, San Diego for always being sunny! But don't stress too much, I talk through what spot will be best with all of my clients well before the session. I'm also a pro at moving objects around to make it *just* right.
Heating your home up to mid-70's also helps keep your brand new baby happy and warm. Too cold, and they can be a bit grumpy. Luckily, lifestyle newborn sessions don't require you to heat your home up nearly as much as a posed newborn session (those are high 70's to keep your babe nice and comfy while I pose them). Past that, there's nothing else you need to do to prepare! Easy, right?
2. Less is More
Not everyone has a Pinterest-worthy home. Heck, these perfect Pinterest homes are not even Pinterest-worthy in reality. I would LOVE to see inside their dresser drawers right after taking a photo of a room! You shouldn't expect your home to magically turn into a palace right before your session, but there are some great ways to help a room look perfect for your photos: Less. Is. More.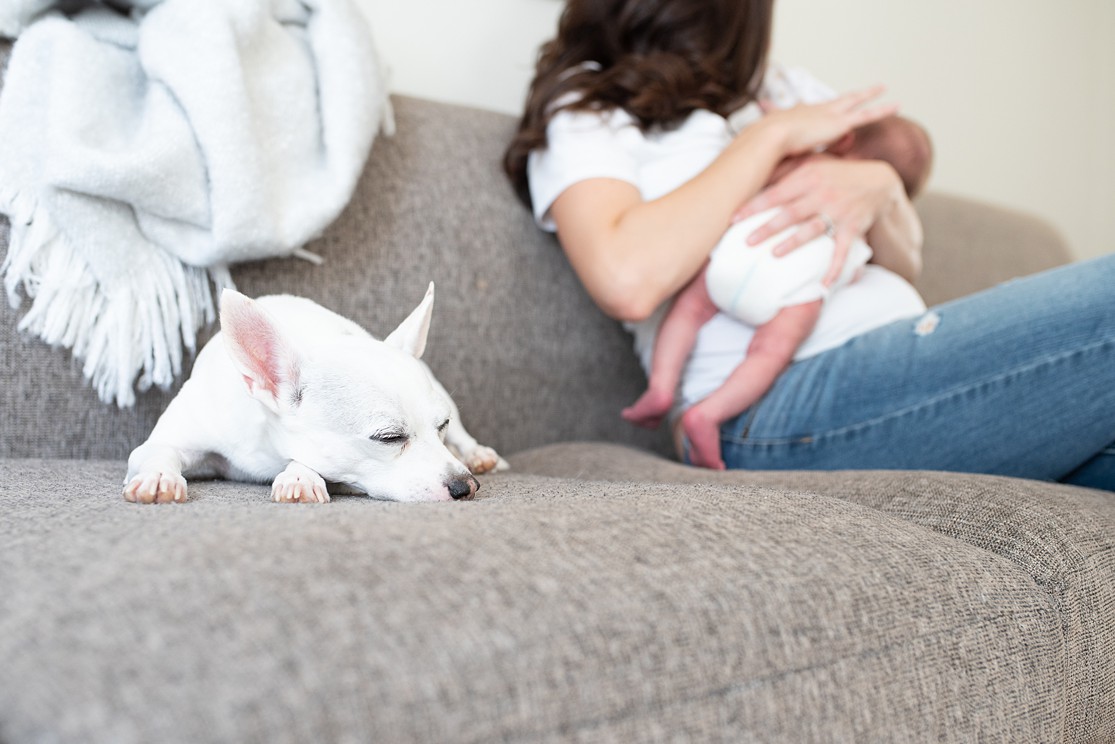 De-cluttering a room, throwing a neutral/lighter colored blanket over the bed, and opening up the blinds can transform a room so much! Remember, the focus of your lifestyle newborn session in San Diego is the connection between you, your brand new baby, and your entire family. That is all that matters, and what we want shining through these images. The picture perfect home isn't realistic, and shouldn't be your goal for your photos.
3. What to Wear
Not just with your San Diego lifestyle newborn session, but with any family session – keep it simple! Neutral colors are best with newborns, and try to steer clear of logos or super busy patterns. I also recommend to stay in earthy/warm colors, depending on what style you are looking for in your images. Reds and greens will pull those colors out even more in newborns, so earthy tones are amazing!
I know it used to be the "thing to do" in sessions years ago, but just say no to all white shirts and jeans! Adding a subtle pattern on a shirt, a gray, or cream color adds more depth to your images. Frankly, it also makes your lifestyle newborn session images look more put together than all white shirts and jeans. I still love you if that was your first instinct for what to wear, but let's add some variety to those outfits, mmmkay?
If you are really struggling with how to dress your family and want personalized help, my girl at J. Zimmer Style is amazing! She has dressed my family and many of my clients for their family and newborn sessions with me, and always knows exactly what you should do. She will not steer you wrong, I promise you that!
4. Getting Older Kids Involved
Older kiddos usually LOVE in home San Diego lifestyle newborn sessions! Why? They don't have to go anywhere for the session. Their favorite snacks are within arms reach. If they are overwhelmed, they can peace out to another part of your home to decompress. Toys, electronics, TV shows they love – all within arms reach ( no judging here – I have two kids that I have gladly sat in front of the TV while I had to do something without them being *amazing* helpers…).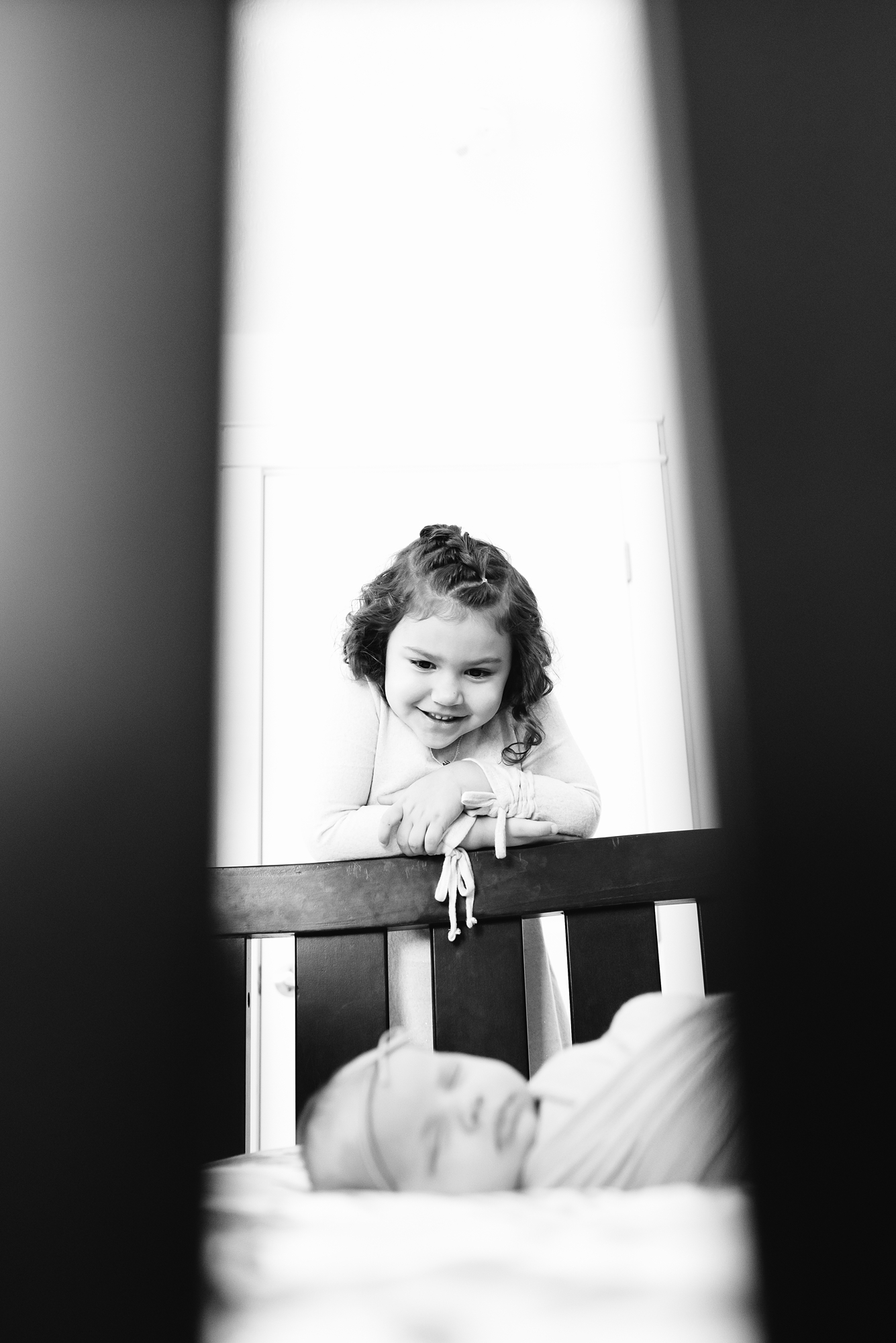 There are some serious advantages to a San Diego lifestyle newborn session in your home with older siblings. It's easier to include them in the photos without having to be careful of props or equipment. They also can get their wiggles out as many times as they need during the session! A simple bribe can go a long way to get those precious sibling photos, lifestyle newborn sessions make those sweet moments even easier to capture.
What to Expect During your Lifestyle Newborn Session
Now that we have the 4 simple tips out of the way, what should you expect from your San Diego lifestyle newborn session? It's quite easy, actually. You simply interact with your family while I photograph these moments. Snuggling on the couch reading your favorite baby book. Rocking your new babe in their nursery. These images aren't posed, which makes the connection between you and your family shine through in the images. Of course, older siblings always end up smiling and saying "cheese" to my camera, which is super cute and tends to lead to giggles and silliness in front of the camera.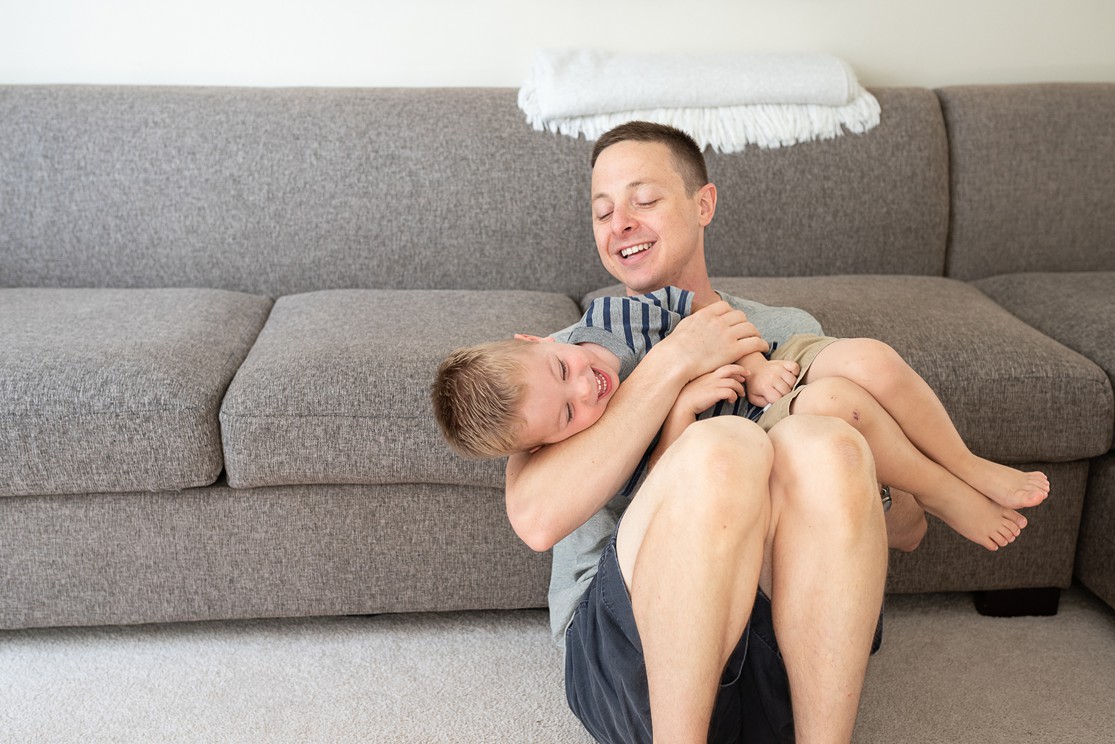 Don't stress about a thing before or during your San Diego lifestyle newborn session. If you ever feel like you don't know what to do, I've got you covered! I always come with tons of ideas and will gently direct you to make sure we get the best moments captured for you. Lifestyle newborn sessions are steadily rising to my favorite type of session, and who could argue?! With natural emotion and connection, your images are like a beautiful peek into your new normal. Being able to look back into what your world looked and felt like during those first weeks through your images in a beautiful album, is perfection.
I would love to chat with you about your San Diego lifestyle newborn session! Planning your session is as simple as a call on the phone. If you're not sure about which type of newborn photography session is the best for you, I'm more than happy to help you figure out what is the most important for you and your family.
Lauren V Photography is a maternity and newborn photographer in San Diego, specializing at in home newborn photography sessions. We provide a customized portrait experience for those first precious moments in your newborn's life. From start to finish, your images will reflect the love you have for your family, and the love we have for our craft. Ready to book? I would love to chat with you today <3
Follow along on instagram to see what's going on at Lauren V Photography, your San Diego lifestyle newborn session photographer.