By: Alicia with Precious Ones Photography | Guest Blog
Today I am so excited to have the pleasure of inviting Alicia from Precious Ones Photography, who specializes in newborn photography in Toronto, to share a guest blog with you all! As professional newborn photographers who love helping our clients find the perfect pieces for their homes to display their images, we know how decorating your home can be stressful. Alicia with Precious Ones Photography is here to help take the stress out of decorating your baby's nursery with her expertise! Keep reading to learn three tips to decorating a nursery.
3 Tips on How To Decorate A Nursery
Preparing for baby's arrival is full excitement, but not without a long to-do list.  We have put together a few tips on how to decorate a nursery so when baby arrives, you will have a beautiful, comfortable baby room to enjoy your new bundle of joy in.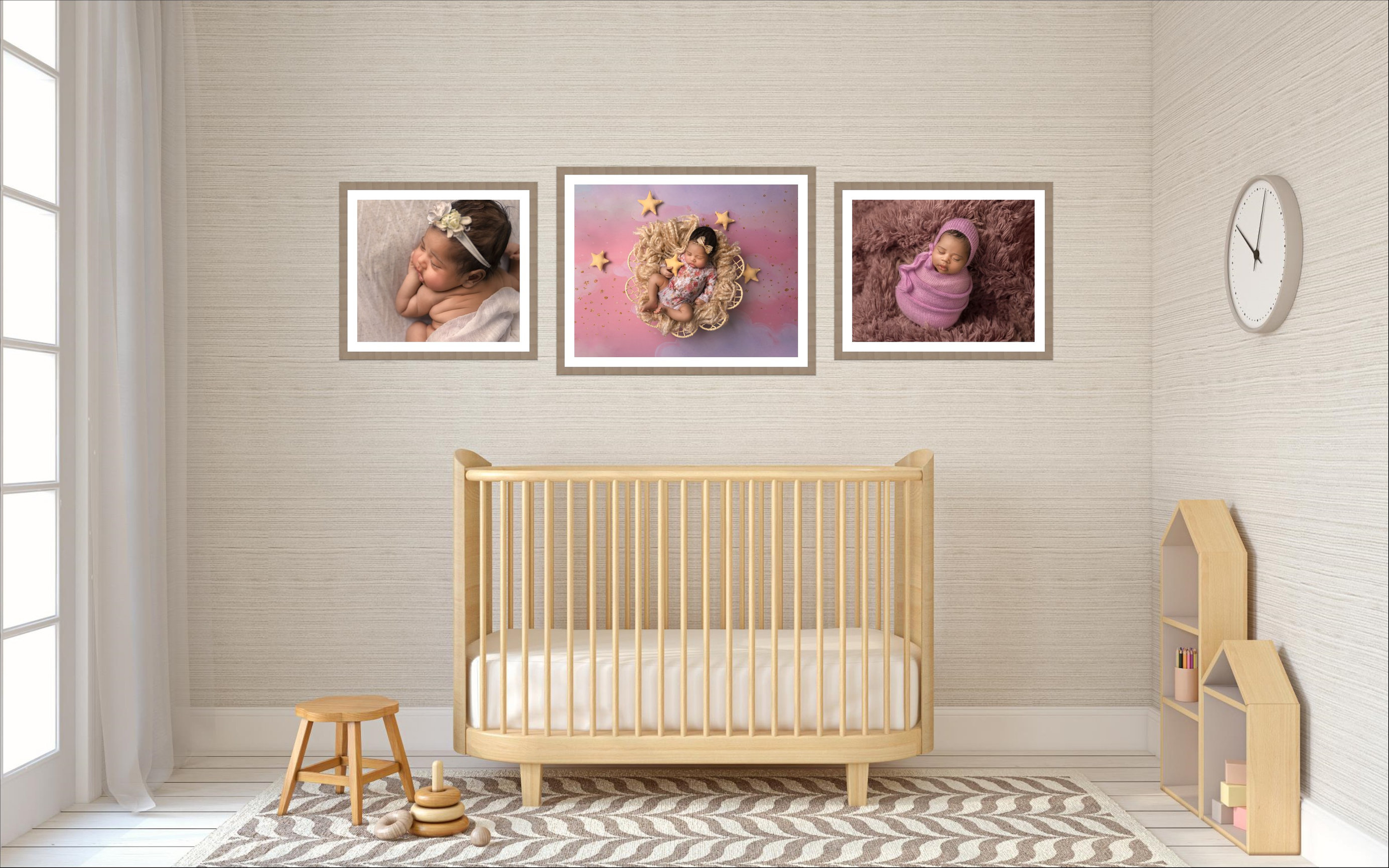 Toronto decorated Nursery wall art
Tip #1 – How to decorate a nursery  – Choose a theme
Starting off with a theme is the most crucial step. Popular themes include animals, vehicles, nautical, or just a simple colour that you like are all great choices. You can choose to go full-out decorating the infant room utilizing your chosen theme, or you can use it as an accent piece or colour. There are so many ways on how to decorate a nursery, it's all about personal preference – just as long as you enjoy seeing it, that's all it matters!  Just remember, how to decorate a nursery really isn't a science, it's about the love and effort you put in.
If you get stuck on how to decorate a nursery, try researching on pinterest or instagram for ideas, create a moodboard and then slowly piece your ideas together. Sometimes it can be as simple as writing out all the ideas, put it in a hat and go with the theme that you picked out first. Let your imagination run wild! This should be a fun process!
Tip #2 – How to decorate a nursery – Picking out baby essentials
Once you have decided on the theme, the next step is to choose your baby essentials that coordinate with that theme and colour. If you have a light-colour room, you might want to go with a white, beige or birch colour crib. For darker themes, brown and black are more suitable.
Don't forget about matching on-the-go items such as diaper bags, bibs and baby outfits. Additional baby essential items include a diaper genie, white noise machine, swaddles, best nursing pillow, and pacifier.  Some families like to match everything so no matters what you end up displaying in baby's room, every will look nicely coordinated. This can include baby outfits, play mats, exersaucers and shelving and etc.

Toronto nursery baby essentials
Tip #3 – How to decorate a nursery – Choosing wall Art
One of the most important things to do in preparing for baby's arrival, is booking a newborn photoshoot with your favourite Toronto newborn photographer to preserve the precious newborn moments for years to come. Be sure to choose a Toronto newborn photographer that specializes in the artistry of creating wall displays from your beautiful Toronto newborn photography gallery.  We always recommend parents to capture these incredible family moments even before baby arrives with a Toronto maternity photography session. Your baby will be able to see how loved they are, even in mommy's belly. Pregnancy is a beautiful journey, and we wish Toronto moms can all experience how incredible they look and feel during their Toronto maternity photoshoot with us.
If you are considering a Toronto newborn session only, be sure to discuss the options for how to decorate a nursery with your Toronto newborn photographer. At Precious Ones Photography, we ensure our clients get a one-on-one personalized design consultation so we can create beautiful fine art newborn portraits that is unique and customized to our clients. This includes creating photographs that will work beautifully on their nursery wall. Nursery wall art is what you and baby will see every time you walk into the room.  Decorating the nursery wall is one of the last items to be added to the room, but should definitely one of the first things to consider when deciding on how to decorate a nursery.