Newborn Photos with Dad | San Diego Newborn Photographer
When you are looking through images of newborn sessions, the type that always sticks out as the most cherished are the newborn photos with Dad. There is something so special seeing their dad gently holding their newborn baby. It shows a glimmer of how much they truly care for their brand new baby, and how they will protect that child for the rest of their life.
Even if it is not requested, I always try to get at least two newborn photos with dad. Men can sometimes put up a front and not seem to care about images of them with their little one, but end up melting while holding their precious newborn while I photograph them together. It is always a family favorite by the end!
Newborn Photos with Dad | Poses
There are many variations on these newborn photos with dad, but I always try to get at least one of my top four poses each session. Hands only, up by Dad's shoulder, in Dad's hands while he looks down, and posed in Dad's hands in front of his chest.
Newborn Photos with Dad | Hands Only
In this pose, it is always done on a flat surface with a black backdrop. Please do not attempt this pose if you are not familiar with how it works, as it can be dangerous to try to replicate this image with how it appears to be taken.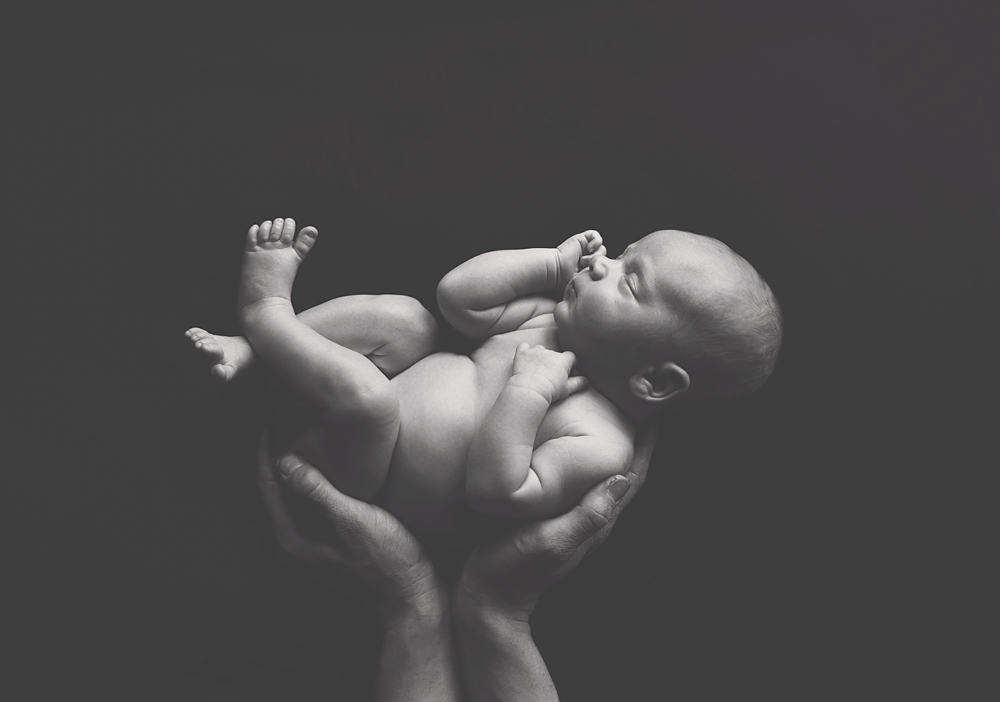 An image of your newborn, cradled in Dad's hands – nothing in this world is more precious than that. Being able to look back and see just how small your baby was is so special, too.
Newborn Photos with Dad | By Dad's Shoulder
This pose is a favorite of mine, and Dad's alike. It is extremely natural for Dads to get and stay in, so you don't have to worry about them being nervous while holding their brand new baby in a new, awkward to them position. This is also my go-to pose if baby is fussing a bit, since they can move around without as much worry for the pose to stay perfect. And the sweet shushing, saying and past on the back from Dad make it that much more amazing.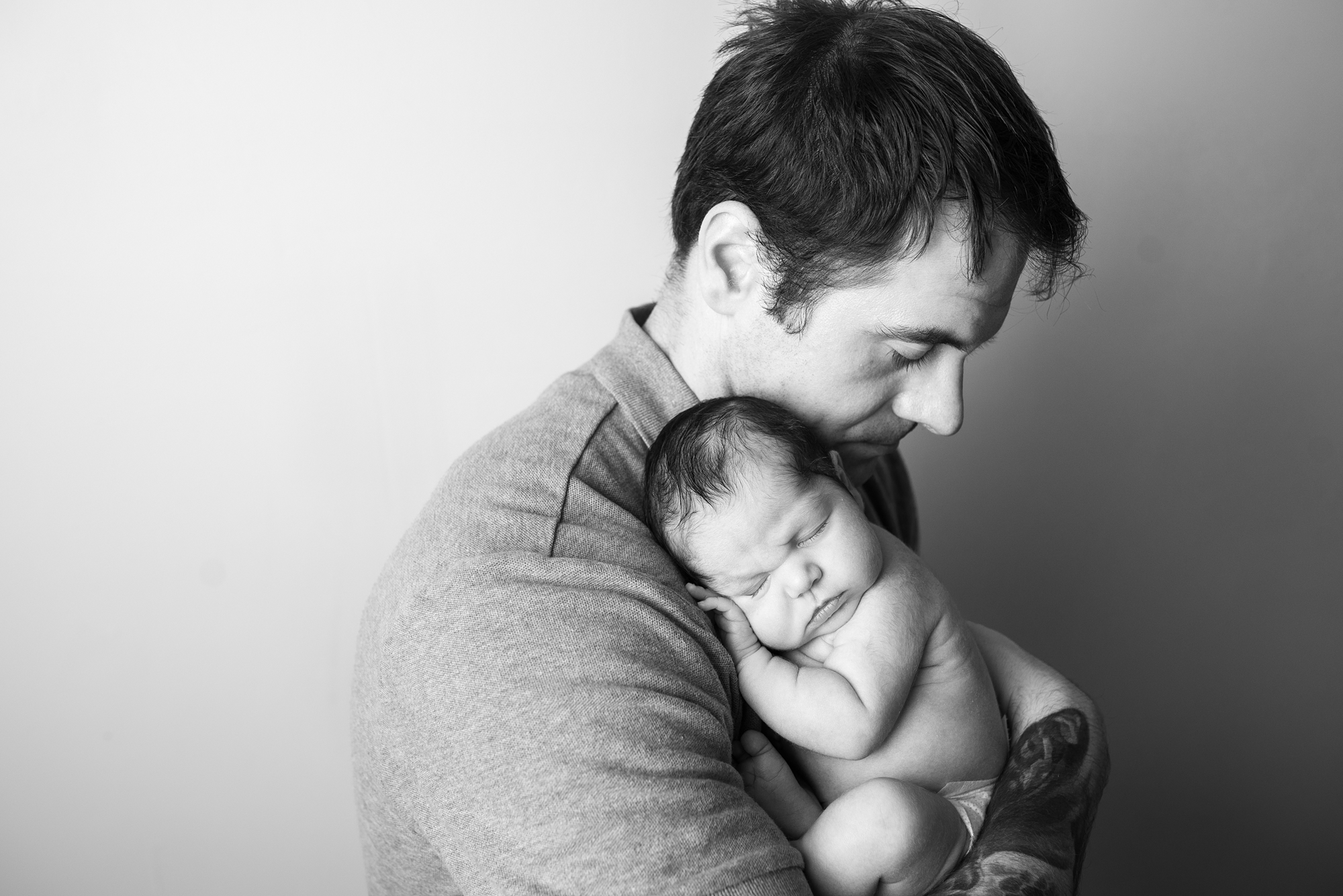 Newborn Photos with Dad | Cradled In Dad's Hands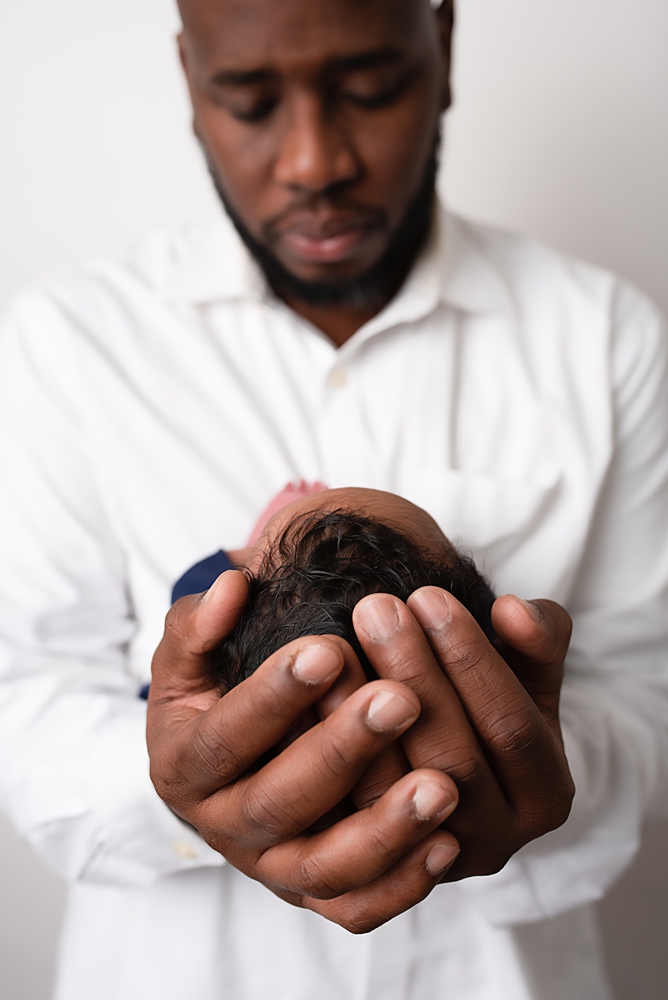 Another very simple, and yet impactful newborn pose with Dad is having Dad put the newborn in his arms, looking up at Dad. You can focus on Dad looking tenderly at their brand new baby, making a moment that will last forever in your image. This is also a fabulous pose if baby is awake or fussing a bit, as it is gently posed, but naturally posed at the same time. Add in an image of Dad kissing the forehead of their newborn baby, and you are set!
Newborn Photos with Dad | Posed in Hands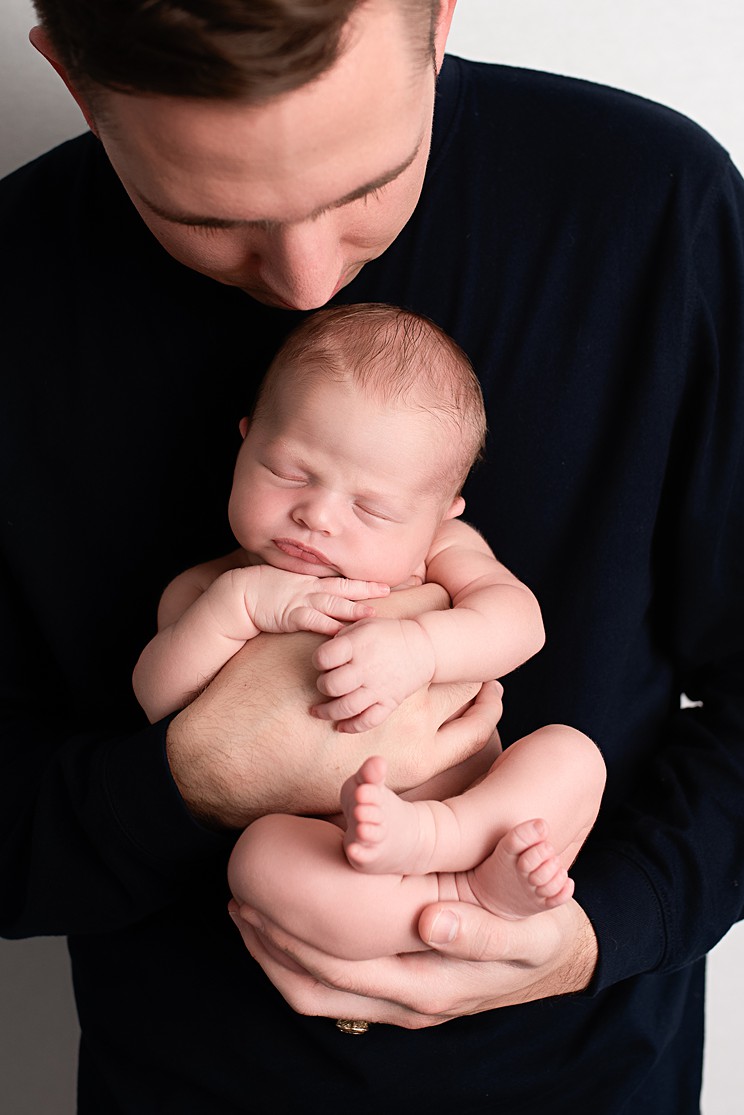 This image is more technical because it does involve posing the newborn before placing them in Dad's hands, so only attempt if you are knowledgeable in posing newborns. One main point that Dad needs to understand is that once you place his hands where you want them (before placing baby in his hands), he needs to stay still. You bring the baby to his hands, not the other way around.
Another variation to add for more newborn photos with dad is to wrap baby up, and then place baby in dad's hands. For dads that are a bit hesitant with newborns (sometimes new dad may feel like they could hurt their baby or don't feel comfortable handling them just yet, which is completely understandable), this is a great way to pose them together!
I love this pose for dads as it is a great way to see all of those precious features of their newborn baby, while also the gentle and protective feel of being held in Dad's hands.
Newborn Photos with Dad | Outfit
Dressing Dad for portraits can sometimes be tricky, but luckily it is extremely simple! As most portraits, staying away from big bold patterns is at the top of my no-no list. These images are timeless and classic, you need to dress for that as well. Keeping it extremely simple – plain t-shirts or sweaters in neutral colors work the best. Red and green are also not recommended as they can cast a color on your newborn, which is very difficult to get out of the newborn photos with Dad.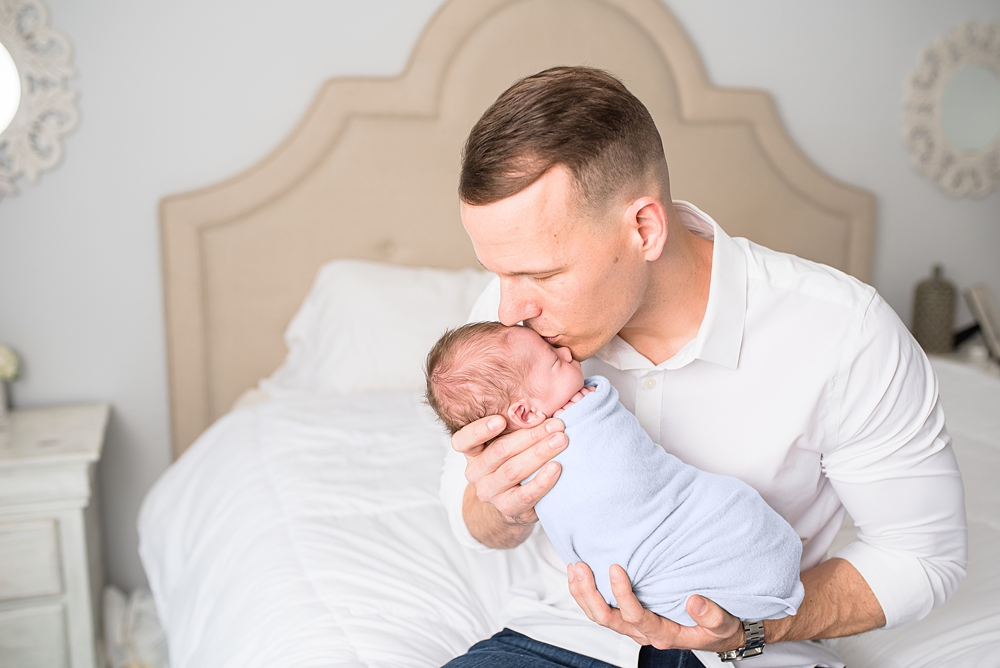 Are you looking for your own newborn photos with dad? Contact me to set up a consultation, and we can make sure we are the perfect fit! From that first phone call through your images on your walls, I take care of everything in between so you don't have to.
Lauren V Photography is a maternity newborn and family photographer in San Diego CA, serving all of Southern California. Come on over and follow along on Instagram!