Carlsbad Beach Maternity Session | San Diego, CA
San Diego Maternity Photographer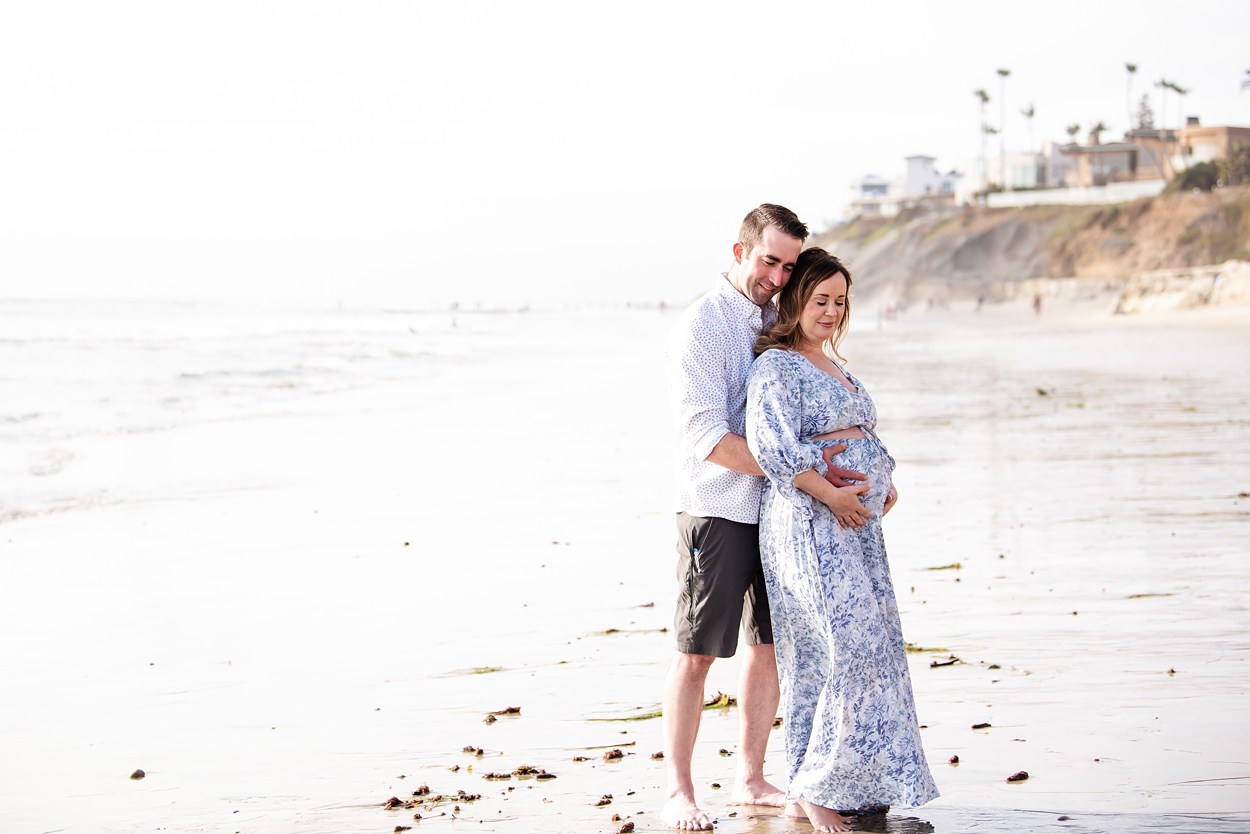 San Diego has some of the most gorgeous beaches around, and at the top of my list is where we went for this stunning Carlsbad beach maternity session.With miles of beach during low tide, and massive cliffs that lead right up to the water's edge, Carlsbad beaches are the perfect area for photography sessions.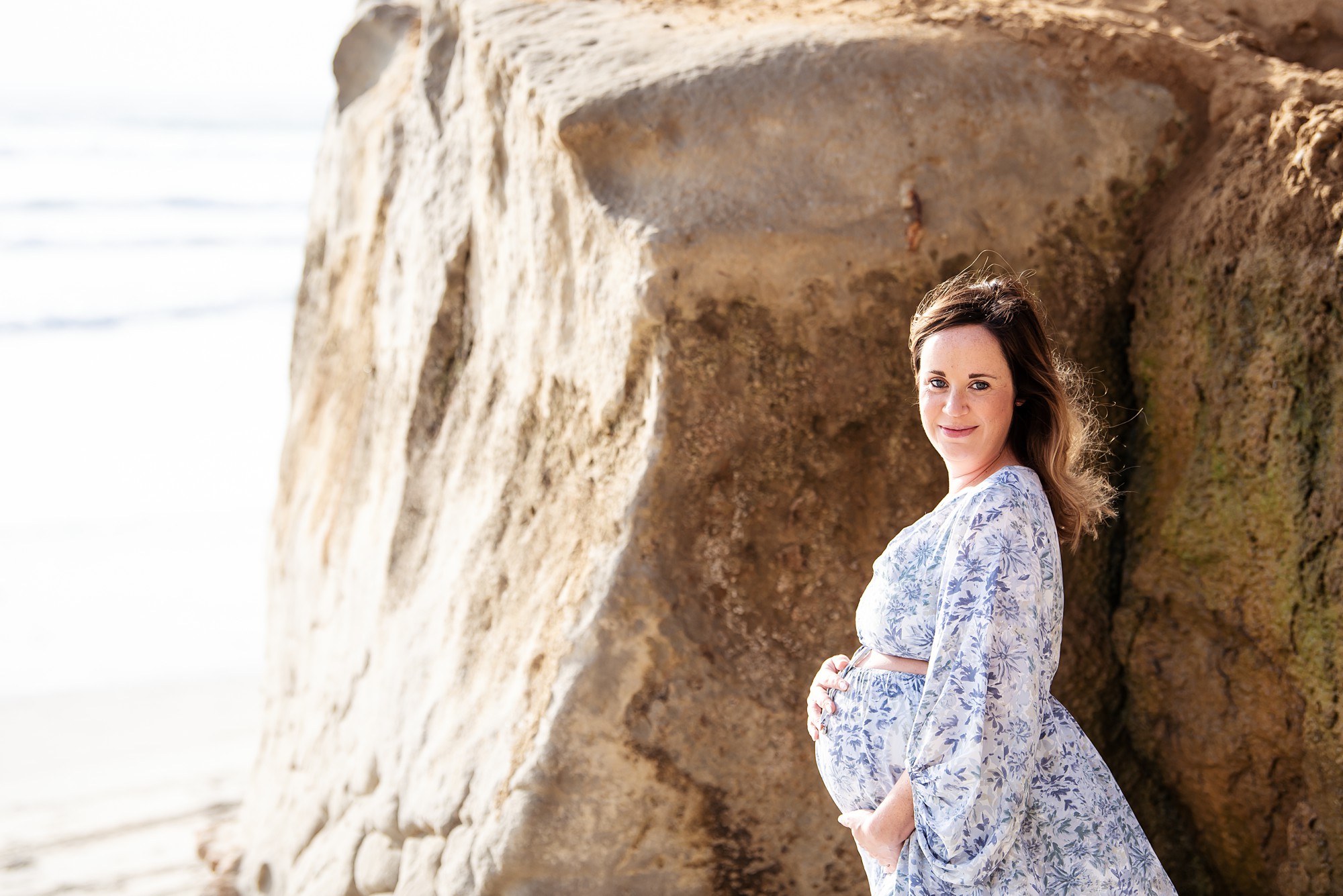 I am so thankful I met this incredible couple out here in San Diego, and they chose me to photograph their Carlsbad beach maternity session. During the end of pregnancy, this sweet momma had every "discomfort" (if you can even just call it *just* discomfort) thrown at her, but you wouldn't be able to tell during their session!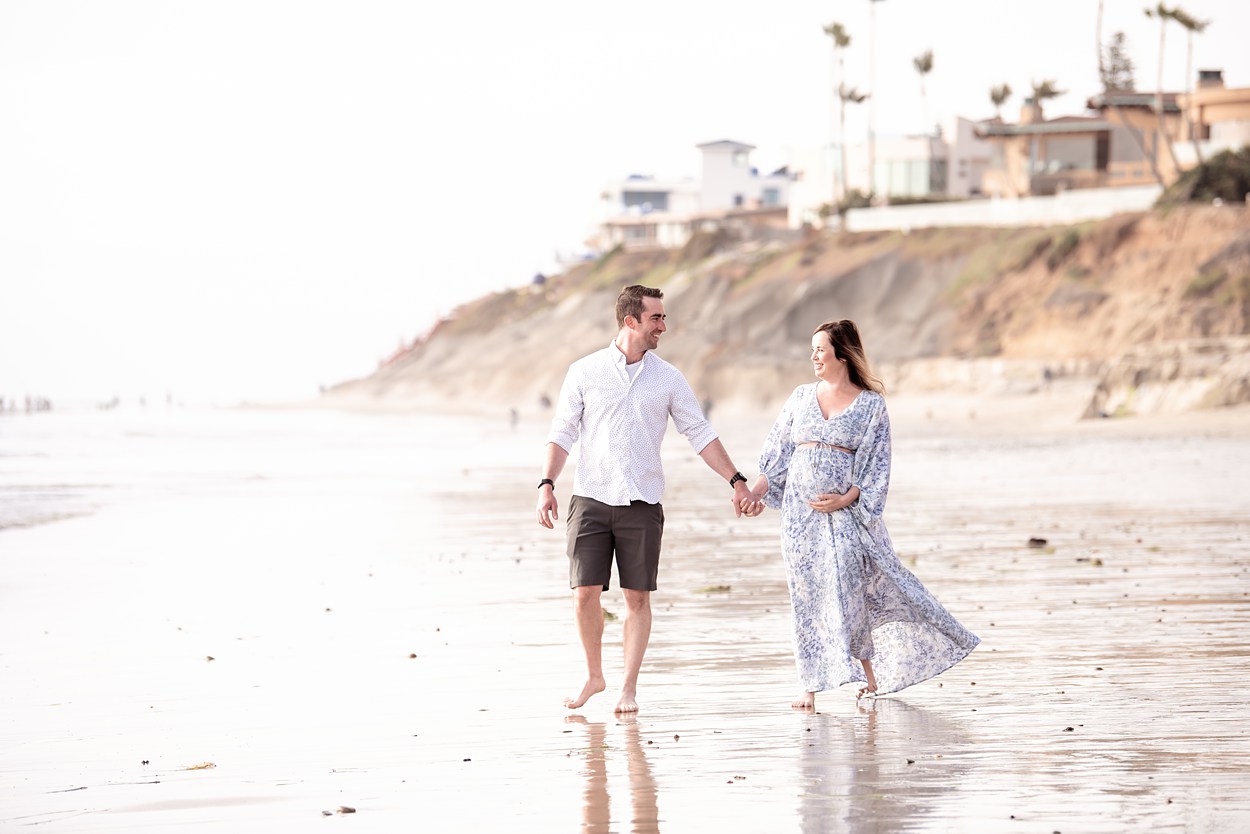 These two were such lovebirds all throughout their session, chatting about how excited they were to meet their baby boy soon, and how they couldn't wait to become parents. You know when you meet someone and you just know right away that they are going to be AMAZING parents? Yep, that was how I felt immediately. Watching how he supported his wife, and also couldn't take his eyes off of her, throughout the session was a breath of fresh air.
We had so much fun walking along the beach while I photographed their Carlsbad beach maternity session. They were down for just about anything I threw their way – including climbing on top of a rock for some photos! After making them climb all around, we headed back to the water.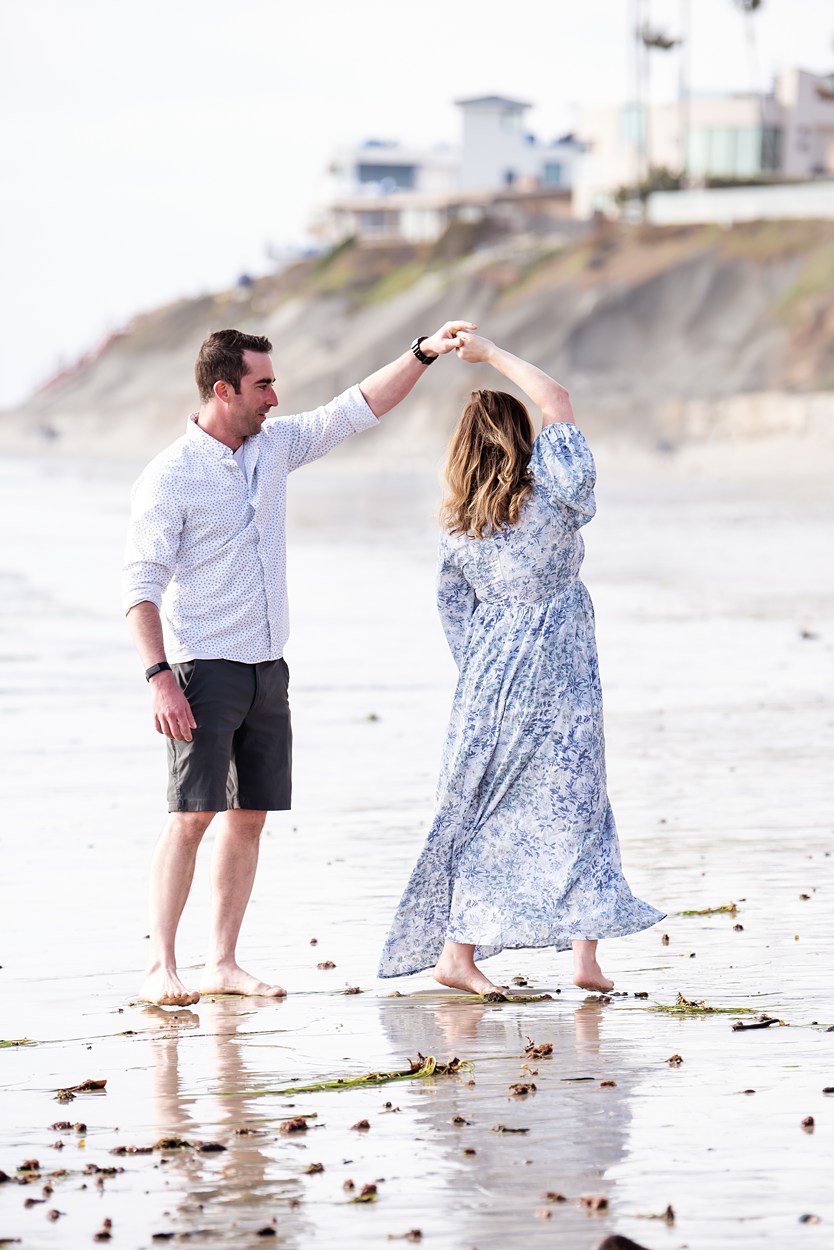 They danced on the shore, and talked more about becoming parents soon. Having my Carlsbad beach maternity couples dance and spin while laughing together on the beach is always a favorite of mine, to photograph and to witness. I feel like this is a way to get a peek into their love for one another, and it's always magical and so much fun to witness.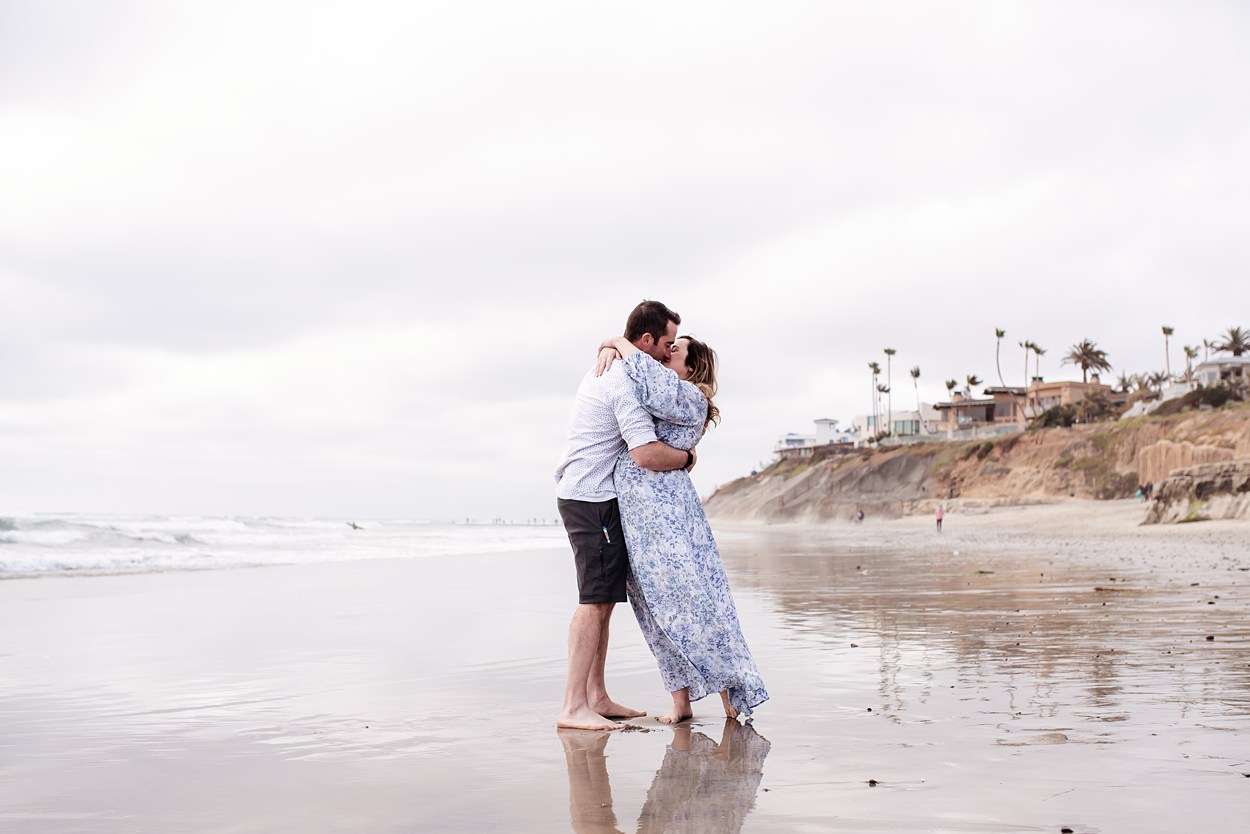 At the end of any Carlsbad beach maternity photoshoot, I turn my couples towards the ocean to take in the small of the saltwater and the cool breeze that comes off of the ocean. Taking a moment to ground ourselves and revel in the beauty that San Diego has to offer us. Plus, it almost always ends with me not paying attention and getting hit by a rogue wave! You know when I've been thoroughly drenched that we have had a great time during their Carlsbad beach maternity session, and I wouldn't have it any other way.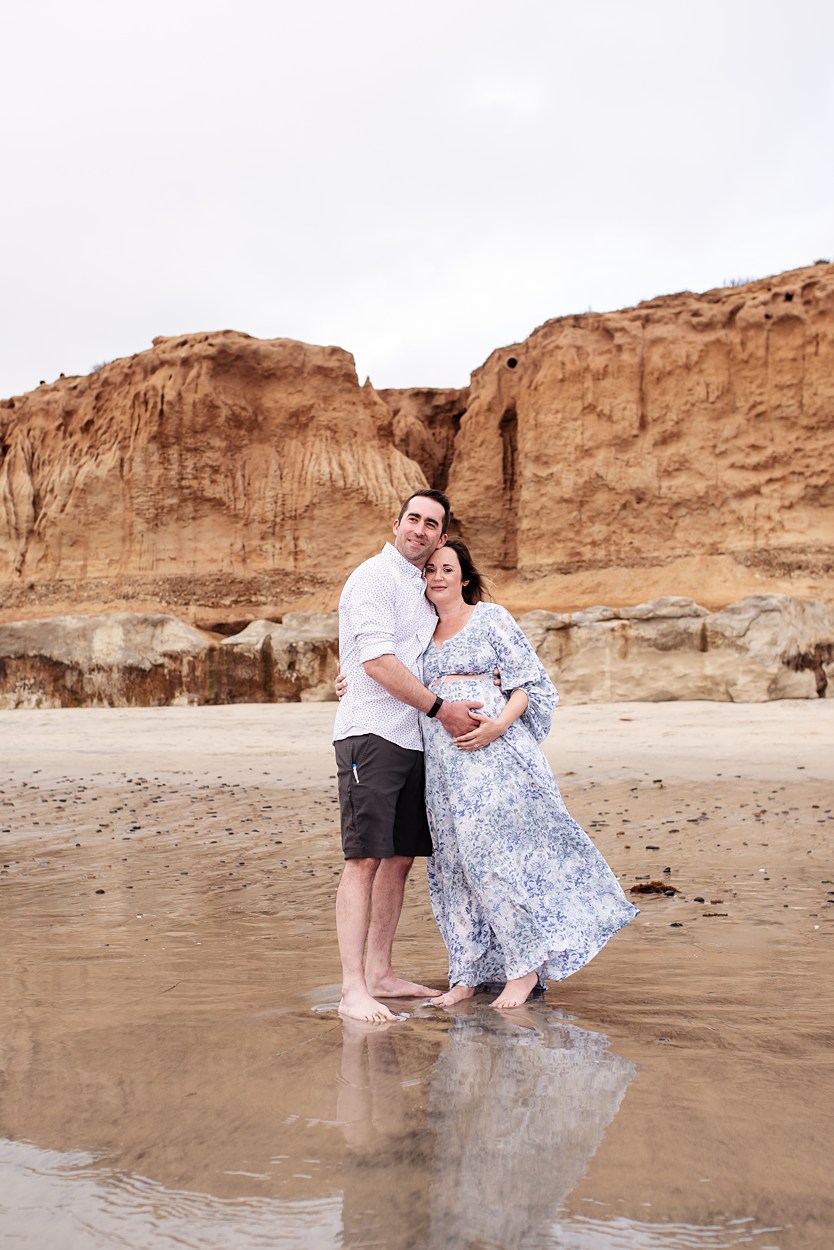 Just a note for anyone looking for a Carlsbad beach maternity photoshoot, please be aware that a lot of my all-time favorite spots can be tricky to get to. Most involve a long set of stairs up and down to the beach. Make sure to take lots of breaks if you are expecting or have small children with you – there is no rush!
Are you on the search for your Carlsbad beach maternity photographer?
I would love to make your vision come to life – you deserve the most perfect images of your pregnancy. Reach out to me so we can chat about your upcoming session!
If you're new here – I'm Lauren! I'm your San Diego maternity photographer, photographing all parts of motherhood up the coast of Southern California to include San Diego and Orange County. You deserve beautiful images of your memories, let me help capture your moments for you. If you are like me and want to hang out in the back for a bit longer, just watching what's going on, I'm all for that! Follow me on Instagram to see recent updates and images of my work.
I can't wait to hear from you and plan your perfect Carlsbad beach maternity session <3