Top 5 Holiday Photography Ideas | San Diego Family Photographer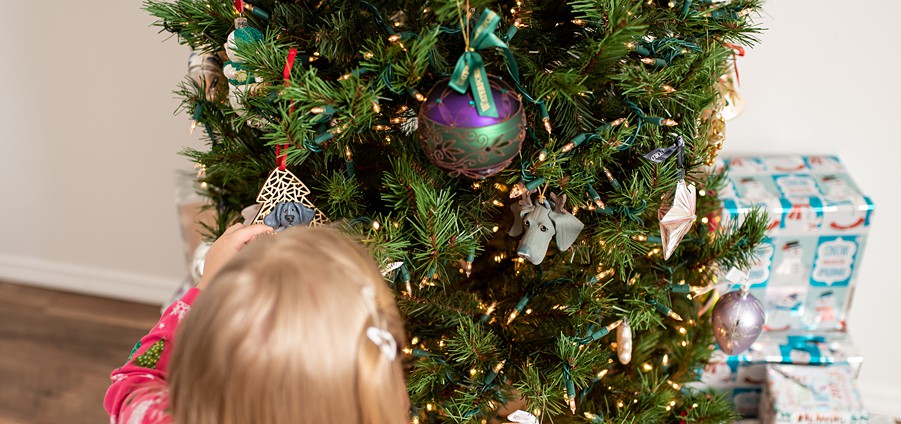 It's that time again – Holiday photography fun and ideas! The holidays are right around the corner, and it's time to celebrate. There's always one surefire way to celebrate (and spread the joy) of the holidays, and I'm here to make it much easier for you with my top 5 holiday photography ideas. While these photos are geared more towards Christmas, the end of the year is a great time to share the love you have for friends and family, and what you have been grateful for all year. No matter what religion or holiday you celebrate, I am here to celebrate another year passing and everything that includes for you and your family! Now, let's get into my top 5 favorite ways to capture the joy with holiday photography.
Holiday Photography Idea #1: Tree Farm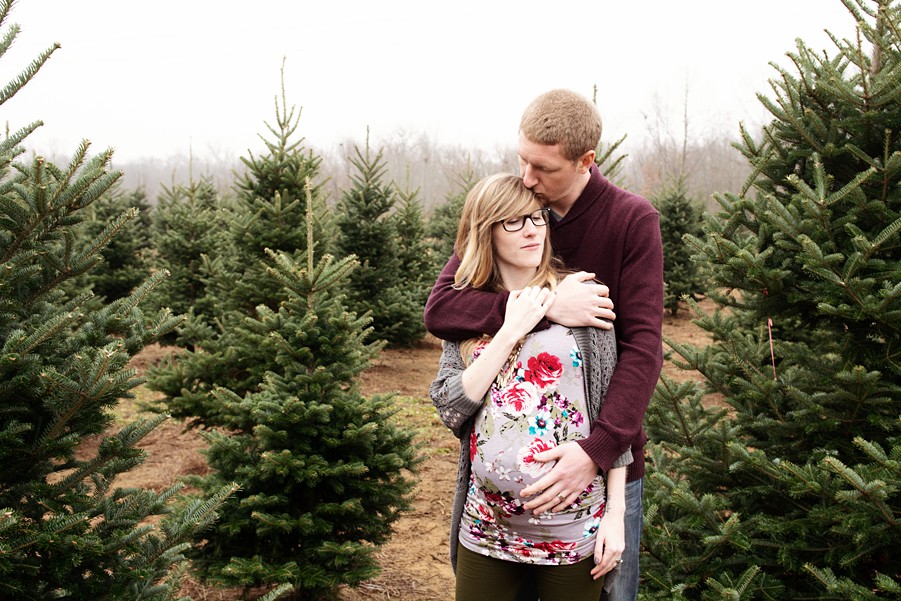 I mean really, who doesn't love to frolic through a huge field filled with great smelling Christmas trees in the crisp fall air?! Christmas tree farms have been known for a perfect backdrop for holiday photography locations for quite some time now, and with good reason. Throw some pillows and a festive blanket on the ground, and you have yourself a Holiday card-worthy photo! You can also get creative with gorgeous garlands wrapped around a tree or two, festive pillows, blankets, and even a chair for a grandparent to relax in. Or, keep it minimal and simple, and enjoy the natural beauty of the Christmas trees around you in your images. You don't need fancy props (or any props at all) to make a Christmas tree farm magical during the Holidays.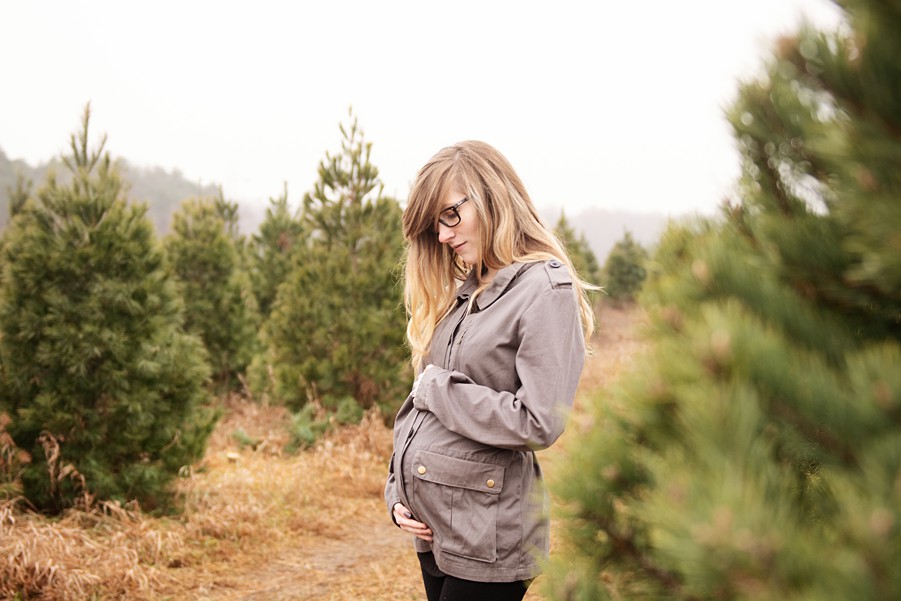 Remember, if you are taking your own images in a tree farm (or you are a fellow professional photographer), make sure that you get the owner's permission to photograph on their property. Most tree farms do require payment as well as proof of insurance (specifically for professional photographers). They also are not too fond of people clogging up busy times when there are families trying to find their perfect tree. But you all know this and are super respectful, so there's no need for me to lecture 😉
Holiday Photography Idea #2: *The* Tree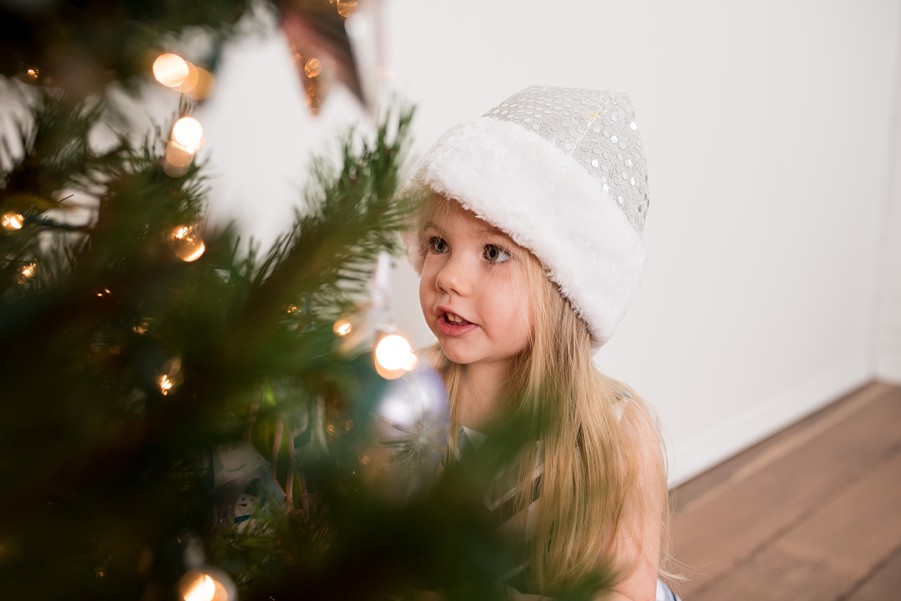 Picture this: decorating the family tree with all of your favorite ornaments. Looking lovingly at one of your favorite ornaments as you gingerly place it on a tree branch. THAT is the memory you always want to have, right? What better way than to capture it with a special holiday photograph to always remember it. It may seem a bit silly, but setting children up for success in this aspect is key. Get ready for a special moment when they find the *perfect* branch for their favorite ornament. That image will be a memory that keeps on giving year after year around the holidays. Trust me.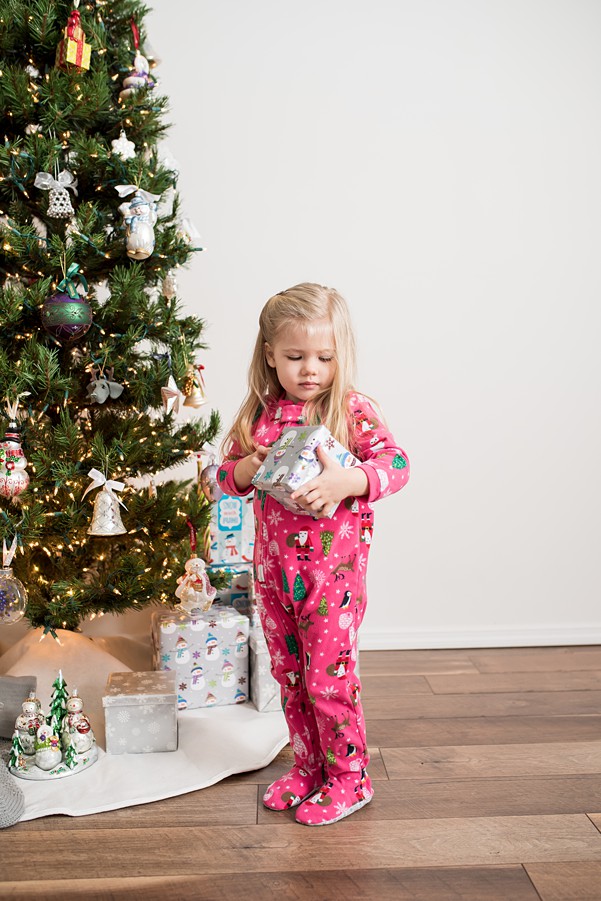 Photographing younger children decorating their tree year after year is a wonderful keepsake for parents. That sparkle that seems to gleam in every child's eye during the holiday is pure magic. Take advantage of that and capture it so you all can remember it years from now. Plus, there are endless amounts of opportunity for sweet photos while decorating your tree. Watching the lights turn on, placing the stockings where they go. Even wrapping presents under the tree. These are all and memories kids have when thinking back about the Holidays, so why not capture the moment with an image, too?!
 Holiday Photography Idea #3: Holiday PJs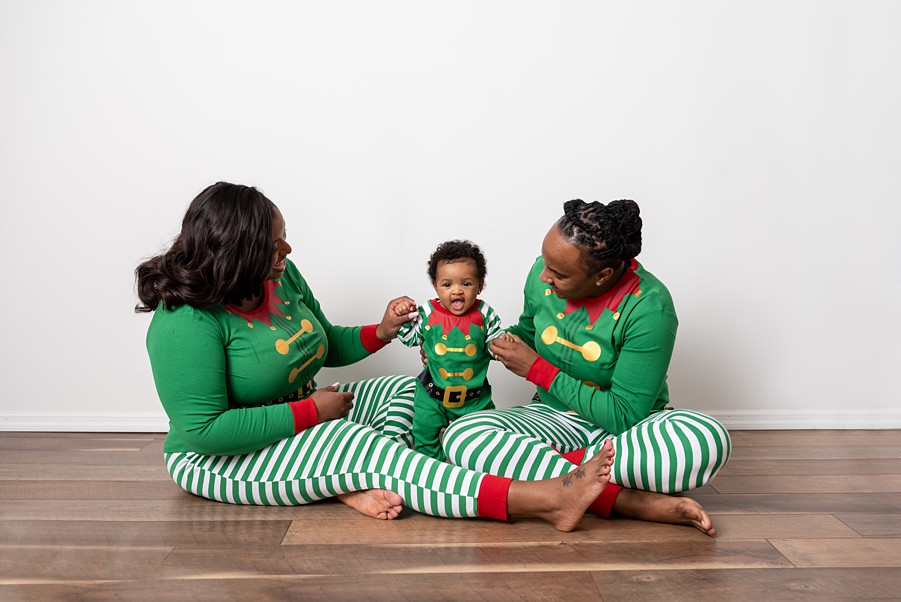 There are multiple ways you can go with this. Holiday PJs just for your children, or go all out and have holiday PJs for the entire family! Either way, Holiday pjs are a fun way to celebrate the Holidays, and super cute to add to a Holiday card. Who doesn't love looking back over the years and seeing all of the matching PJ photos of your family throughout the years?! Placing you and your family on a bed with a white comforter will bring all of the attention on your amazing pajamas, which is key! Have fun with the photos – let your kids get silly with it.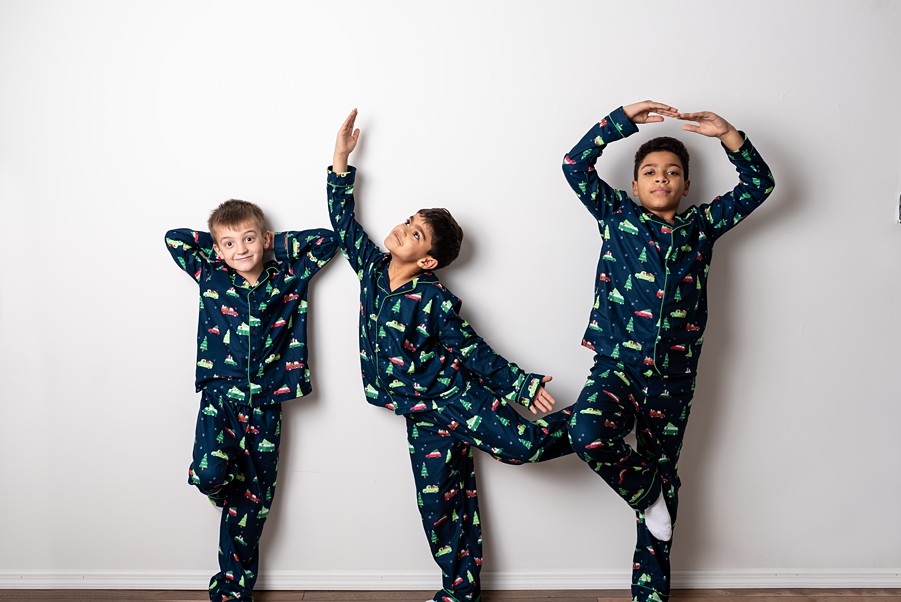 Wearing holiday pjs doesn't have to just stop with being inside for your photos, you can wear them to the park or beach for some outdoor photos, or to a Christmas tree farm to pose among the Douglas Fir trees. Let your creativity run wild with these – that's the joy of the Holidays!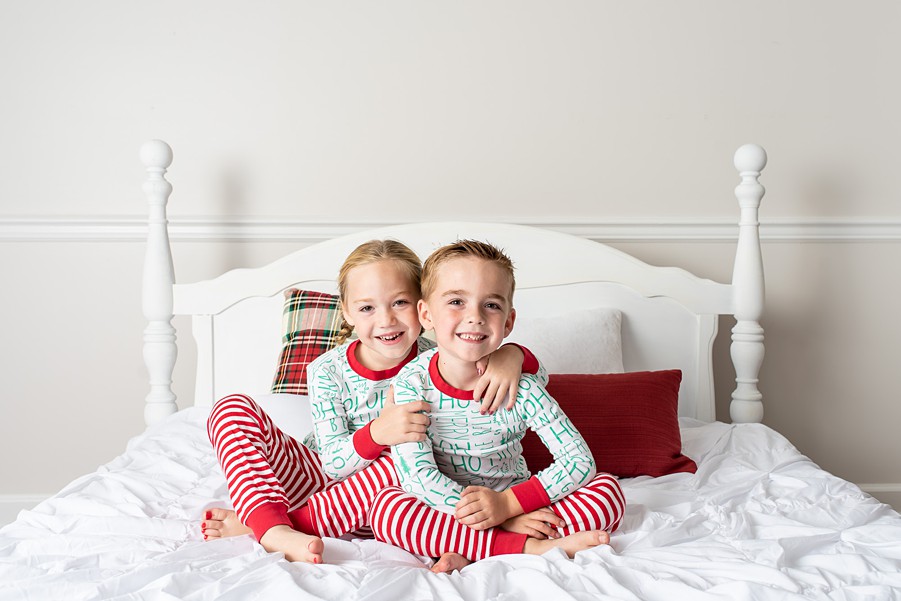 Holiday Photography Idea #4: Simplistic Holiday Photo Session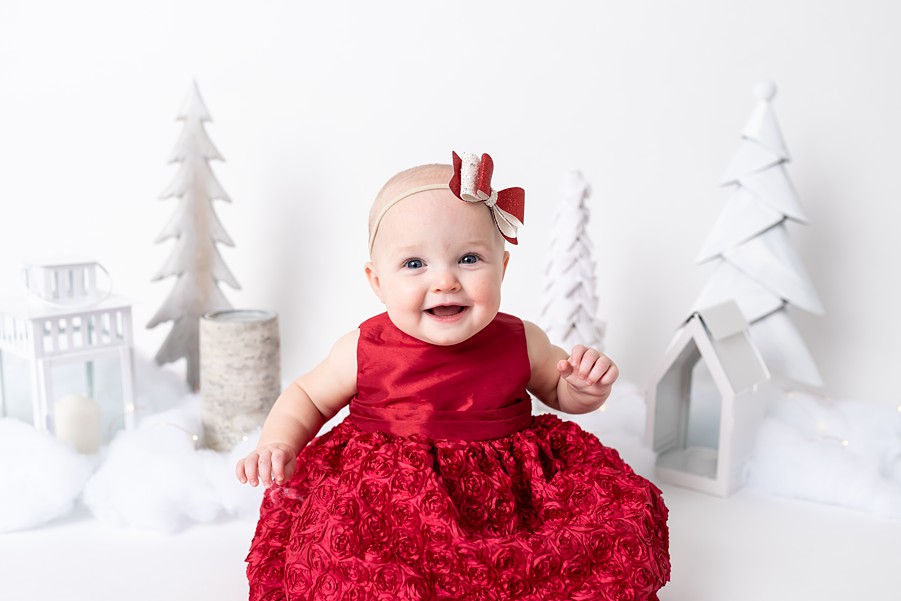 This one *does* in fact require a photographer (*ahem* hello there, I'd absolutely love to help you with your San Diego Holiday photography for your family!). Find a session that includes a setup that you love. Some offer full blown Santa sessions, ridiculous amount of props and fun, and some (like me) offer simplistic, but beautiful, San Diego Holiday photography sessions that are all about you or your little ones. These sessions are great because you can hang these on the wall year round and they will always look perfect. It doesn't matter the season. Find what you love, and book with a San Diego professional family photographer to make your Holiday photography needs a dream come true. I mean, who doesn't want one less thing to worry about on their plate?! Professional photographers, like myself, take care of everything for you so you can sit back, relax, and truly enjoy the experience.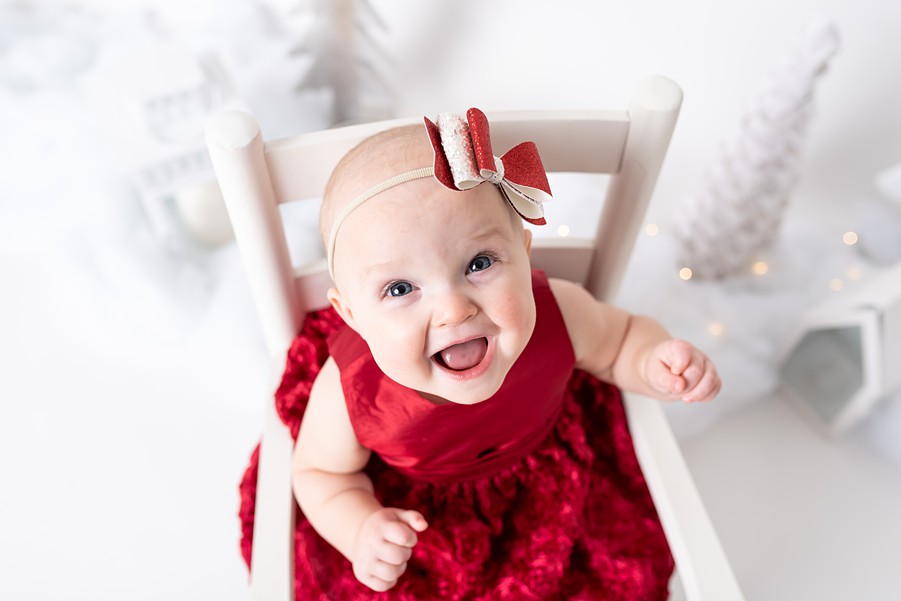 Holiday Photography Idea #5: Beach Family Photos
I just may have saved the absolute best for last here. My all-time favorite for San Diego Holiday Photography ideas – beach family photos!! The joy of this, is that they can be captured really year round in San Diego. You don't have to be dressed up in Christmas colors or Santa hats to make the beach work for your holiday photos (although, throwing on hats or holiday themed costumes for a photo or two is always welcomed, and hilarious in my book!). The truth is, for the most part we all want our images to last more than just one season hanging on our walls. With a family photography session at the beach in San Diego, your images can stay on your walls for years AS WELL AS being your family Holiday card photo. Win-win, right? Beyond just a holiday photography idea, San Diego beach photos are a must when you live this close to the Pacific ocean, and get to enjoy living in "summer weather" year round. Throw in some holiday colors in your outfits, and you have yourself a fabulous holiday photography idea in San Diego's backyard!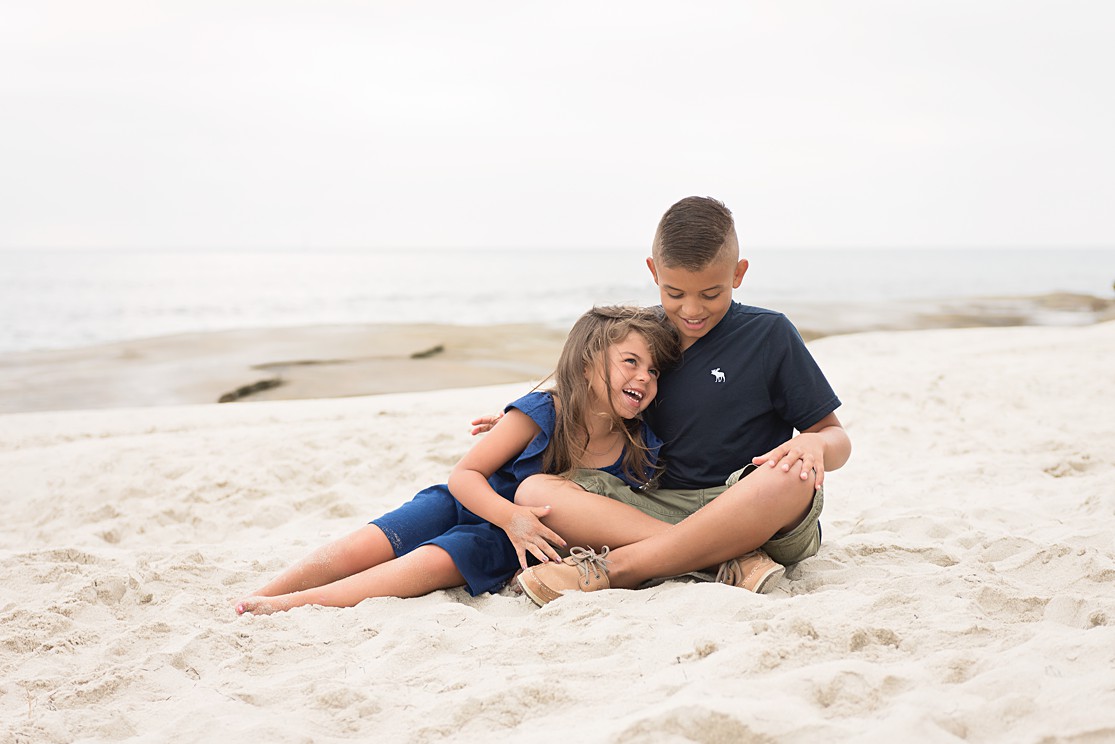 No matter what you choose for your Holiday photography idea this year, enjoy the holidays with he ones you love (near or far). If the pandemic has shown us nothing else, it has truly brought to light how precious and invaluable time is with the ones you love. Capture these memories in photographs that you will forever have to look back on, even after the memory fades from your mind. Your future self thanks you. <3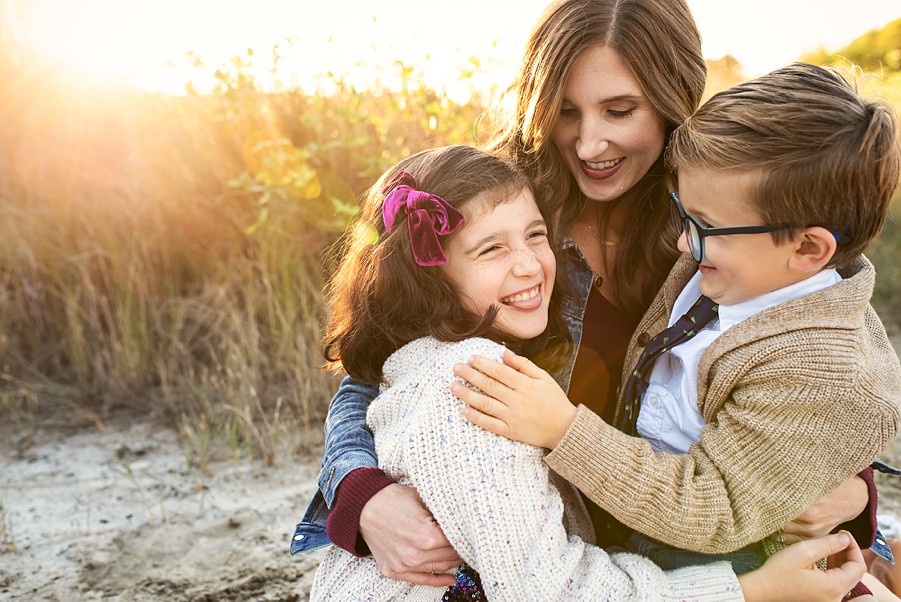 Are you looking for a San Diego photographer to capture you Holiday photography needs? Contact me today to schedule your session before the Holiday season is over! I specialize in classic images for your family to cherish for generations to come. Not quite sure if we are the perfect fit just yet? Follow me on Instagram to see my style and what I'm all about. I look forward to making your cherished memories last a lifetime through your images soon! <3
Happy Holidays, and stay safe from Lauren V Photography!