Simple Newborn Photos in San Diego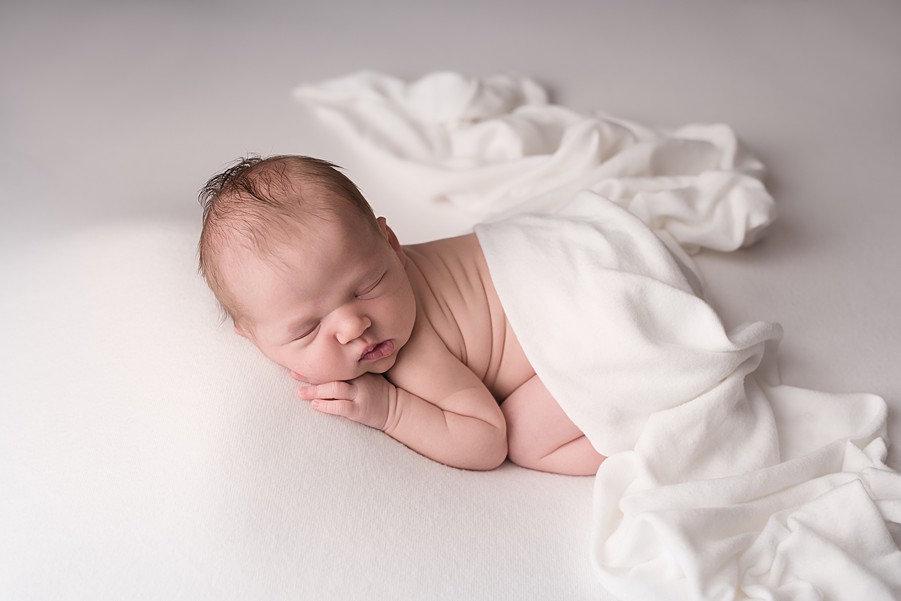 Growing your family with a newborn is a momentous time. Some even believe it's more important to capture simple newborn photos and as a brand new family than it is to capture your wedding. Personally, if I had to capture one or the other, I would choose capturing my children's newborn photos hands down. And with them only being so little for such a short amount of time, the best way to capture this moment is with simple newborn photos. I am all for amazing newborn props and colorful, bright patterned backgrounds, but the neutrals and simple images are the ones that will truly forever be in style and not outdated.
Simple Newborn Photos: What Does That Mean?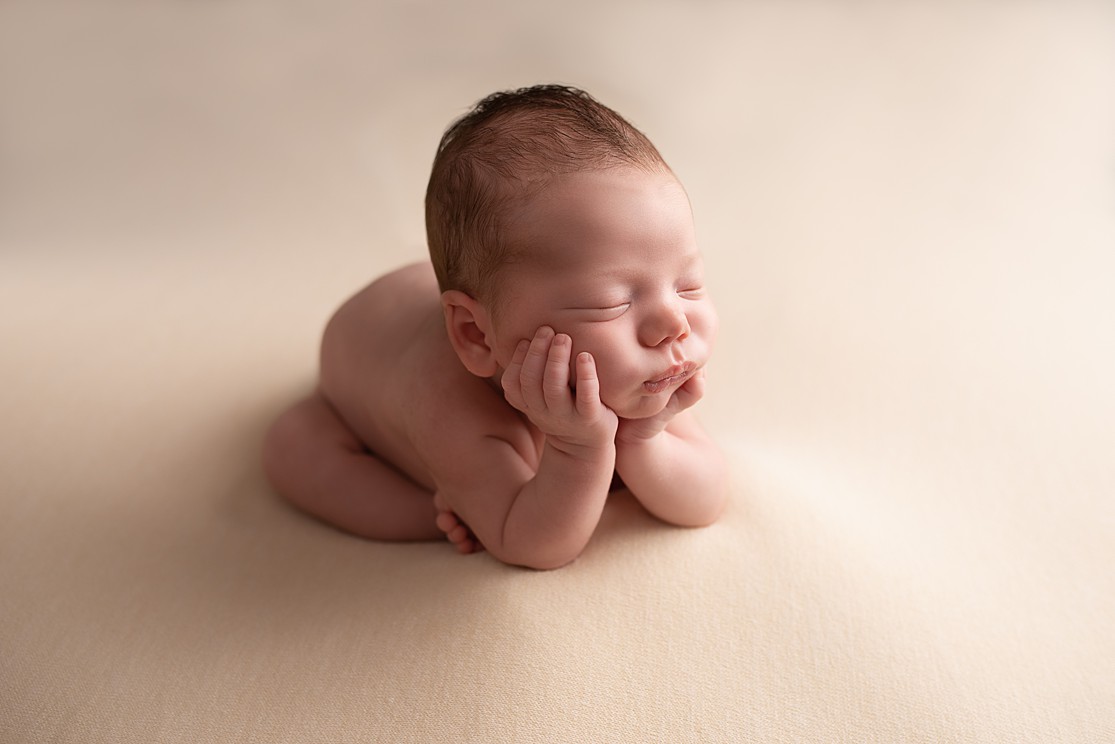 Just what you would think it means – simple, classic, clean images of your newborn for their San Diego newborn photos. I generally stick to neutral colors, whites, grays, earthy tones. I know that those store bought little newborn outfits (especially crochet outfits) are super cute, but they do not typically photograph well (and can date the photo!). If you look at the size of them, they usually can fit a 3-6 month old baby quite well. A newborn baby will end up swimming in these outfits, which does photograph well in your newborn photo session. *Please know that I have had tons of clients bring in these outfits, and I will happily photograph your sweet little one in them. 80% of the time, these images are not purchased or hung on the wall.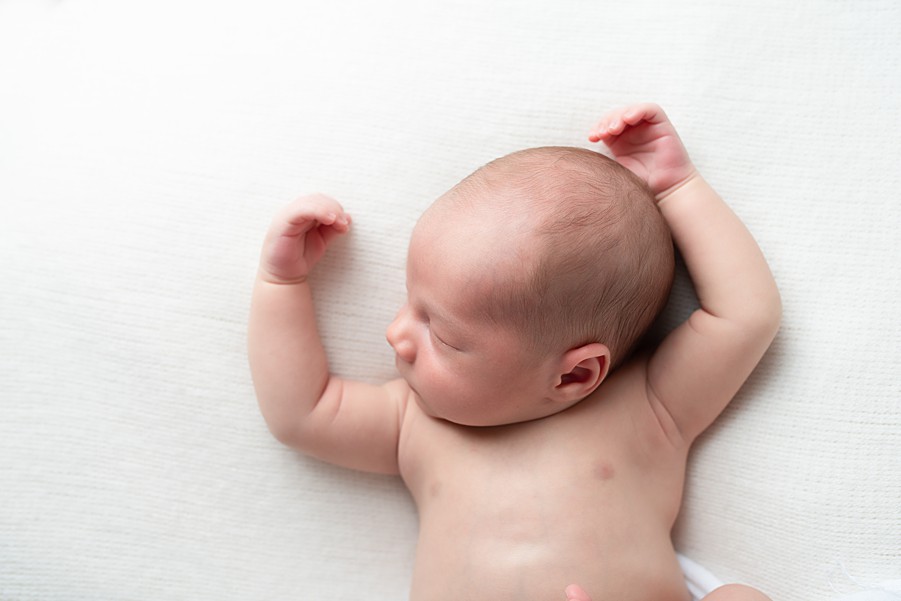 Simple newborn photos are also from poses and props that do not distract from your brand new baby. Getting the tiny little details that will soon fade, like those adorable rolls, sweet yawn, and chubby cheeks, make your photos timeless. Props that are too big or distracting take away from these sweet details aren't the goal of your newborn photos – showing this specific time in their life is. Taking away all of the bright colors, huge props and fuzzy hats show us what simple newborn photos should be all about. Don't get me wrong, though. Having colorful images and using props as well brings great variety and shows your personality through the photos, but it isn't what is considered a simple newborn photo.
How to Prepare for Your Simple Newborn Photos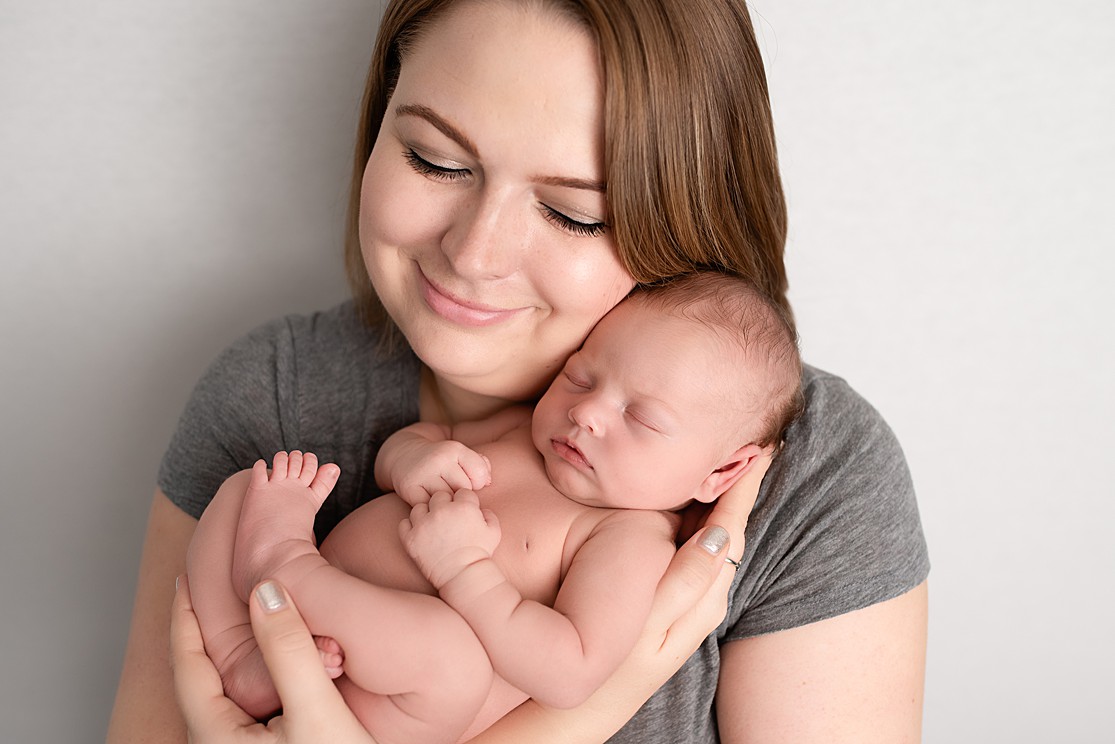 Preparing for your photos is easy! As a San Diego newborn photographer, I bring all of the blankets and backdrops, dainty head pieces for girls, and small outfits for boys. For any family photos (which I highly recommend!) sticking with whites, creams, grays, any earthy tone with no big, bold pattern or logo is best for clothing. If you are ever worried about not having the perfect outfit for your newborn photos, don't your worry! I provide gowns for mommas to choose from, have outfits for toddlers, and can assist in a shirt for dads as well. If you are not fond of the outfit options I can provide, I can help you find what is best for your family photos either from your closet or from the store. Best part? since I am an in home newborn photographer, we can look through your closet together if you still aren't sure what will photograph best. There truly is no need to stress over not knowing what will be best for your images, I help you through the entire process. Past that, you do not need to prepare anything!
Family Heirlooms Included in Your Simple Newborn Photos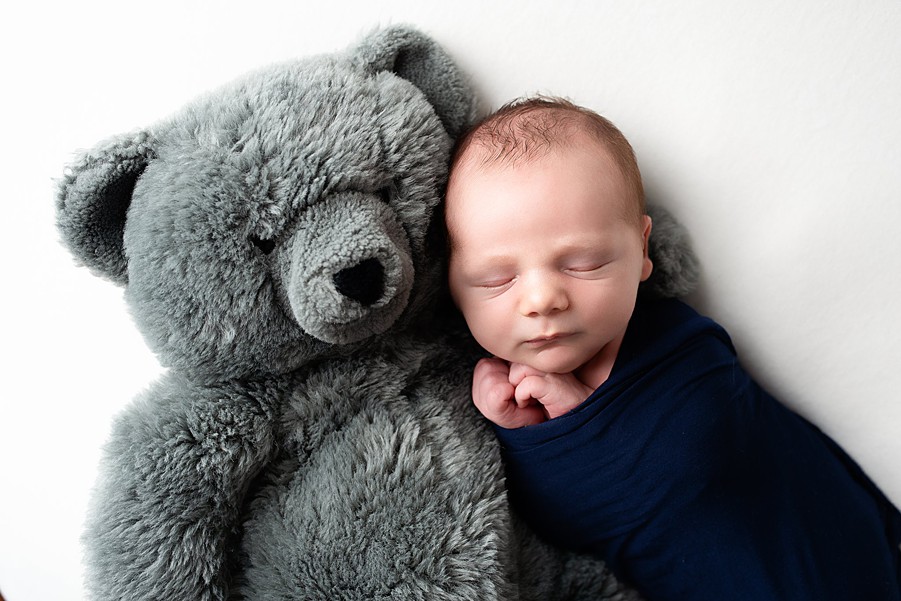 While oversized outfits bought from the store for your newborn will be encouraged to leave at home, any family heirlooms you want included in your simple newborn photos are welcomed! Some ideas for heirlooms to bring: a teddy bear that is meaningful, a blanket that was crocheted by grandma, even class rings have been used and are an amazing addition to your simple newborn photos. Since I photograph your newborn in a clean, classic style, adding in your priceless heirlooms happens to be an easy and wonderful way to remember a loved one or adding your own personal childhood items.
Simple Newborn Photos: The Poses
Simple poses to really focus on your little on are key. Whether or not your little one is awake, you will get a different type of image. I love the non-posed ones where the newborn is stretching out their arms, or giving us one of their sweet little yawns. While they are dreaming away and asleep, showcasing their sweet face and the details on their face are perfect! Little hands gently laying on their chest are also some of my  most favorite images to take for parents. Even with the flaky little skin that disappears so quickly.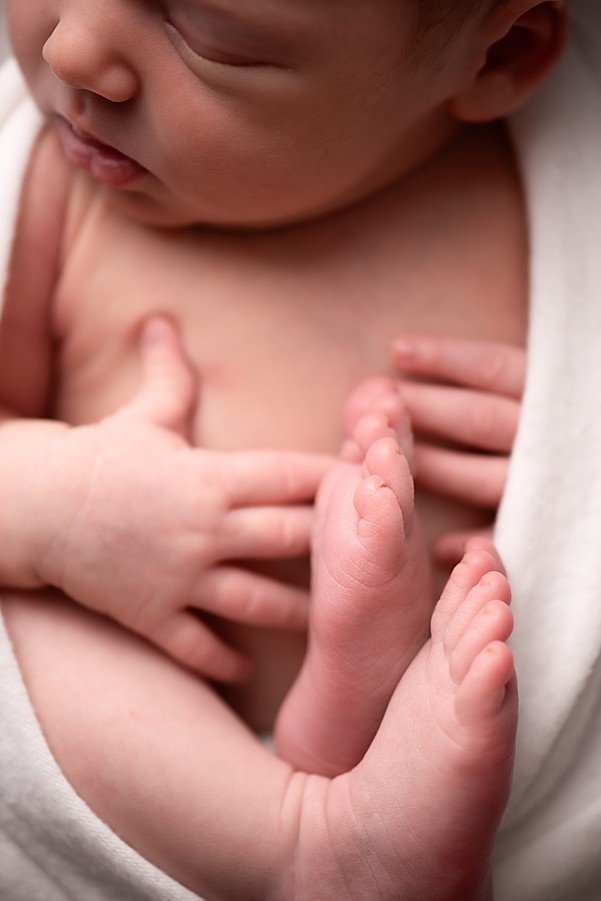 Adding a sweet headband in can add some additional warmth to the images without taking away from your newborn. Don't be afraid of adding in an outfit or some small props, but minimally is always best.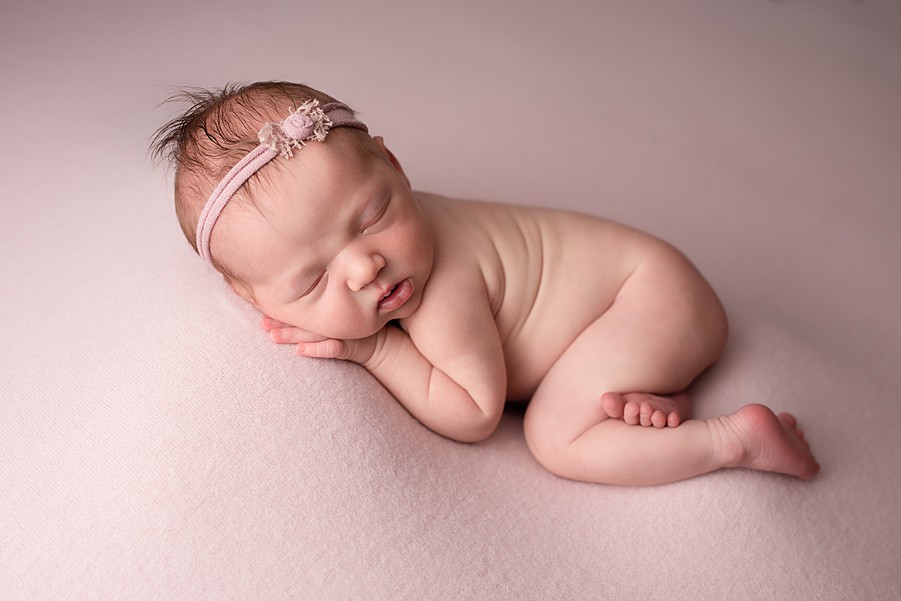 Simple newborn photos will always be classic and timeless. When you're older and passing these images down to your (now grown) children, you want these images to be something that can still be hung in a frame next to their very own newborn, and become part of a generational wall of images. Having these clean images will be perfect for just that!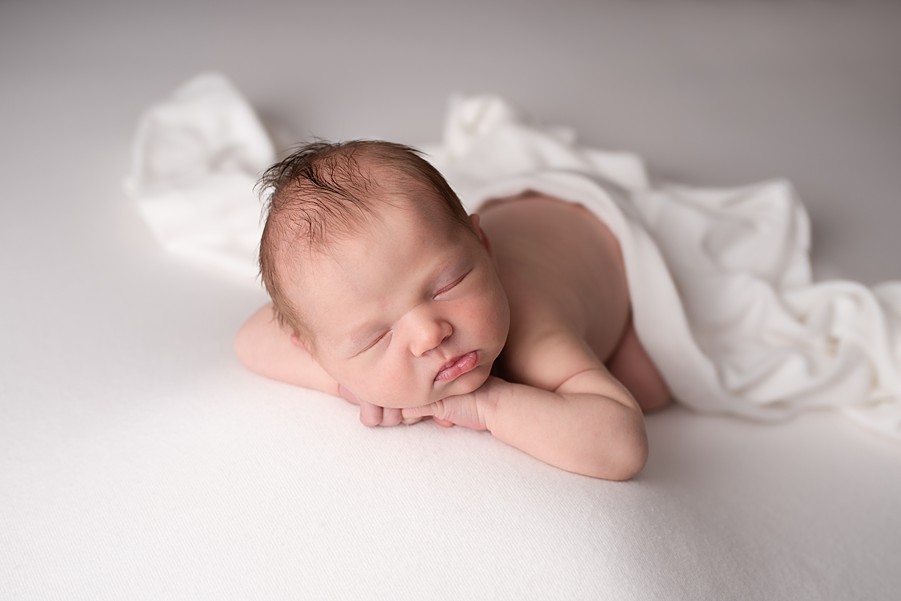 As always, please do not attempt to replicate these newborn poses on your own without proper experience or training. As a San Diego newborn photographer, I have spent years safely performing these poses after training and education to make sure your newborn baby is safe at all times.
Lauren V Photography is your San Diego maternity, newborn and family photographer. I love providing portraits that are cherished and will be lovingly passed down through generations. Contact me today to schedule your very own simple newborn photo session, and let me take care of the rest. Newborn sessions are best within the first few weeks of birth, but don't ever let that stop you! I have photographed sweet babies a month or two old and the images are just as special. Are you not sure just yet if we're a good match? I totally get it! I may not be for everyone, and that is A-ok. Follow me on Instagram to see what's new and get a better feel of if we would be a fantastic fit for your portrait session.