Professional Family Beach Photos in San Diego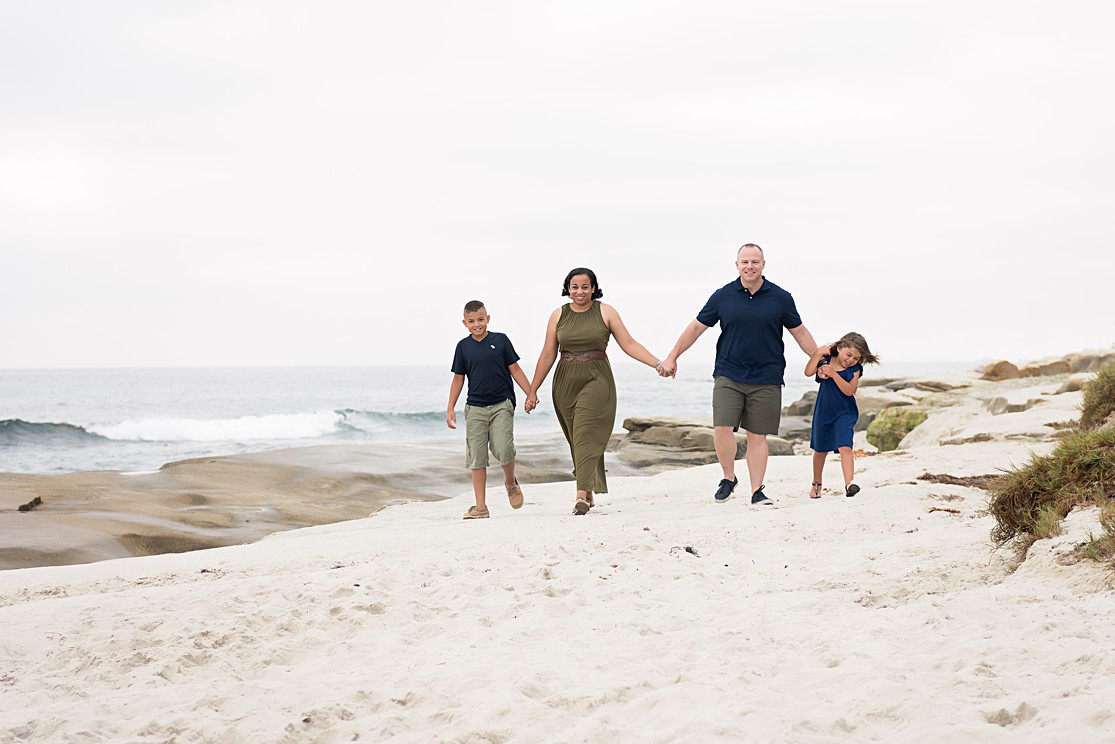 While San Diego is known for having just about every type of gorgeous landscape for photos you could possibly dream of, professional family beach photos will forever be at the top of the list. Some of my absolute favorite spots for San Diego family photos are at the beaches, from Oceanside to Ocean Beach. Here are my favorite tips to help plan your upcoming professional family beach photos.
Location, Location, Location | Professional Family Beach Photos
When looking for the perfect spot for your professional family beach photos, just a strip of sand and water is not enough in my opinion (but can work in a pinch). Having a variety of backgrounds to choose from, or hide from the sun, is extremely helpful. Depending on what you are looking for, San Diego beaches have some great cliffs and rocks the make for amazing backgrounds to your family photos. La Jolla and Carlsbad are my main areas I look for when searching for cliffs/rocks.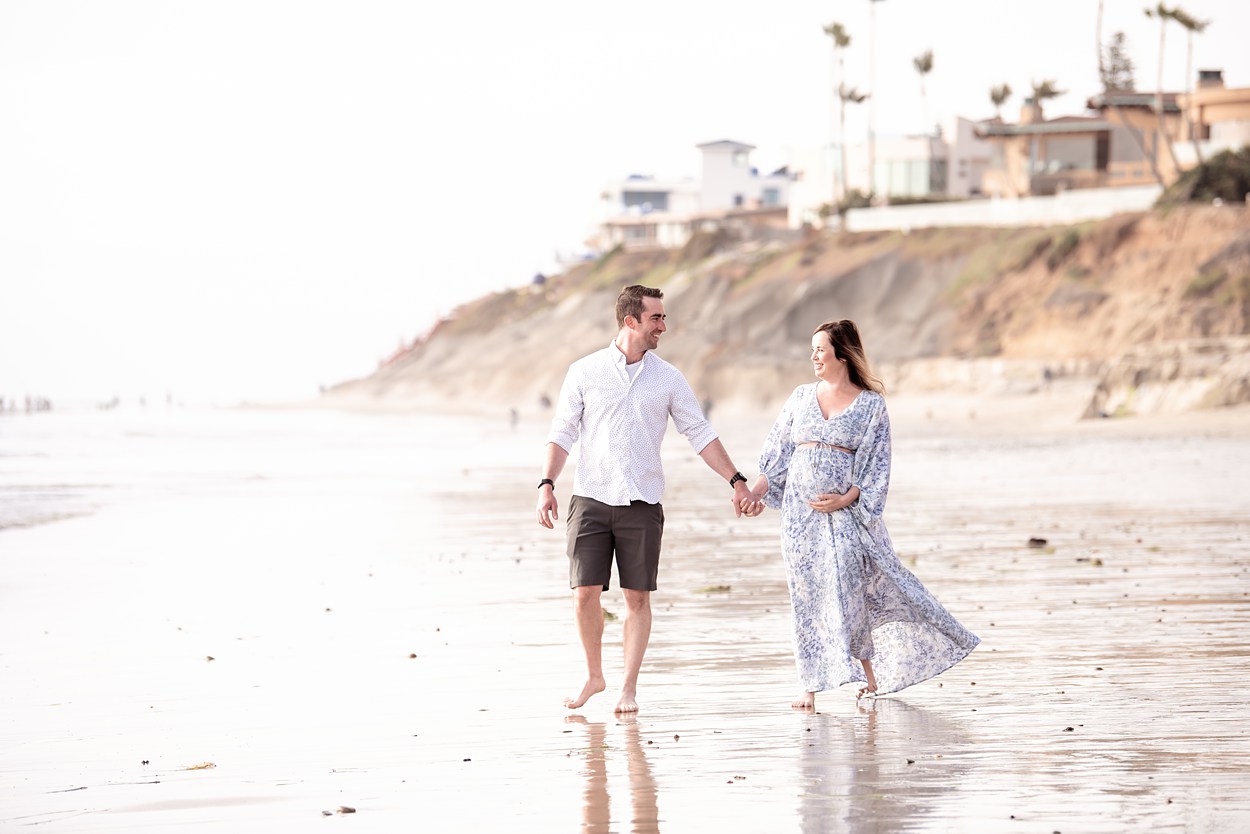 Piers are also great locations that provide a bit of shade during your professional family beach photos. Having some shade during golden hour is a HUGE help, for your photographer and your images. La Jolla Pier as well as Pacific Beach Pier are great spots for family photos in San Diego!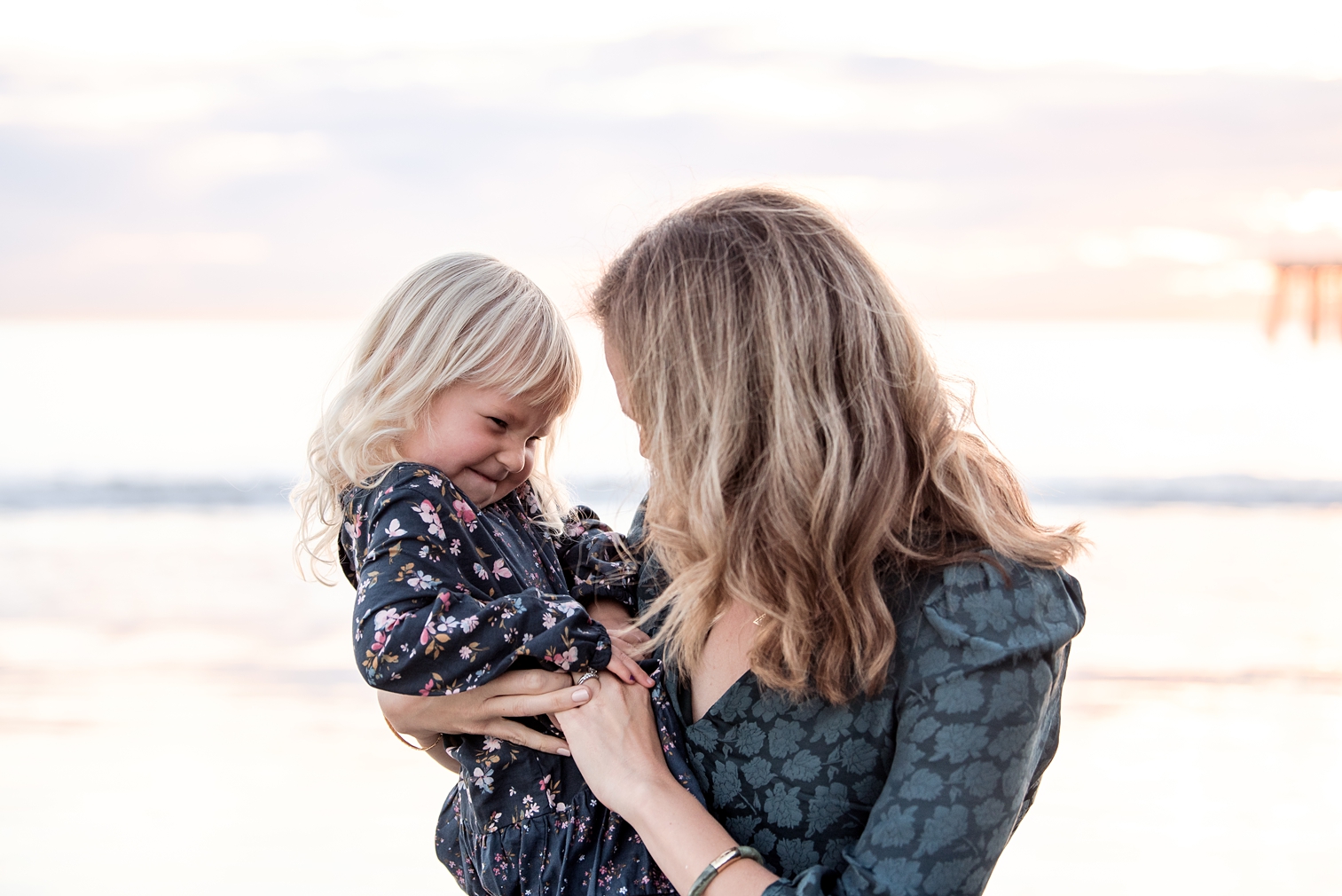 Location Tip: beyond finding the perfect background for your professional family beach photos, check the tide chart for your date! Some beaches will not be available during hide tide, so know before you go – it will always help you get the perfect images.
Planning Outfits | Professional Family Beach Photos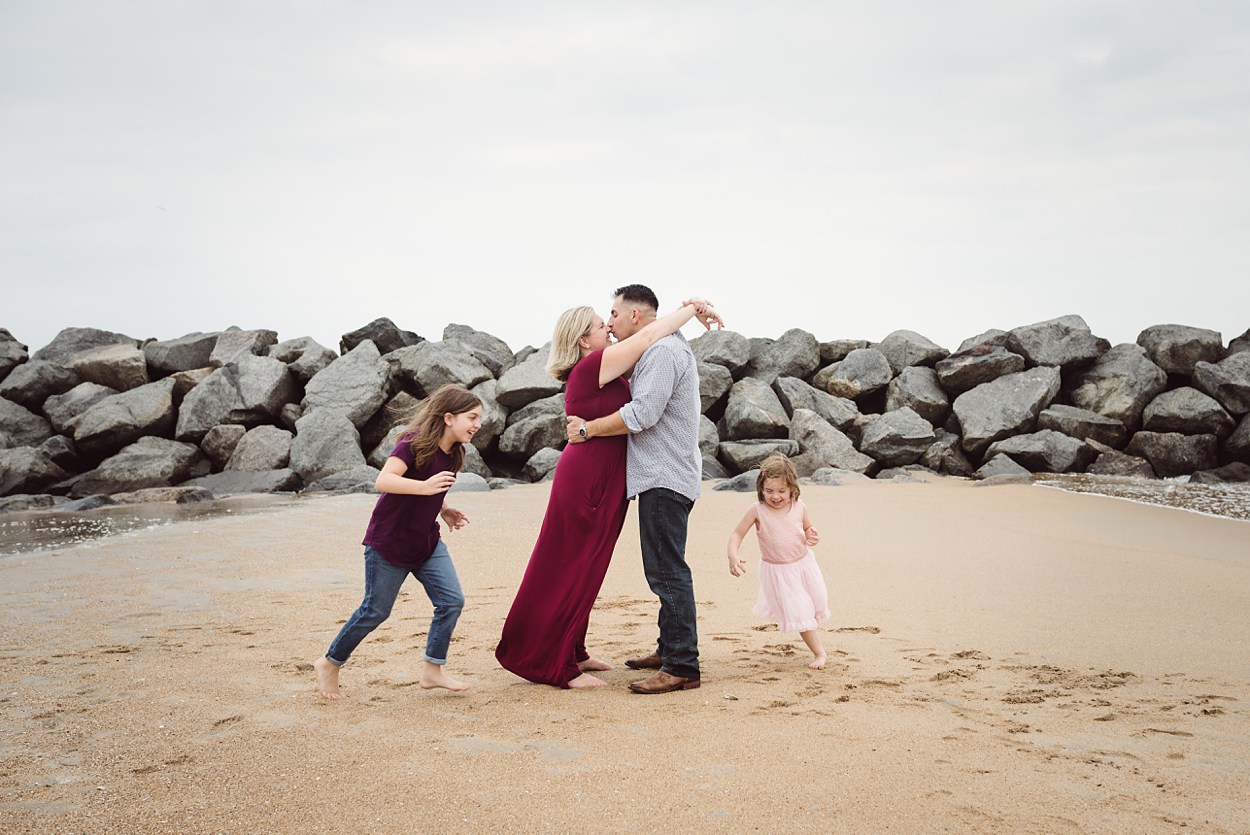 If you're scrolling through beautiful images of family photos on the beach, they will all have one thing in common: well coordinated outfits. Luckily, being at the beach does leave your color palette pretty open to whatever you want! Having coordinated colors (not 100% matching) will bring life and dimension to your images. Dress one person first, then work off of those colors to coordinate the rest of your family. For example, a coral color goes well with blue, gray, white and sand colors. Decide 3-4 colors you want to include, and build your wardrobes off of that.
Outfit Tip: Steer clear from the white shirt, blue jeans trend from decades ago! Repeat after me: steer clear of the white shirt, blue jeans trend. Even with extend families getting together for photos, mix it up. I know it's easy to say to everyone that a white shirt and blue jeans will do, but just don't. You can thank me later.
Throw Your Expectations Out the Window | Professional Family Beach Photos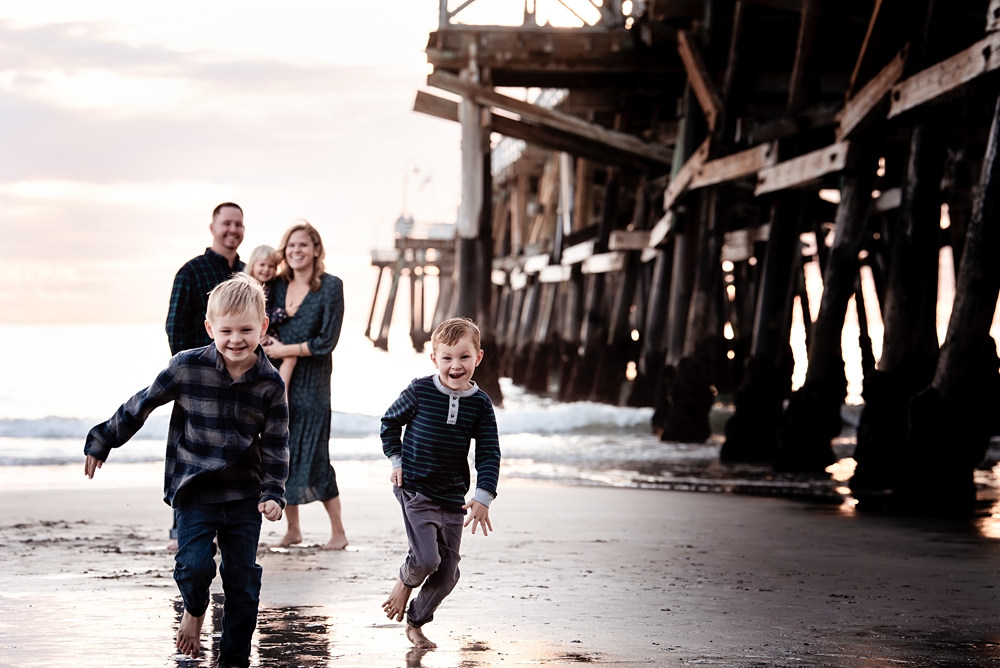 Like, right now. Throw your expectations out. This is especially crucial if you have small children! It will not go as you have it al planned out in your head going, so don't start with those high expectations. There will be sand involved. Probably wrinkled and dirty clothes by the end. And, depending on your kid, they may be completely soaked from a wave. Most kids are more into playing in the sand and water than paying attention to their professional family beach photos. I do everything in my power to get at least one of everyone looking and smiling, and a lot of playing and interacting as a family. Games will be played, along with lots of snuggles, too. Don't fret – there will be some great images from your session. As long as you are not worried the entire time about what you had expected.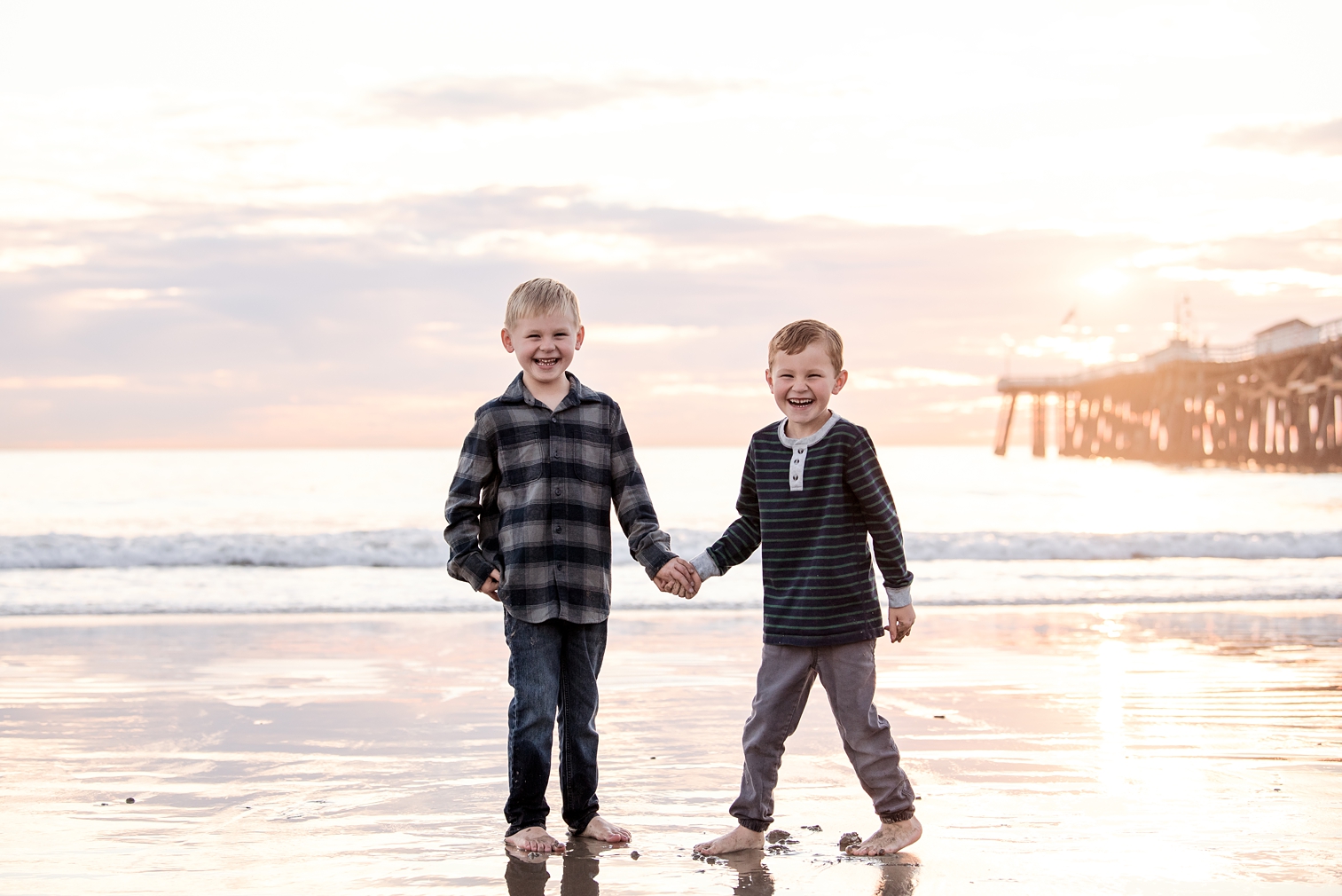 Please know that all of this is said with love. I know I stress about my own family photos, and it's easier said than done to not set expectations. But my job is to capture you and your family as you are – so just show up and let me worry about the rest!
So there you have it, my top 3 tips for amazing professional family beach photos in San Diego! Contact me so we can schedule your upcoming family photo session in San Diego, and let's go chase the light (and ocean breeze) together. Not sure if you're ready to schedule your session just yet? I completely get it. Head on over to Instagram to see what I'm up to. I'll see you over there! <3