10 Prompts for Family Photos | San Diego Family Photographer
Let's get right to it – I'm listing my top 10 prompts for family photos! As a photographer, I understand how difficult it can be to mix it up during a session, and I'm always on the lookout for new poses and prompts (by the way, you can check out my favorite posing ideas for families to get some extra ideas for your upcoming sessions).
If you're new to photography, you may be wondering to yourself, why in the word would I want (or even care about) 10 prompts for family photos? Well, let me tell you! Prompts are a great way to elicit specific emotions from your families, but without forcing it. Telling a family to smile will give you one look, but telling them a joke or prompting them to tickle their youngest will elicit a completely different look. It helps bring out natural reactions, when typically you could be getting stiff smiles and poses. It's not for every photographer, but they are a great help if you enjoy the more un-posed, candid feel to your images.
As always, this is just a quick and dirty list, and hopefully it can spark some ideas for fun prompts for your family session!
1. "Look at the person who…" | 10 Prompts for Family Photos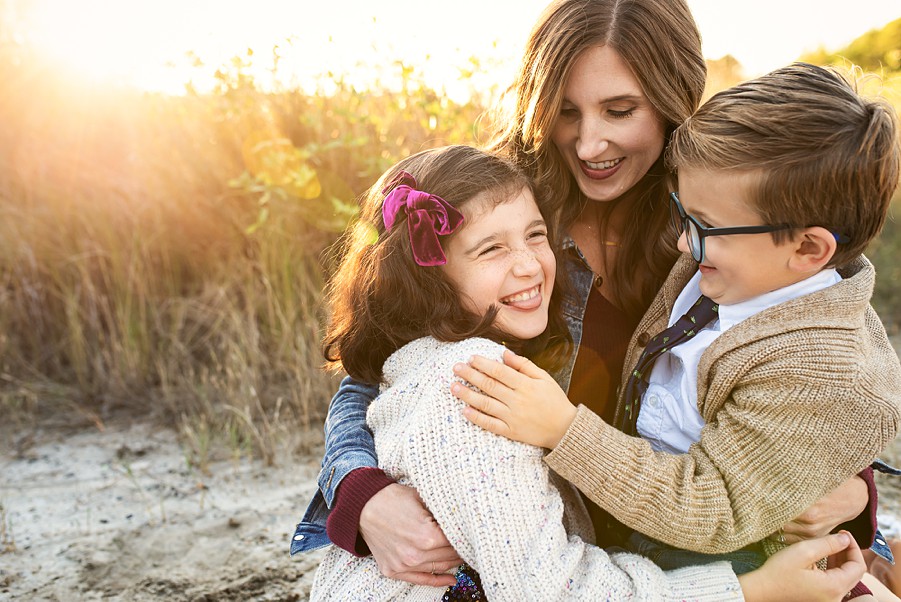 This is one of my faaaavorite prompts to use! Depending on the family members, you can take it from super sweet, to hilariously gross. A winner (with kids at least 4 years old) is "look at the person with the stinkiest farts!" It gets the best giggles every. single. time.
2. Tickle Fest | 10 Prompts for Family Photos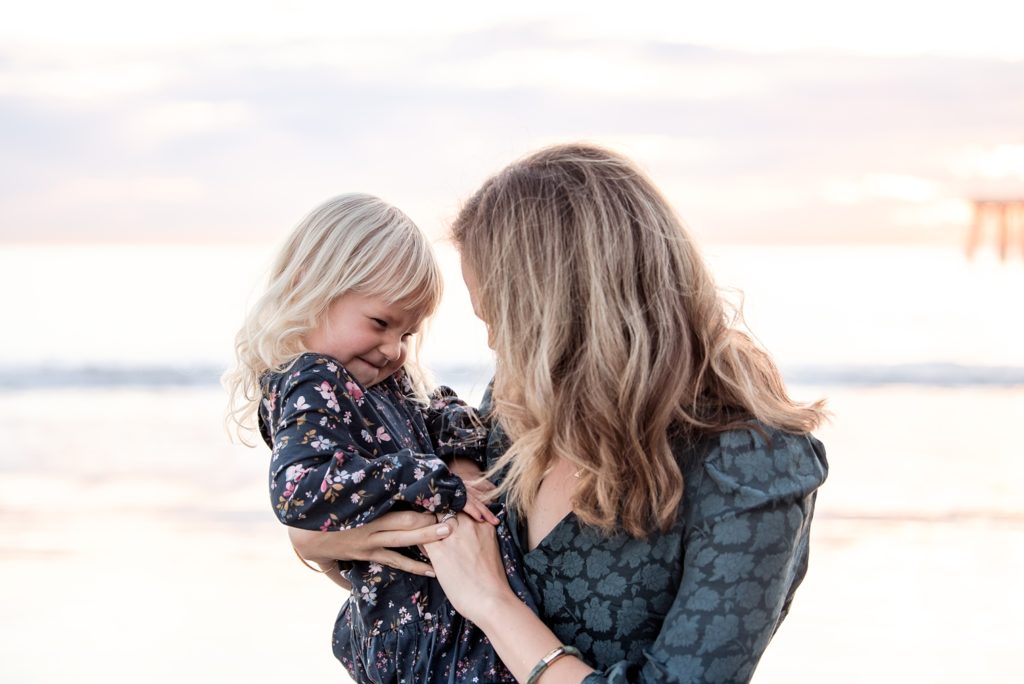 This prompt is the best for sitting poses. Some kids flail when being tickled, so make sure they are not in a peculiar pose before using this prompt. You can tell the parents to tickle all of their kids, or everyone to tickle one kid or parent.
3. Staring Contest | 10 Prompts for Family Photos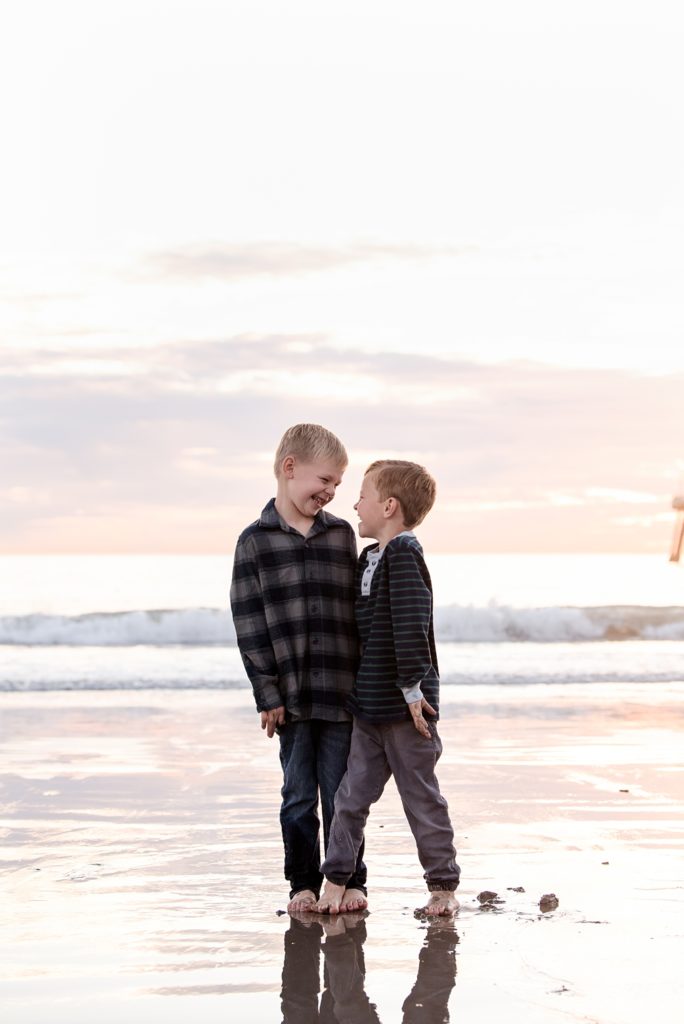 This is a great one for kids, even older kids. Tell them to get close, and have a staring contest with their sibling. If you have a sibling yourself, you know that one will crack and start laughing, then the other one will follow. Even if they don't end up laughing right away, you can get some great photos of them looking into one another's eyes.
4. Walking Prompts | 10 Prompts for Family Photos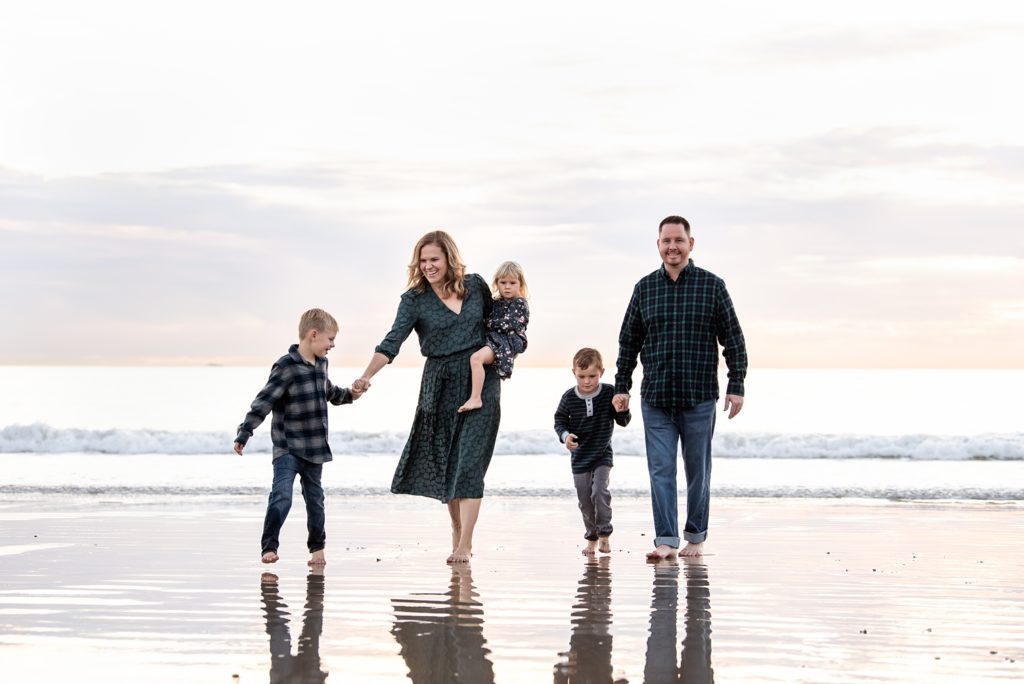 Adding movement into your photos is key. A great way is to get them walking together. Have them hold hands and talk with one another, then bump hips while walking. The funniest one is having the youngest child be in the lead and have them pull the entire group behind them. It always gets some laughs from the parents.
5. Whisper in Their Ear | 10 Prompts for Family Photos
This prompt is my go-to for adult poses and kids! Kids, I always telling them to whisper a joke into their sibling's ear. With parents, I always ask them to say something that will make their partner laugh. Or to recite their grocery list in their sexiest voice.
6. Tag, you're it! | 10 Prompts for Family Photos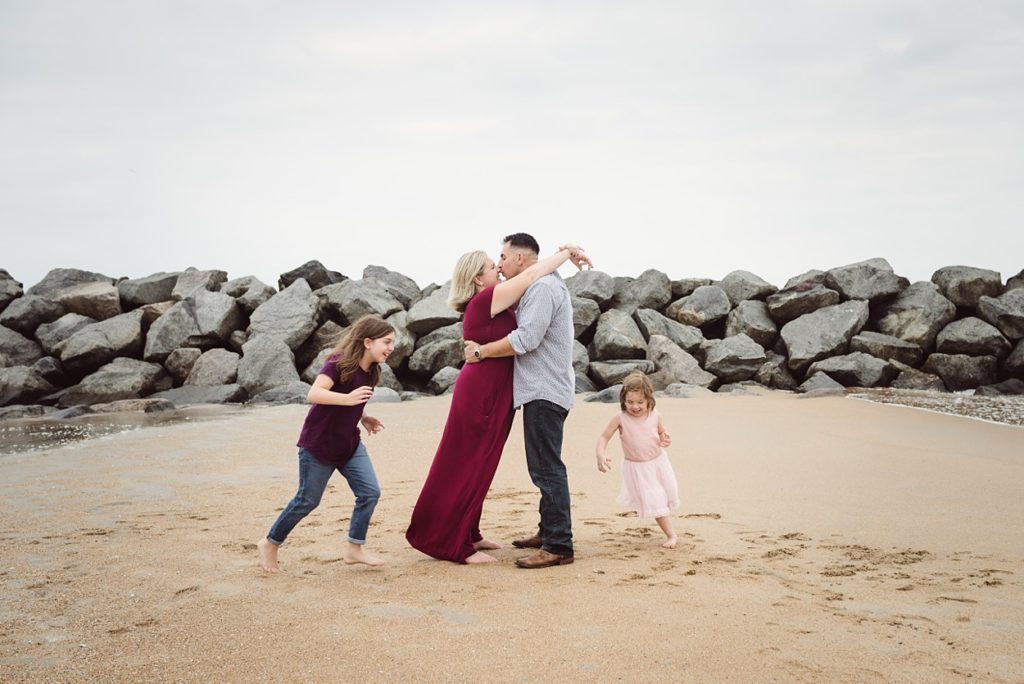 Playing tag is a GREAT way to get those genuine smiles from your families. Make sure you set up a perimeter so they know they can't go that far, and then let the games begin! You can make one of their parents home base, or just tell them to snuggle up to one another in the middle of the tag chaos. This is also a great one to get the little ones up and moving, especially if they are starting to fidget a little too much.
7. Red light, green light | 10 Prompts for Family Photos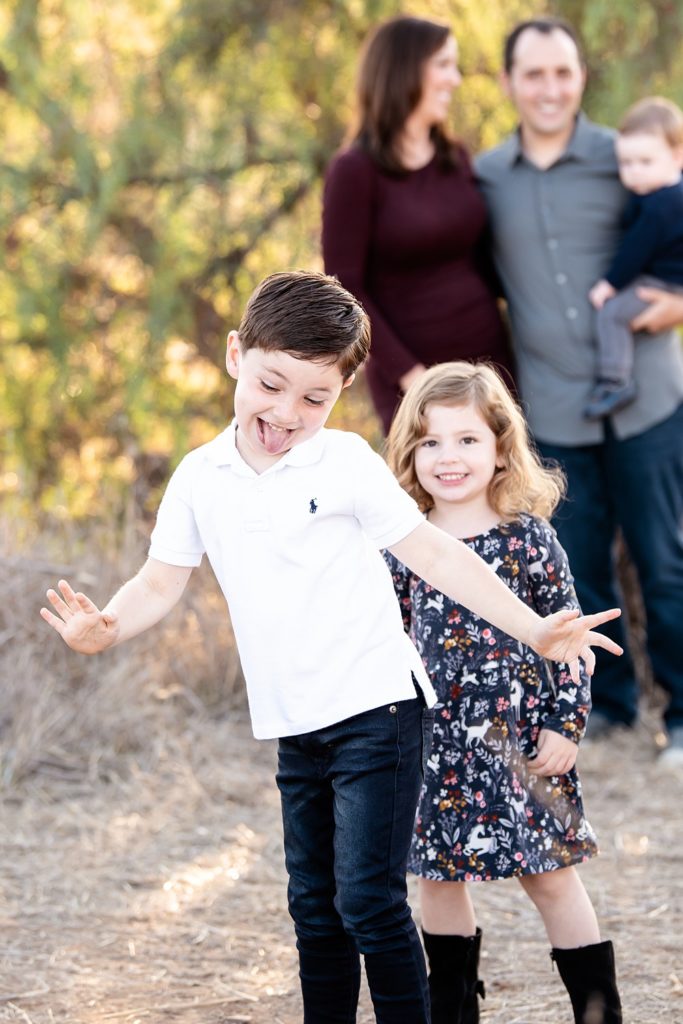 Starting with a regular pose where everyone is smiling, then tell the kids to get ready for red light green light towards you. Make sure you add in some "purple light!" to throw them off and make them laugh. You can also tell them to run in slow motion, robot red light green light, whatever your heart desires (and will make them laugh).
8. Tell Them Your Favorite Thing | 10 Prompts for Family Photos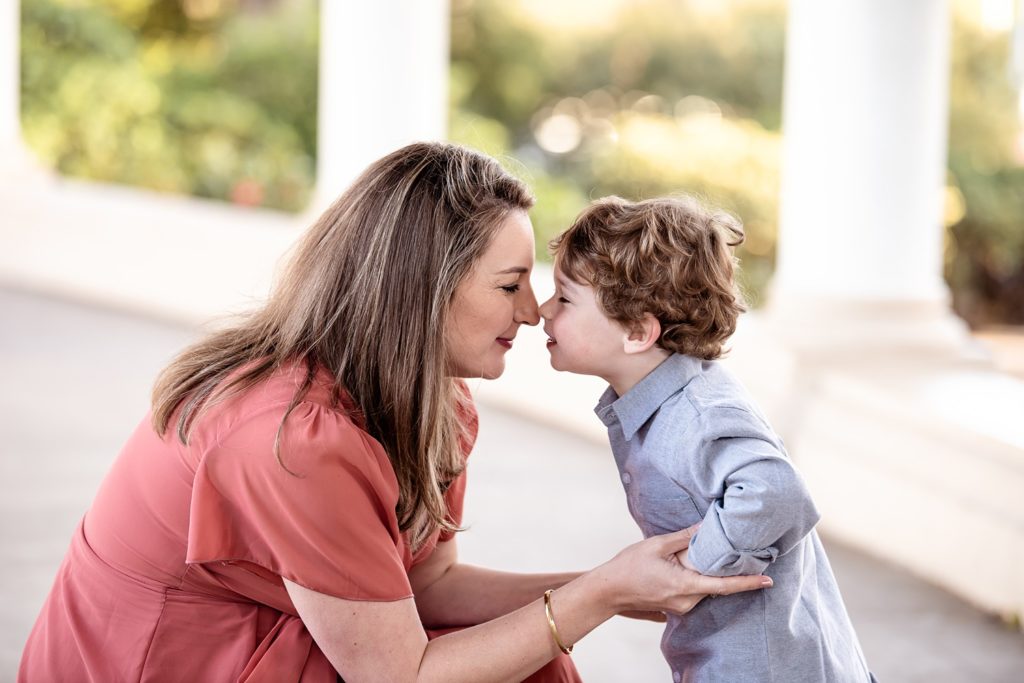 Coming back for a sweet moment have the kids tel their parent their favorite thing about them. It always gets a sweet moment between them that I love capturing.
9. Tackle Dad! | 10 Prompts for Family Photos
But not literally, ok? This is a great one with little kids (who can't actually hurt Dad with a cute tackle). Have them run to their dad and try to tackle them, or give them the biggest hug and squeeze they can. Dad can pick them up and twirl them around to add some more fun into it.
10. Yelling Out Random Words | 10 Prompts for Family Photos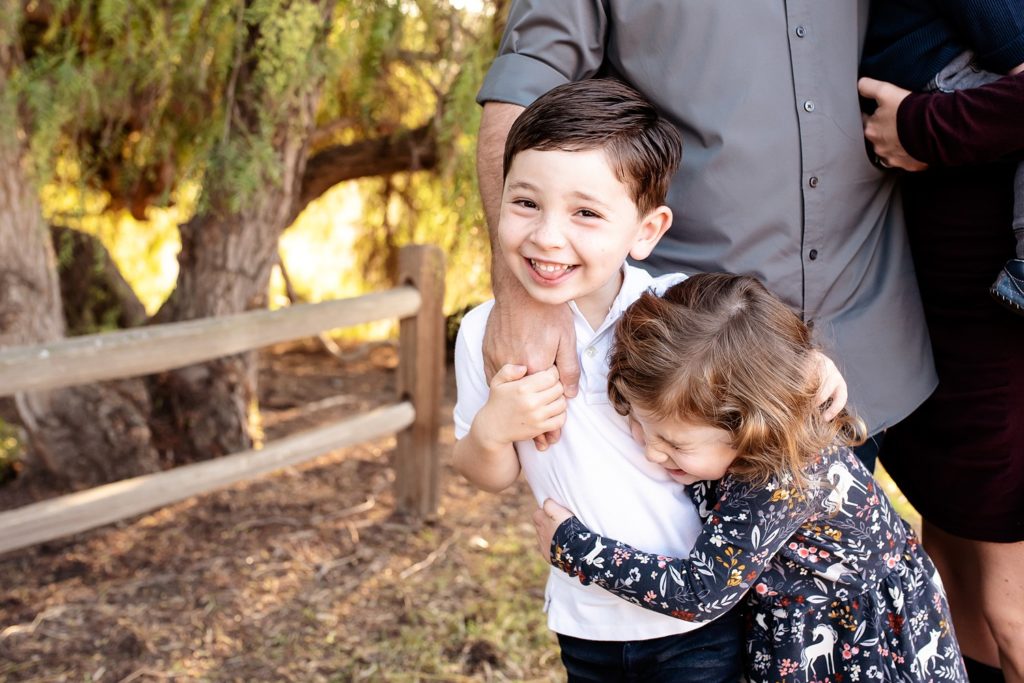 Ending with a great one, especially for younger kids: the yelling random words. If you are in a crowded area, you will get some interesting looks from bystanders. But it's worth it. Once you have them all set up, you can just yell "poop!" and see how the kids react. Pineapple is a good one if you want them to repeat what you say. At the end of a session when kids are usually all worn out, random words out of the blue tends to lead to some pretty hilarious expressions.
Do you have some of your own prompts that you absolutely love that you don't see in my 10 prompts for family photos list? I would love to hear them! Leave a comment below with your favorite prompt for family photos.
If you are looking for a San Diego family photographer or an Orange County family photographer that can use these 10 prompts for family photos on your family? I would love to be the one to capture these fun moments for you. Contact me so we can set up your photo session today <3 Not on your list of things to do just yet? No worries, I would love for you to follow me on Instagram so we can get to know one another. Can't wait to see you over there!